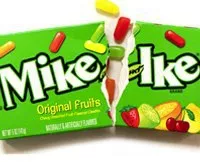 This just in from the folks at Just Born Inc. (or, more precisely, their PR flacks):
It's True -- the celebrity Candy Duo Mike and Ike return. To honor that reunion -- MIKE AND IKE introduce new flavors, amplified flavors, new boxes, a movie trailer -- The Return of Mike and Ike -- and movie mania promotions and more. As a fan and supporter of Mike and Ike, we invite you to cover this great news. As always, we are happy to provide you with samples for review and giveaway. Thanks so much for your consideration and please let us know what we can provide to you in the way of samples, photos and interviews. For more information on the reunion and to follow Mike and Ike's individual exploits, log onto www.facebook.com/mikeandike.
Coincidence? Gut Check thinks not.
When you think about it, guys, it's pretty cool news: Obviously this historic reunion (wait? were they ever gone?) is due to the American public's ever-increasing acceptance of gay marriage!
We're putting in a request for an interview with Mike and/or Ike, but in the meantime we submit for your approval this logo, which Ike and/or Mike may use, free of charge, on their Facebook page: