Welcome to Girl Walks Into a Bar, a weekly Gut Check feature that spotlights local bars and bartenders. This week, Kaitlin Steinberg profiles Kyle Mathis of Taste. Below is a Q&A with Mathis, followed by the recipe for "Another Hop Pun."
Kyle Mathis gets in the zone while shaking cocktails | Kaitlin Steinberg
We know, we know. We just interviewed a bartender from Taste (4584 Laclede Avenue; 314-361-1200) back in February. Normally we don't like to double dip, but we just had to sit down with Kyle Mathis and ask him about bartending and crafting cocktails.
Last Thursday, Mathis competed against eleven other top bartenders from around St. Louis at Iron Fork and won the mixology competition (and $500), making Taste the champ for the second year in a row. He made his winning cocktail, which he calls "Another Hop Pun," for us while we chatted, and he was nice enough to provide the recipe for this new creation.
Mathis has only been bartending for six months, and Ted Kilgore, owner of Taste, taught him everything he knows.
"I had to learn all the recipes before I even stepped foot behind the bar," Mathis says. Armed with that knowledge, he has been able to add a hefty dose of his own creativity to his bartending, though it takes some prodding to get him to admit that.
"I just try to make balanced cocktails," he says, modestly. Then he returns to measuring and mixing with the focused intensity of a true craftsman.
Describe your bartending style in three words. Deliberate, easygoing and creative.
A girl walks into a bar and orders a _____. She has just earned your undying admiration. Just ask my recommendation for a whiskey.
What is one thing that most people don't realize about bartending or bartending? People think it's a mad-scientist thing, but there's a difference between stirring a cocktail and shaking a cocktail. It makes all the difference in the world. It's a pretty simple rule. Shake it if it has citrus; stir it if it doesn't.
Other than your own place, where do you go to get a good drink? I think the Royale is probably my number one. If I get a cocktail, I'd get a "Last Word," for sure, but most of the time I drink beer or whiskey. (A "Last Word" is a gin-based cocktail with green Chartreuse and maraschino liqueur.)
Who would you most like to have a drink with? And why? Right now, I think Anthony Bourdain. He's an amazing guy. He's pretty much the reason I got interested in food and beverage in the first place. I think it would be amazing to sit down with him. I'd order the most obscure thing on the menu.
What is the coolest or weirdest thing you've witnessed while working at Taste? Joel Burton's Fernet funnel was pretty cool. When Joel went upstairs to serve a bunch of people from a ladies' speed-bartending competition, they gave him a shot of Fernet by pouring it down a cocktail menu.
What is the most bizarre or worst drink someone has ordered from you? One of my first nights behind the bar, someone ordered a Rum Runner, and we obviously don't specialize in those sort of cocktails, so I frantically looked for information on the Internet about how to make one. I came up with a Rum Runner, but it definitely wasn't what she was looking for.
What's the next big bartending trend? One thing that Taste and Brasserie are working on together is bottled cocktails. We'll be introducing those this summer. They'll be mostly aperitif-type stuff like Americanos or Negronis.
What's your favorite ingredient to use in cocktails? I think gin is awesome. I think the combination of lime and green Chartreuse is also pretty good.
What's your favorite drink? A De La Louisiane. It's a bourbon cocktail from New Orleans.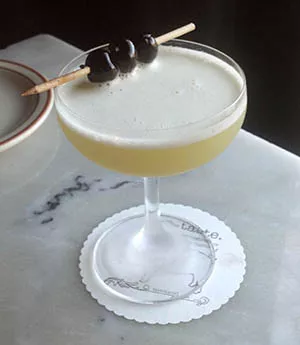 The ingredient for the final round of the Iron Fork mixology competition was Hopskey, a whiskey with a strong hoppy flavor. Using Hopskey, Mathis invented the winning drink, but because Hopskey is not something bars generally carry, he's created a different version for us.
Another Hop Pun
1 oz Bols Genever .75 oz Salers Gentiane Liqueur .75 oz Green Chartreuse 1 oz fresh lime juice .75 IPA Honey Syrup
Pour all ingredients into a cocktail shaker with ice. Shake vigorously. Strain into a glass and serve with a garnish of skewered cherries soaked in maraschino liqueur.