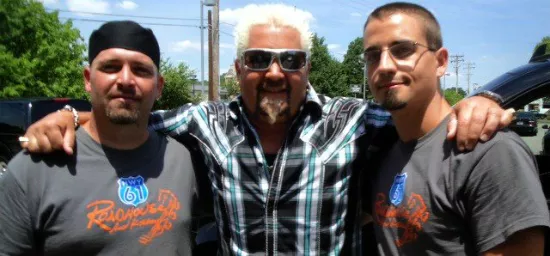 Guy Fieri at Hwy 61 Roadhouse during filming in June 2012.
In December 2012 Hwy 61 Roadhouse & Kitchen (34 South Old Orchard Avenue, Webster Groves; 314-968-0061) appeared on Guy Fieri's Diners, Drive-ins and Dives. Since its initial airing, the episode has replayed a handful of times each month, with four airings slated for April, including tonight at 8:30 p.m. and two times tomorrow, at 11:30 a.m. and 3:30 p.m.
This month Hwy 61 Roadhouse is offering a special menu item themed around Diners, Drive-ins and Dives. Gut Check caught up with owner Bill Kunz to find out what it's like taping with Food Network's No. 1 show -- and of course its bold host, Guy Fieri.
See also: -The Final Guy Fieri Round-Up: Dressel's, Highway 61 Roadhouse and (Maybe) Espinos -Date for Hwy 61 Roadhouse Diners, Drive-Ins and Dives Set
Kunz was first approached by the Diners, Drive-ins and Dives production team a year ago at the recommendation of Tom Coghill, owner of Iron Barley (5510 Virginia Avenue; 314-351-4500), who appeared on a popular episode of the show. By June, following several rounds of interviews, Diners, Drive-ins and Dives' team descended on St. Louis, with two days of filming scheduled at Hwy 61 Roadhouse.
"My friend had kind of prepared me that Guy is kind of busy and important and you won't get much time with him," he says. "At that time, the production company had said he's reason the show is so popular, and that kind of stuff. They prepared me for, 'Don't feel bad if he shuns you or something.'
"It's kind of weird...the producer gets this phone call, 'Guy is now leaving the hotel. Guy is now ten minutes away. Guy is now arriving.' It's like, holy cow, the Pope's coming or something. Then before Guy got there his valet or assistant was there and ironed 25 shirts for him, for Guy to pick one out. It was pretty funny. So it's like, maybe this guy is the Pope, maybe he's going to walk on water. He got there and I wasn't in awe of him; I wasn't intimidated and things went really well."
Once they got to talking, Kunz and Fieri learned they actually have a bizarre, intersecting history: Both men attended the University of Nevada, Las Vegas at different times and lived in the same dorm room (Tonopah Hall, Room 101), and Kunz ran a bar in Los Vegas that Fieri used to frequent quite often. They also lived in the same apartment complex in Vegas for some time. Kunz says all these commonalities set the stage for a laid-back, good time during filming.
Click through for a video preview of the episode with Kunz and Guy Fieri in Hwy 61 Roadhouse's kitchen."Guy said [Hwy 61 Roadhouse] is a really cool place; it's the kind of place he'd hang out in if he lived here in town. It just went really well," Kunz says. "I think he ended up showing me the love in our episode, because traditionally they do three restaurants on an episode...Our episode was only two restaurants, and I got about twenty minutes of airtime, which is priceless."
Since its initial airing Kunz says the show has generated a lot of new business for the restaurant, with new spikes each time a replay airs.
"Just the number of people who came in and said they saw us on Diners, Drive-ins and Dives, the number of e-mails I get from people I've worked with throughout the country. Last week I was at my office doing some work, and one of my managers came up and said, 'Two tables want to meet you. They saw you on Diners, Drive-ins and Dives,'" Kunz says. "I'm just kind of a fancy busboy. It's nice, and it kind of legitimizes what you do, and when people say it's as great as you heard it was you feel good about it."
According to Kunz the Diners, Drive-ins and Dives production team chooses which menu items are featured from each restaurant, requested recipes and information months before choosing a location. At Hwy 61 Roadhouse they selected three dishes: barbecue spaghetti, red beans and rice, and Cajun pot stickers. In honor of its appearance on the show, and for its many fans who visit the restaurant, Hwy 61 Roadhouse is offering a special through April featuring those three menu items, dubbed the Triple-D Sampler for $10.99.
"Those were the three items they chose, and they filmed all three items and showed all three items. We put them together on a small sampler platter so everybody can try all three of them," he says. "The Triple-D Sampler is a chance for everybody to try what Guy tried."
Tune in to Food Network tonight at 8:30 p.m. or tomorrow at 11:30 a.m. and 3:30 p.m. to see Kunz and Hwy 61 Roadhouse on Diners, Drive-ins and Dives, and drop into the restaurant soon to try the Triple-D Sampler while it's available on the menu.