The Gut Check One Hundred is our accounting of the 100 dishes in St. Louis that you must eat right now. These are the best dishes at the newest restaurants and the newest dishes at the best restaurants. These are the 100 dishes that define St. Louis dining in 2013. Our list culminates this fall when the Riverfront Times Best of St. Louis 2013 names the "Best Dish" of the year.
The fried chicken at Home Wine Kitchen | Ian Froeb
Spring is here -- in the weather, I mean, not merely on the calendar -- and very soon our plates will teem with freshly picked vegetables and the ligher, brighter flavors of the season.
In the meantime, have some fried chicken. Specifically, visit Cassy Vires' Home Wine Kitchen (7322 Manchester Road, Maplewood; 314-802-7676) at lunch for her take on this classic dish.
See Also: - Ian Froeb's RFT Review of Home Wine Kitchen (2011) - Home Wine Kitchen Owners To Open New Restaurant on Cherokee Street - "Best Burger" 2012: Home Wine Kitchen
Vires' fried chicken ($16) requires three days. She both brines and marinates the bird in sweet tea and then sous vides it overnight. Finally, the chicken receives a coating of corn meal, sage and cayenne pepper and is then deep-fried to order.
The process results in a remarkable contrast in textures: the exterior is thick and crisp, while the meat is more tender than any chicken you've ever eaten. The white meat has the depth of flavor of dark meat. The dark meat could be another species altogether, so rich is its flavor.
Vires serves half a chicken atop a bed of creamy mashed potatoes and cole slaw. A squiggle of tabasco-truffle honey decorates the plate and adds heat and the slightest sweetness.
By the time you're hungry again, spring will be in full bloom.
Is there a dish that you think belongs among the Gut Check One Hundred 2013? Let us know!
The Gut Check One Hundred 2013 (So Far)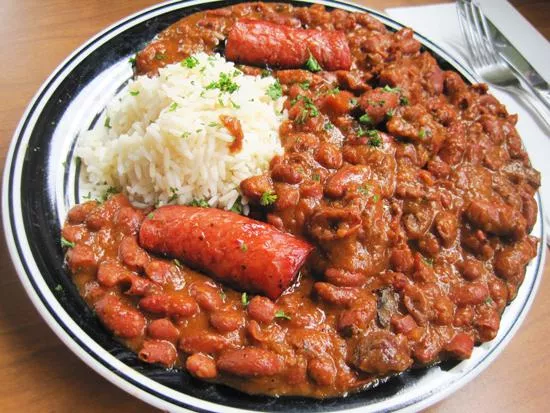 The red beans and rice at Riverbend Restaurant & Bar | Ian Froeb
- Riverbend Restaurant & Bar's Red Beans and Rice - Fork & Stix's Sai Oua with Naam Prik Nuum - Gobble Stop Smokehouse's Turkey Tips - Seoul Taco's Burrito - Five Star Burger's Green Chile Cheeseburger - Olio's Octopus Salad - Dressel's Porchetta "Louie" - Cleveland- Heath's Seared Beef Tongue - Cleveland-Heath's Cauliflower Soup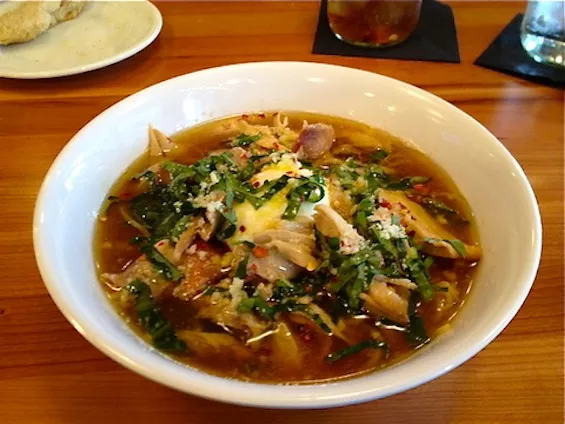 The Italian ramen at Pastaria | Ian Froeb
- Pastaria's Italian Ramen - Pi Pizzeria's "Grove" Pizza - Famous Szechuan Pavilion's Spicy Wonton Soup (Novice) or Yu Shan Pork (Advanced) - La Tejana Taqueria's Goat Soup - Hendricks BBQ's Ribs - Sauce on the Side's "Costanza" Calzone - Siete Luminarias' Guanajuato-Style Carnitas - Fork & Stix's Khao Soi