The Gut Check One Hundred is our accounting of the 100 dishes in St. Louis that you must eat right now. These are the best dishes at the newest restaurants and the newest dishes at the best restaurants. These are the 100 dishes that define St. Louis dining in 2013. Our list culminates this fall when the Riverfront Times Best of St. Louis 2013 names the "Best Dish" of the year.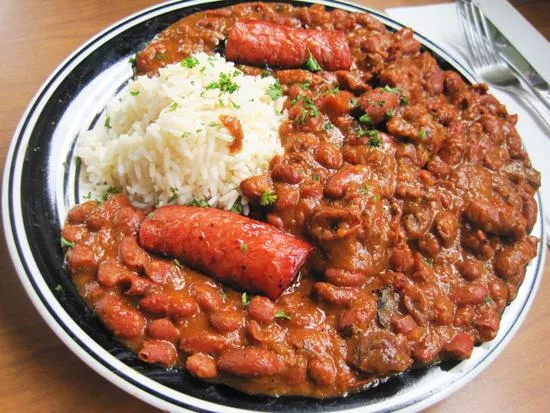 The red beans and rice at Riverbend Restaurant & Bar | Ian Froeb
New Orleans native Sam Kogos snuck Riverbend Restaurant & Bar (701 Utah Street; 314-664-8443) came onto the St. Louis scene a couple of years ago. You could spend your entire life in St. Louis and never stumble upon small corner spot immediately south of Anheuser-Busch. Now that you know its address, you should seek it out immediately.
Actually, check that. You might want to wait till Monday.
See Also: - Ian Froeb's RFT Review of Riverbend Restaurant & Bar (2011) - The Five Best Cajun/Creole Restaurants in St. Louis 2012
As is traditional in New Orleans, Riverbend's red beans and rice is available only on Mondays. (So says the menu, at least, though I had it as a special on a Wednesday.) It is worth planning a visit around its availability: The sauce itself has a rich, porky flavor, while smoked sausage adds brightness and spice. The beans are perfectly al dente.
As with most of the dishes here, there is (intentionally) only a whisper of heat, but both Tabasco and Crystal hot sauces are available, and the menu explicitly states, "if the chef catches you shaking hot sauce onto one of his creations, he will not be offended."
For an appetizer or a side dish, consider the oyster bread. This looks something like cheese bread, a crusty baguette halved lengthwise and topped with an oyster spread. It is ridiculously tasty, a touch sweet, a touch salty.
Is there a dish that you think belongs among the Gut Check One Hundred 2013? Let us know!
The Gut Check One Hundred 2013 (So Far)
The naam prik nuum at Fork & Stix | Jennifer Silverberg
















- Fork & Stix's Sai Oua with Naam Prik Nuum - Gobble Stop Smokehouse's Turkey Tips - Seoul Taco's Burrito - Five Star Burger's Green Chile Cheeseburger - Olio's Octopus Salad - Dressel's Porchetta "Louie" - Cleveland- Heath's Seared Beef Tongue - Cleveland-Heath's Cauliflower Soup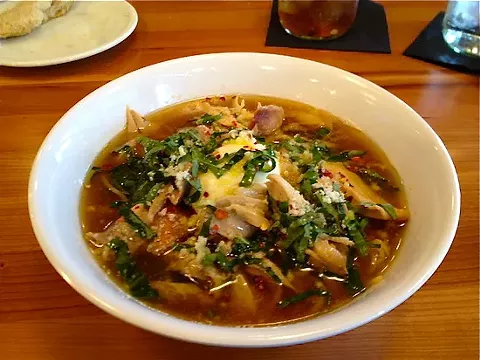 The Italian ramen at Pastaria | Ian Froeb


















- Pastaria's Italian Ramen - Pi Pizzeria's "Grove" Pizza - Famous Szechuan Pavilion's Spicy Wonton Soup (Novice) or Yu Shan Pork (Advanced) - La Tejana Taqueria's Goat Soup - Hendricks BBQ's Ribs - Sauce on the Side's "Costanza" Calzone - Siete Luminarias' Guanajuato-Style Carnitas - Fork & Stix's Khao Soi