This is part two of Gut Check's Chef's Choice profile of Andrew Jennrich of Farmhaus. Read part one, a profile of Jennrich, here. Part three, a recipe from Jennrich, will be available on Friday.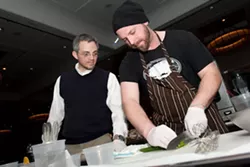 Andrew Jennrich of Farmhaus (right) at RFT's Iron Fork | Jon Gitchoff
Is it unseemly to be thankful for the financial stresses that others have faced?
Of course.
So put it this way: If it was inevitable that Andrew Jennrich and his wife would find the cost of raising their then-newborn daughter in Chicago prohibitive, we are lucky that they chose to relocate to St. Louis rather than Minneapolis or another similarly sized city.
Jennrich, who has worked in restaurants in San Francisco and Las Vegas as well as Chicago, is now the chef de cuisine at Kevin Willmann's deservedly acclaimed Farmhaus (3257 Ivanhoe Avenue; 314-647-3800).
We met at Farmhaus at the tail end of lunch service earlier this week to discuss how he turned a desperate need for cash in college into a culinary career, his formative experience under the acclaimed Chicago chef Grant Achatz, the problem with ordering his go-to drink from the Farmhaus staff and what those dudes were doing in the kitchen when a prince of Saudi Arabia ate at a restaurant where he worked in Las Vegas.
See Also: - Andrew Jennrich of Farmhaus Sees St. Louis on the Precipice of National Recognition - Ian Froeb's RFT Review of Farmhaus (2010) - New Favorites, Old Friends: An Updated Guide to Restaurants in Lindenwood Park
What did your family eat when you were a kid? My mom's mom was a big cook. She's from southern Indiana. They moved up to the northside of Chicago a long time ago. We'd be at my grandmother's house every other weekend. She'd always make everything from scratch, biscuits from scratch -- you wouldn't see a package of biscuits.
I don't know if it's because my mom's mom was such a good cook, my mom -- and she's getting so much better -- she's going to crush me if this makes the paper -- she's a terrible cook. She's awful. To be honest, growing up, [eating] was sheerly out of sustencance, not out of enjoyment. But food was a big part while my grandma was still alive, and somewhere down inside me, it resonated when I finally started to cook.
What were your favorite foods then? I loved my grandma's fried chicken and biscuits. That was the best thing. I still remember those sounds and smells standing in her kitchen. Fried chicken's still one of my favorite things to eat.
What's a typical meal at home for you? I have two young kids. My son is just two months old. My daughter, she's only two. So a lot of the cooking I do at home is really one-pot meals because I get such limited time with my wife and my kids. I want them to enjoy food, I want them to have good meals, but I want to make sure I can spend as much time with them as possible. My Crock-Pot is my biggest friend. Braised colalrds and beans with pork shoulder -- that's an every-other-week staple. Rice and beans.
Any guilty pleasures? Something we'd be surprised you like? All the food I like is guilty pleasure. Dont get me wrong, I definitely will enjoy a salad. But it's like when I walked into Farmhaus [for the first time], the mushroom salad was in Food & Wine, but I'm getting "Breakfast" [roasted pork belly with maple sausage, corn blini and a poached egg].
What's on top of your pizza? It's really specific. This is more of a Good Pie-style pizza. Lardo, fried egg and some kind of bitter green to offset all that.
Being from Chicago, you're a fan of deep-dish pizza? Oh yes.
Who has the best deep-dish? The thing is, the best pizza places in Chicago don't do deep-dish. Art of Pizza or Coalfire, it's all thin. Lou Malnati's, for being a [Chicago] chain, is fantastic. My wife misses Lou Malnati's ike there's no tomorrow. We have Lou Malnati's frozen pizza in our freezer right now because she can't live without it.
What's your drink of choice? Just a beer. Cold beer. With two kids, the wallet isn't available for a nice glass of bourbon.
Any beer in particular? Miller High Life. The "Champagne of Beers." I still accidentally get brought an actual glass of Champagne sometimes. At the end of the night, I'll tell one of the servers, "Hey, can I have a Champagne, please? Champagne with a lime." Literally, I've had two servers bring me a glass of Champagne. Read the label. It's the "Champagne of Beers."
What are your favorite St. Louis restaurants, not counting your own? Niche, Sidney Street Cafe -- those are kind of special-occasion places. I hate to name the same person [Gerard Craft] twice, but Brasserie is always so good. It's classic, it's traditional, but even if you're doing something classic and traditional, you can fuck it up completely. [Executive chef] Mike [Petres] just does an awesome job there.
Which St. Louis chef most impresses you? Kevin Nashan [Sidney Street Cafe]. I have never met anybody with more enthusiasm and energy. I mean every time there's an event, I swear I see Kevin Nashan -- in this city, other cities. I don't know if he sleeps at all. He is just an animal, and the biggest champion for St. Louis food. It's really inspirational. I love going down to Sidney Street and hanging out and listening to the Kevin Nashan St. Louis motivational speech. It gets me fired up to be in St. Louis and part of the food scene here. An unbelievable chef and a really good person. A great voice for the city.
What's your favorite city for food and restaurants? Chicago. I have to go home. I've been to New York. I've lived in San Francisco. Chicago's just awesome, part combination east coast and west coast, and part its own place. It's terrific. I'm very fortunate to be part of that food city.
What's your favorite restaurant elsewhere? The Publican in Chicago. Absolutely. My wife and I used to walk there. That was our neighborhood. I miss walking there and having brunch. It's part of that renaissance of the simple. You forget how good simple can be. There's only four ingredients for every item. There aren't twenty garnishes. Four things can taste really good together.
The most essential ingredient in your kitchen? Salt, for sure. It's definitely the most finicky component because nobodys palate is the same when it comes to salt. If you figure out your own personal salt content, it's the most powerful ingredient we use.
An ingredient you'll never allow in your kitchen? That list used to be really long. The older I get, the longer I cook, the more that list goes away. Right now I hate fava beans because I hate having to peel them twice.
What was something you hated but learned to love? Brussels sprouts. My mom -- again, she's gotten a lot better -- but, God, she's a terrible cook. Literally, [she'd serve] Brussels sprouts in the steamer with no salt. What a horrible ingredient with no salt! [Laughs]
Favorite cookbook? The French Laundry. My dad bought me that cookbook when I told him I wanted to be a chef for a living. He didn't know who Thomas Keller was.
[Jennrich did his culinary school externship at Trio in Chicago under Grant Achatz, now world-renowned for his restaurants Alinea and Next.]
There were five cookbooks that sat on the shelf in Grant's office, and obviously he came from the French Laundry. His movitional speeches were, "Man, at the Laundry, Thomas [Keller] would do this, Thomas and this." It was ingrained in your head. I've never seen a cookbook so professional. The way he writes is so inspirational. We've got it sitting up there. [Points to the shelf above the Farmhaus bar]
It's inspirational to go back and look, regardless that you look at its tower-plating style, and you're like, 'Wow! That's so long ago. Nobody plates like that anymore really.' It's a timeless book. I'll look at that book till the end of time.
Favorite kitchen tool? My knife, for sure -- probably because I got a new one for Christmas. My first new one in ten years. So I was pretty excited.
Ten years is a pretty good run for a knife. I think I sharpened it so many times, it actually [became] a different composite of metal.
Most useless kitchen tool? Anything you see at 3 in the morning on TV.
What's the strangest or most memorable thing that's ever happened to you at a restaurant? I was working at Daniel in Las Vegas. [Daniel Boulud's restaurant in Las Vegas, now closed.] One of the princes of Saudi Arbaia was having dinner in the private room. We're plating up his food, and there are these guys in the kitchen in suits, and they're tasting everything. I'm like, "What the hell are these guys doing?" And one of the cooks is like, "They're eating the food to see if it's poisoned so it doesn't go out to the prince." That's fucking nuts! Wow! You are pretty important if you have people tasting your food to see if it's poisoned. That's the craziest thing I've ever seen.
This is part two of Gut Check's Chef's Choice profile of Andrew Jennrich of Farmhaus. Read part one, a profile of Jennrich, here. Part three, a recipe from Jennrich, will be available on Friday.