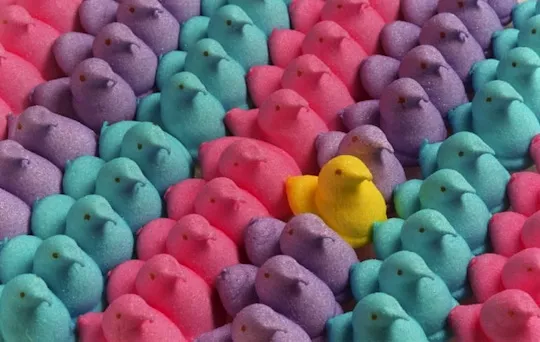 Another Easter has come and gone. We've gorged ourselves with festive, pastel-colored candy (only the best kind though), we've found most of the eggs that we hid in the yard (that'll be a nasty surprise next year) and we've enjoyed spending time with family and friends (now we don't have to again 'till the Fourth of July). And what do we have to show for all of this holiday spirit?
Peeps. A shit ton of Marshmallow Peeps.
Sure, they're cute and they're an Easter icon, but what are they really good for anyway? Gut Check has rounded up our favorite Peep projects in hope that we can inspire you to greatness.
Here are the top six things to do with leftover Peeps...
1. Jousting Peeps
I don't know about you folks, but where Gut Check comes from, this is a tried and true Easter tradition. You'll need a microwave safe plate, two toothpicks and however many Peeps you're willing to sacrifice in battle. Oh, and a microwave. The chick Peep variety are best for this game, but bunnies will work too. Place the Peeps facing each other and stick the toothpicks into the Peeps so they look like they have their jousting rods facing each other. Turn the microwave on for a minute. Whoever's Peep inflates and stabs the other one first is the winner. Then, we suppose, you can eat the gooey mess.
2. Peepsicles
Let's face it: Peeps are pretty bland. They really need something to make them a little tastier, and since chocolate makes everything tastier, it's a perfect combo. Melt some chocolate (milk, dark, white -- it don't matter), jam a stick up a Peep's rear, and dip it in. If you're feeling fancy, roll the chocolate-dipped Peep in some nuts. Freeze until the chocolate has hardened. These are especially fun because you get to say, "Peepsicle" a lot while making them.
3. Peep S'mores (S'meeps)
OK, so Peep s'mores aren't exactly innovative, but they are delish. We recommend placing two Peeps on one half of a graham cracker and two rectangles of Hershey's Milk Chocolate on the other half of the graham cracker. Broil in an oven or toaster oven until the Peeps double in size and the chocolate looks melty. Assemble and serve. Word to the wise: Peeps harden when they've been heated then cooled. So...have fun with that.
4. Peep Art
Pop artist Robert Rauschenberg said, "I think a painting is more like the real world if it's made out the real world." If you follow this line of reasoning, art will be more like reality if it's made of out Peeps. Yeah, we're pretty sure that's what he meant. Regardless, Peeps come in pink, orange, yellow, green, blue, purple, brown and white. That's pretty much the full color spectrum. Now go! Get your hot glue gun and a piece of cardboard and make a masterpiece! ...Ahem, masterpeeps.
5. Peep-Infused Vodka
You guys, this is a real thing. Gut Check would love to take credit for this invention, but alas, peeps the world over have long been infusing vodka with Peeps. We made some of our own though, just to test it out. You'll need a mason jar or some other large, sealable receptacle, vodka and, of course, Peeps. Stuff that jar full of Peeps, then pour vodka (not top shelf, trust us) over the Peeps. Refrigerate for three days. The vodka will take on the color of the Peeps, so plan accordingly. Don't mix purple and yellow, or the Peep vodka will be even less appealing than it is by nature. Strain the Peep remnants out of the vodka before you serve, but don't throw them out! They're now a fun, alcoholic Easter treat with an atrocious texture! Fun!
6. Famous Peeps
Ah, the Peep diorama. It's become almost as much of an Easter tradition as hunting for eggs and biting the heads off of chocolate bunnies. If you do a search for "Peep diorama," you'll get millions of images of peeps recreating various moments from entertainment, politics and history. In honor of this, we've created some famous St. Louis Peeps. See if you can guess who they are! Scroll down for the answers.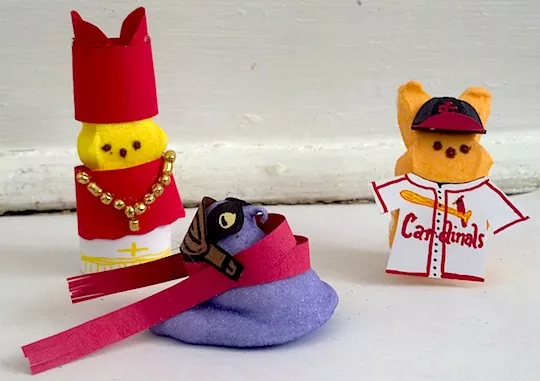 Kaitlin Steinberg
Hint: These Peeps are St. Louis icons. Actually, the dude in the Cardinals baseball uniform could be any player, but we have a beloved, recently deceased Cardinal in mind.
Kaitlin Steinberg
Hint: These are famous Peep couples. The couple on the left are well-known musicians, and the couple on the right are explorers. And only one of the explorers is actually from here.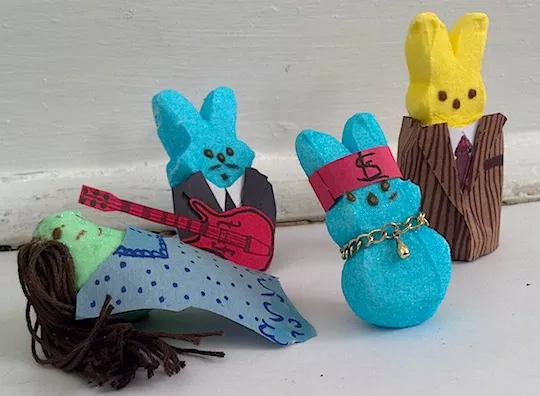 Kaitlin Steinberg
Hint: These Peeps are in the entertainment industry. And the one on the far right has quite the bulge.
Answers: Couples (left to right): Ike and Tina Turner; Sacagawea and William Clark (though Sacagawea is from South Dakota) Icons: Cardinal Timothy Dolan; Charles Lindbergh; Stan Musial Entertainers: Linda Blair; Chuck Berry; Nelly; Jon Hamm