Guess which St. Louis brewery apes A-B for April Fool's Day this year...
Oh April's Fools' Day. We meet yet again.
This year the best food and drink pranks perpetrated on these here Internets ranged from the disgusting to the sci-fi, but our favorite came via one St. Louis brewery poking fun at another St. Louis brewery.
Submitted for your sense of humor, here are Gut Check's five favorite April Fools' Day food and drink pranks making the rounds this year.
Bacon-Flavored Scope Mouthwash Just when we thought everything under the sun had been baconized, Scope proved us wrong with bacon-flavored mouthwash as it's April Fools' Day farce.
While this one wins points for being arguably the grossest bacon- flavored product yet, we can't help but believe this could spur a legitimate consumer demand for such a product -- much like the Torani chicken-and-waffles-flavored syrup prank of April Fools' past that really came to fruition.
Google Nose Google has fun launching fake innovations each year on April Fools' Day, but this year's fake-out is the most relevant to Gut Check's interests yet. Meet Google Nose, a beta olfactory search engine that proffers smells instead of its current offering of only "most of human knowledge." Aromas included in Google's promotional video for Google Nose include "campfire," "success," "ghost" and "the inside of an Egyptian tomb."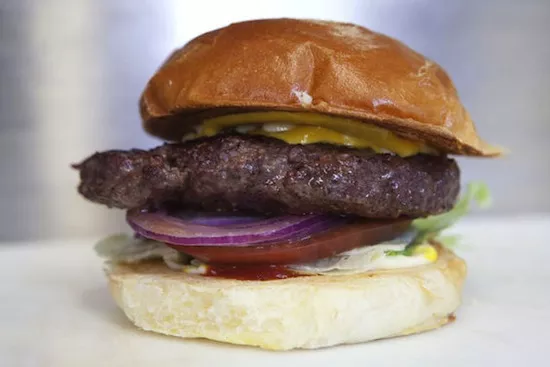 April Fools' from L.A Weekly.
L.A. Weekly's Golgugi Burger Today Riverfront Times Los Angeles-based sister paper L.A. Weekly reported the opening of Golgugi Burger, a restaurant honoring the newly discovered "6th gustatory taste, called Golgugi."
Here's an excerpt from L.A. Weekly's, ahem, coverage of this new restaurant:
The new concept restaurant celebrated this groundbreaking scientific discovery with a grand opening party featuring DJ Couth at their first location in Echo Park. Mikel presided over a crowd of nearly 50 people sipping Hite and carbonated Fernet, explaining, "Many foods contain Golgugi. Some meats and others plants. We decided to create a menu to highlight this gustative breakthrough and what better way to do that than on a burger? I mean, who doesn't love a friggin' burger? And science."
AMC Mad Men-Themed Cocktail Lounge Chain Meanwhile, over at one of Riverfront Times other sister paper's, New Times Broward-Palm Beach, April Fools' Day brings news of a new Mad Men-themed cocktail lounge at Fort Lauderdale's airport. According to the New Times, AMC is launching a chain of Mad Men cocktail lounges dubbed Mad Cocktails, with the first slated to open at its own Fort Lauderdale-Hollywood International Airport this Sunday, April 7, right in time to host a watch-party for the show's season six premiere.
Were it real, we'd drink to that. Schlafly's 21st and Locust Brewing Company By far, the best April Fools' Day goof we've seen this year comes from Schlafly Beer, which created a fake arm of its brewing company named 21st and Locust Brewing Company. In an obvious send-up of A-B, the imagined brewery features three signature beers: Schlaf Lyte, "brewed with the best hops, barley, baby corn and water our margins would allow, Maplewood Aged for a unique finish that you can totally taste;" Schlaf Lyte Light, "When you need a beer, but don't really like beer...and you actually just kind of want some water;" and Schlaf Lyte Fancy, "Exactly like Schlaf Lyte but much, much more expensive. Wanna get laid? Get Fancy."
On its website, 21st and Locust Brewing Company "founder" Brennan Greene describes the company's history thusly:
When I immigrated to the United States in 1852, all I brought with me from the old country was the clothes on my back, a much longer last name, scurvy, and five generations of brewing heritage coursing through my veins. It's hard to believe that it has been 150 years since I founded 21st and Locust Brewing Company® in a humble shanty on the outskirts of the City of St. Louis and first introduced the world to Schlaf Lyte Beer®.

The War of Northern Aggression finally came to an end and in the intervening years, 21st and Locust Brewing Company® has grown steadily into the hundred-million barrel producing, zany multinational super-corporation you've come to know and love. Today, our family of Schlaf Lyte® Beers are the best selling beer-like products the world has ever known. Pretty cool, huh?

Cheers,

Brennan Greene Head Brewmaster and Founder
And at least one local news outlet seems confused about Schlafly's prank. This morning KPLR wrote about it so straightforwardly (see: every other word in quotation marks and no editorial commentary) it's unclear if they're in on the joke or just helping further it.
Tip of the hat to you, Schlafly, not only for a top-notch April Fools' gag, but for aping A-B so well, too.