Welcome to Girl Walks Into a Bar, a weekly Gut Check feature that spotlights local bars and bartenders. This week, Kaitlin Steinberg profiles Julia Mager of Coffee Cartel. Below is a Q&A with Mager, followed by her recipe for a white-chocolate mocha.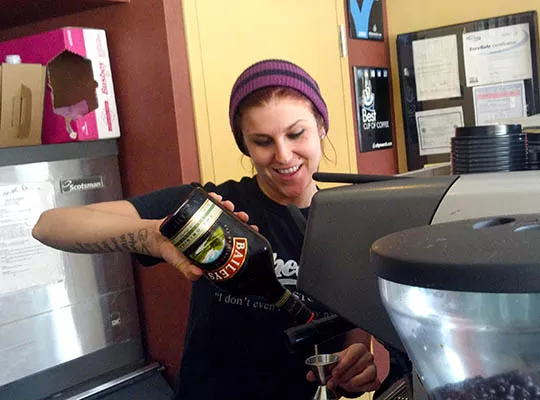 This week, we took the word "bar" in Girl Walks Into a Bar somewhat loosely. Your intrepid female bargoer needed a pick-me-up before last night's Iron Fork event, so she wandered into Coffee Cartel (2 Maryland Plaza; 314-454-0000) in the Central West End for something a little different. Don't worry though. There's still alcohol involved.
Coffee Cartel has an extensive food and coffee menu, and it also has a liquor license, which means boozy smoothies and coffee drinks galore! Julia Mager is a bartender-turned-barista and general manager at Coffee Cartel, so she knows just what to mix to get customers warm, caffeinated and maybe a little buzzed.
Mager started out working at Coffee Cartel years ago, then moved to Florida where she bartended. When she came back to St. Louis, she took up her old job at Coffee Cartel, now with the skill set of a bartender to help her make drinks quickly, efficiently and alcoholicly. (That is now a word 'cause we've decreed it so.)
"It's a little bit different," says Mager of making the switch from bartender to barista, "but honestly, we get so many drunks in here at night that it's kind of the same."
Kaitlin Steinberg
The "bar" at Coffee Cartel.
Describe your bartending style in three words. Fast and a little bit hectic, as we do get a crazy, crazy crowd in here. And I guess varied. We make a lot of different types of drinks.
A girl walks into a bar and orders a _____. She has just earned your undying admiration. I love the Bailey's Blizzard. And the White Russian Latte.
What is one thing that most people don't realize about bartending or being a barista? That, well, we're human, and we'd like to be treated like humans. I was a bartender for a while as well, and people just forget to look at you as people. But the folks who do are amazing. We have some customers who really come in and make up for that.
Who would you most like to have a drink with? And why? Audrey Hepburn because she's elegant, articulate and eloquent. She's everything that personifies both a good and amazingly beautiful person. She's also so talented. She gave her time to the U.N. when she got older. Just an extremely interesting person. I'd drink a martini with her.
What is the most bizarre or worst drink someone has ordered from you? A raspberry sorbet, white chocolate vanilla shake. It's got your dairy and your sorbet, and then the customer throws in some Bailey's one in a while. It's very different. He gets that every time.
What's your favorite ingredient to use in cocktails? Vodka is always delicious, but I love Amaretto. Amaretto and hot chocolate tastes like a Tootsie Pop.
What's your favorite drink? Thai Iced Coffee. Sweetened condensed milk deliciousness.
White Chocolate Mocha
2 shots espresso 2 pumps white chocolate 2 pumps vanilla milk whipped cream Bailey's (optional)
Put espresso into 16-oz glass. Stir in white chocolate and vanilla, then fill to about half with milk. Add some Bailey's for a kick. Add whipped cream and stir it in until the drink is thick and creamy. Top with more whipped cream.