St. Louis' neighborhoods are gems in their own right: full of history, great people and, as far as Gut Check is concerned, fantastic food. Each week we'll take you into a specific neighborhood and point you in the direction of the best places to grab some bites.

View Webster Groves "Old Webster" Neighborhood Restaurants in a larger map
Over the past half-decade, the Old Webster district of Webster Groves has undergone something of a renaissance, culinarily speaking. It's now fair to say the district has come into its own as a restaurant neighborhood and even, in some instances, a restaurant destination. In this post we highlight some of Gut Check's go-to dining spots in Old Webster.
See also: - South Grand: An Updated Guide to Restaurants on South Grand Boulevard in St. Louis - Benton Park: An Updated Guide to Restaurants in the Benton Park Neighborhood of St. Louis - The Hill: An Updated Guide to Restaurants in St. Louis' Iconic Italian Neighborhood - Olive Boulevard Asian Eateries & Much More: An Updated Guide to Restaurants Along Olive, Westward From University City
Robust (227 West Lockwood Avenue, Webster Groves; 314-963-0033) When Robust opened in mid-2007 on the western fringe of Webster's Lockwood business district, it was an immediate hit. In part, this was due to the fact that Webster isn't exactly brimming with wine bars (or bars of any kind, for that matter). More to the point, owner Stanley Browne had invested his venture with every ounce of his wine passion and knowledge, and it showed. A half-dozen years later, Robust remains a Webster favorite, and a destination for wine lovers across the metro area. Browne's wine list is wide and deep, and imaginatively organized by flavor profile rather than geographical region. The kitchen's small-plate offerings are multifarious, tasty and well matched to the wine list. Prices are very reasonable -- extraordinarily so, in the context of St. Louis restaurateur's penchant for wine markups -- and if you like what you drink, you can buy a bottle (or three, or four) to take home with you.
See also: - The Nine Best Wine Bars in St. Louis - 2012 Best of St. Louis: "Best Wine List in a Restaurant (Value)" - Ample Vegetarian Options at Robust's New Downtown St. Louis Location - March 2013 issue of Wine Enthusiast Features Four St. Louis Wine Bars
Provalo Deli (229 West Lockwood Avenue, Webster Groves; 314-962-5500) Provalo is an unpretentious sandwich shop at the western terminus of the Old Webster shopping district. It's several steps up from your run-of-the-mill national sammy chain, in that it's locally owned and operated -- by the same folks who own Yo My Goodness, the frozen-yogurt dispensary next door. The resulting synergy, coupled with the fact that there's no branch of any run-of-the-mill national sammy chain in the immediate vicinity, make it (and YoMy, as it's known among locals) a popular hangout for Webster's teen and tween set. Which is to say it's all good, from the sandwiches to the salads to the wraps, soup of the day and personal-size pizzas. The name's Italian for "try it." So what are you waiting for?
Milagro Modern Mexican (20 Allen Avenue, Webster Groves; 314-962-4300) Milagro Modern Mexican landed with a big splash in Webster in mid-2010, immediately garnering RFT honors as St. Louis' "Best Mexican Restaurant." It was no fluke, either: The restaurant retained the title in 2011 and added "Best Local Chef" to its awards quiver, thanks to the efforts of kitchen maestro Jason Tilford. Tilford validated the honor last year when he took the top prize in RFT's 2012 Iron Fork competition. What sets Milagro apart from the St. Louis Mexican-restaurant crowd? In a word: ambition. Tilford isn't interested in taking the safe route. He wants to challenge diners with authentic Mexican cuisine, served in classy (though not in any way frumpy) surroundings. Favorites include tuna ceviche, conchinita pibil, tacos al pastor and, of course, a sumptuous and complex mole. The margaritas, BTW, are not to be missed.
See also: - Gut Check Chef's Choice profile of Milagro chef Jason Tilford - The Five Best Margaritas in St. Louis - RFT review and slideshow: Milagro Modern Mexican
La Cantina (35 North Gore Avenue, Webster Groves; 314-968-3256) Another Mexican restaurant in Webster? Well, sorta. Robert Trevino, owner of the popular Amigos Cantina in Kirkwood, has designed a menu whose dishes are meant to be shared, tapas-style, among the table. The best of these are the "Botanas Chiquitas," or little snacks, like the "Chiles Dulces" (jalapeños roasted and then beer-battered , deep-fried and dusted with powdered sugar) and "Queso con Cerdo," melted cheese with roasted pork and green chiles. Smaller versions of such staples as carnitas, tacos, burritos and quesadillas are also available.
See also: - RFT review and slideshow: La Cantina
Dr. Jazz Soda Fountain & Grille (29 North Gore Avenue, Webster Groves; 314-961-5299) Dr. Jazz brings the old-timey charm of the soda fountain to already old-timey Old Webster. What could possibly be a better fit? The menu includes shakes, floats and phosphates, but also more substantial offerings including burgers, Italian sausage, grilled-cheese sandwiches and Chicago-style dogs. And, yeah, dessert, including sundaes like the "George Bailey" (featuring coconut ice cream covered in fudge and shredded coconut) and the NOLA (featuring praline pecan ice cream, caramel and pecans) or, if you think you can handle it, the "Brain Freeze": a standard sundae made with twelve scoops of your choosing. It'll cost you $24 -- but if you polish it off in 30 minutes or less, Dr. J'll pick up the tab.
See also: - RFT's 100 Favorite Dishes: Root beer float at Dr. Jazz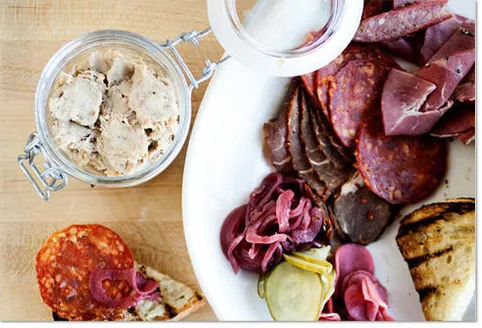 The Block (146 West Lockwood Avenue, Webster Groves; 314-918-7900) The Block is the brainchild of Marc Del Pietro, executive chef at Luciano's Trattoria in Clayton. The name's a double entendre: Del Pietro conceived the restaurant, centrally located in the heart of Old Webster, as a neighborhood gathering place, and a steak house where customers may also opt to buy the main ingredient in its uncooked form and take it home for further preparation. We've always chosen to let Del Pietro's kitchen do the honors, whether on a butchered-in-house grass-fed steak or a thick, juicy pork chop from Rensing's Farm in New Douglas, Illinois. When we can't decide between those, we default to the Block's half-pound burger, made with that distinctive tasting grass-fed chuck.
See also: - RFT review of the Block (2011) - The Block Opens Second Location in the Central West End
Dewey's Pizza (122 East Lockwood Avenue, Webster Groves; 314-961-1000) Stretch the boundary of Old Webster a bit eastward from Elm Avenue and you come to Dewey's Pizza, one of several St. Louis-area links in a Cincinnati-based chain that doesn't look, act or taste like a chain. Thin crusts rule the day, crisp but still toothy. Specialty pies are imaginatively conceived and well executed, as are salads and calzones. The pizzeria was initially rebuffed by Webster officials worried that it'd be a bar in restaurant's clothing. It's not -- but the wine and beer lists make it a suitable date destination as well as a family-friendly joint.
See also: - Gut Check's 100 Favorite Dishes: The "Edgar Allan Poe" at Dewey's Pizza