This is part two of Gut Check's Chef's Choice profile of Andrew Ladlie of Sassy JAC's. Read part one, a profile of Ladlie, here. Part three, a recipe from Ladlie, will be available on Thursday.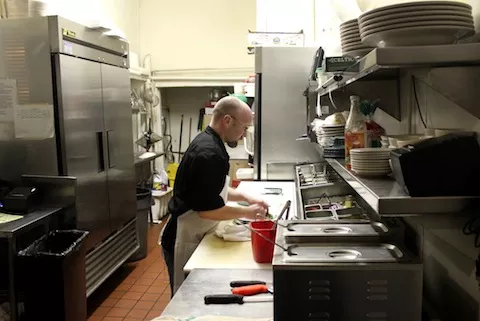 Andrew Ladlie in the very small Sassy JAC's kitchen | Kaitlin Steinberg
I wanted to profile Andrew Ladlie of
Sassy JAC's
(1730 South Eighth Street; 314-932-1280)
because I'd enjoyed my review visits to his Soulard restaurants so much. But as we spoke, I realized the Sassy JAC's at which I'd dined was merely a fraction of Ladlie's ambition for the place.
"I love the creative aspect of cooking," Ladlie says, "but I think learning how to manage my time as a small business owner has been the main thing that has held me back. You work so many hours as a small business owner, you forgot about what you opened the business for. Then you get caught up...'What if I try it and lose a bunch of money?' So I haven't been as aggressive. I've got all that under control now."
See Also: - Andrew Ladlie Finds the Beating Heart of the Tiny Kitchen at Sassy JAC's - Ian Froeb's RFT Review of Sassy JAC's (2012) - Jennifer Silverberg's RFT Slideshow of Sassy JAC's (2012)
Ladlie and I met in the Sassy JAC's dining room between lunch and dinner service one afternoon last week. As befits a Soulard joint, a few bar patrons provided the soundtrack while we discussed how he went from a college chemistry major to a restaurant owner (read part one for that story), his disdain for fiddlehead ferns and feather boas, and the time he asked a giant dishwasher to clean out the walk-in.
What did your family eat when you were a kid? My parents both worked so hard. We didn't have a whole lot, but until I got older -- I mean, my twenties -- I didn't even realize they didn't have as much as we needed. I remember my parents working a big garden in the summer because that was food. There wasn't steaks and stuff like that.
What were your favorite foods then? Whatever meal involved broccoli-rice casserole. Obviously, all the potlucks with my family. And we had an ice-cream store across the street.
What's a typical meal at home for you? We eat at home on Sundays. Meals are dictated by my daughter still [Clara, four years old]. She does pretty good with food. She'll eat anything. Her favorite food is probably salad. She eats olives out of the jar. She loves different dressings. She'll eat lamb chops. The first time we gave her lamb chops, it was just little lollipop chops, so now she thinks all lamb should be eaten like that.
Any guilty pleasures? Something we'd be surprised you like? That Jennie-O turkey loaf. I can't believe I like it. It's just such garbage. That's an embarrassing pleasure, if that counts.
What's on top of your pizza? Bacon, black olives, some spicy pepperoni.
Sassy JAC's in Soulard | Jennifer Silverberg
What are your favorite St. Louis restaurants, not counting your own? [Sighs] We go out to eat so very little. Riverbend Restaurant & Bar does a good job. My favorite spot before we moved to the city, was a little spot called Louisiana Cafe. That was a fun spot to eat.
Which St. Louis chef most impresses you? I think Kevin Nashan over at Sidney Street Café does a great job. I've never had a bad meal there. He's very personable -- he's one of the guys who gets out to the tables and has something to say about the food. He doesn't know me, but I've still had opportunities to talk to him. He's a good one.
What's your favorite city for food and restaurants? I love New Orleans food because you can walk anywhere and potentially have one of the best meals you've ever had in your life. It might not have the most panache around it, but the panache is in the food. It's a fun food city, and I think it's consistent across the board, form gas-station sandwiches to, of course, the great restaurants. New York's obviously amazing. New York is in a league of its own as far as food goes. Florence, Italy, has great food -- it's that middle-of-the-earth Italian food.
The most essential ingredient in your restaurant? It's got to be butter.
An ingredient you'll never allow in your kitchen? You won't see cilantro.
You're a cilantro hater! My wife is. I keep it out of here just in case. [Ponders the question] Fiddlehead ferns. You will never see me work on those things. I've tried to make them so many different ways, and can't like them no matter how.
Favorite cookbook? My go-to cookbook would probably be Betty Crocker because I don't do baking. Other than that I just try to watch what's going on around me. The Internet cookbook! [Laughs] If I run into something I don't understand, I'll research it top to bottom and then play with it.
Favorite kitchen tool? My Robot Coupe, for the emulsifying factor. My knife. My stand mixer.
Most useless kitchen tool? Onion choppers.
Any advice or a favorite tip for the home cook? Salt and pepper at the end. Use fresh stuff. Take your time. Cooking's not fast, it's not clean. Make what you like. Take stuff you like and put it together however you want. That's not to say don't try new things -- but maybe have someone else prepare sweetbreads the first time.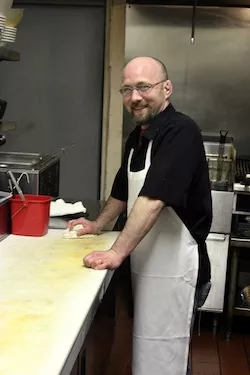 Andrew Ladlie of Sassy JAC's | Kaitlin Steinberg
What's the strangest thing that's ever happened to you at a restaurant? When I worked in New Orleans, we had this woman dishwasher. Her name was Lovey. She was a gigantic human being. I mean, six foot six, easily 250 pounds. Just huge and in great shape. That is a very, very large woman.
One point in time, she said, "Hey, my uncle's looking for a job, he wants to be a dishwasher part-time." She said he's twice as big as me and can lift twice as much.
Well, he made her look small. He was fresh off oil rigs in the Gulf. So we hire that guy. One night, I decide let's pull everything out of the walk-in and scrub the walls down. So I ask him to do it. I go back out front and watch the line. I come back ten minutes later, he's carrying the shelves out of the walk-in -- 64-inch wire shelves, full of all the product! [Shakes head] I mean, not even hesitating, just carrying the thing out!
I was like, "You can not do this. I get that apparently this might be easy for you, but if you trip, or slip and dump that whole shelf of stuff over, you're killing an entire day's productivity for an entire kitchen. Can't do it."
You must see interesting things in Soulard? [Makes a face that conveys he and I couldn't possibly go far enough off the record for him to share his favorite Soulard stories] I'm about to put in a "No Feather" rule because during all the festivals everybody's got boas, and we clean up feathers for days. It's like they get in here and breed.
What's your proudest professional moment so far? Getting the doors open on this place, day one. I never knew what to expect, I didn't know if people were going to come in and eat my food. I had to start there to know where I could get to. [I move to turn off the tape recorder but he wants to say something else] You can't work in restaurants without good people around you. It's a relentless job, and you have to have good people around here. Otherwise, you have a tough time.
This is part two of Gut Check's Chef's Choice profile of Andrew Ladlie of Sassy JAC's. Read part one, a profile of Ladlie, here. Part three, a recipe from Ladlie, will be available on Thursday.