Getting ready for Easter? Fortunately for St. Louisans, Kakao Chocolate is, too.
Yep, Brian Pelletier and his team are busy making chocolate bunnies and marshmallow snow birds at the chocolatier's two locations -- (7272 Manchester Road, Maplewood; 314-645-4446) and (2301 South Jefferson Avenue; 314-771-2310).
We dispatched RFT contributing photographer Crystal Rolfe to Kakao with a single objective: Using only a digital camera, cause us to crave. Not surprisingly, Crystal delivered the goods....
See also: - Food Photo Essay: Gooey Butter Cakes & More from Ann & Allen Baking Company - Food Photo Essay: 2013 Stout and Oyster Festival at the Schlafly Tap Room - Food Photo Essay: The Block Restaurant Butcher and Bar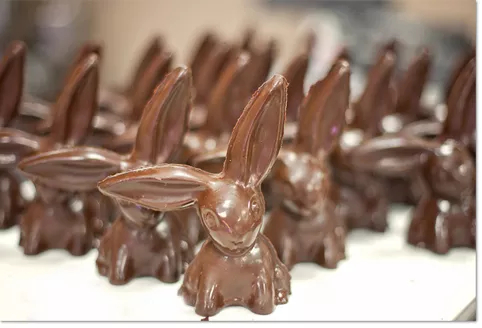 Chocolate bunnies lined up and ready to march out the door.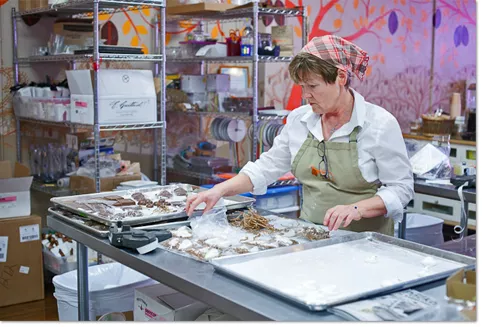 Maureen builds wee nests for the little marshmallow snow birds.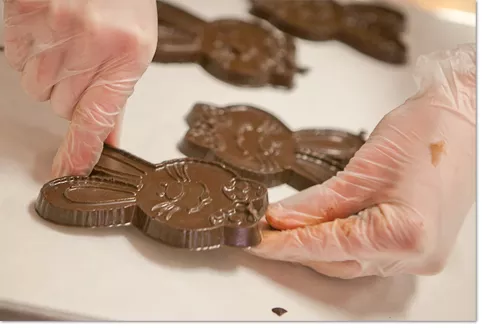 Chocolate bunnies (2-D version).
May we interest you in a palate cleanser? Passionfruit pâté de fruit.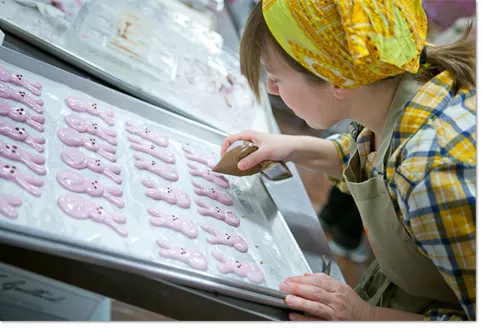 Jenny puts the finishing touches on the pink marshmallow bunnies.
No Easter basket is complete without jelly beans.
Flower lollipops are a hit with the pastel-pink set.
Floppy-eared bunnies three ways: One of these flavors is sure to please even your most discerning Easter eater.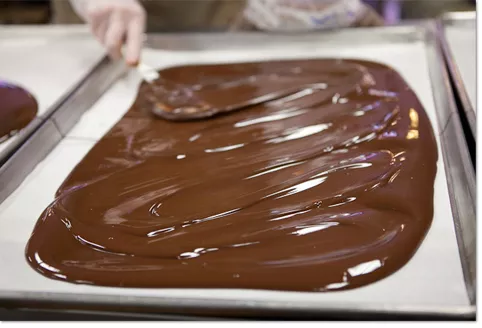 Even the raw material looks irresistible.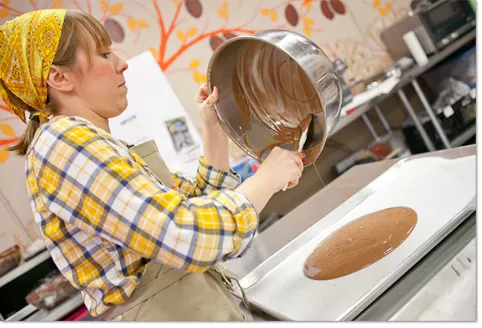 Jenny whips up a batch of salted caramels.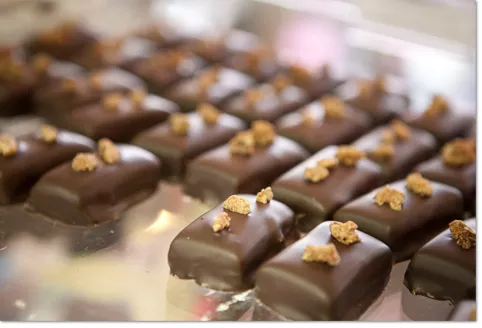 For your grown-up Easter consumer, we suggest the "Bourbon Explosion": Bourbon marshmallow and vanilla caramel, enrobed in chocolate and topped with bourbon pecans.
Tracy unmolds a batch of chocolate bunnies.
Editor's note: Sometimes food renders Gut Check speechless. That's why God invented the DSLR. In our continuing effort to cause your mouth to water onto your keyboard, we bring you our weekly Food Photo Essay.