This is part one of Gut Check's Chef's Choice profile of Andrew Ladlie of Sassy JAC's. Part two, a Q & A with Ladlie, will appear Wednesday. Part three, a recipe from Ladlie, will be available Thursday.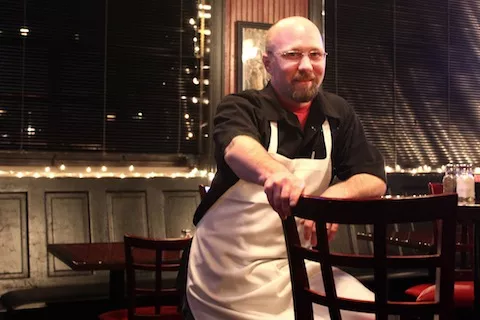 Andrew Ladlie of Sassy JAC's | Kaitlin Steinberg
When I reviewed the southern-fried Soulard joint
Sassy JAC's
(1730 South Eighth Street; 314-932-1280)
last year, I enjoyed my meals -- so much so that I wanted chef and owner Andrew Ladlie to expand his menu beyond its modest confines of appetizers, sandwiches and an entrée of the day. I understood, though, why he didn't. The Sassy JAC's kitchen is very small, and on my visits Ladlie worked it by himself.
"I knew I wanted to cook homestyle -- soul, stick-to-your-ribs food," Ladlie says now. "But I was also smart enough to know I had a lot to learn about this, so I had to start out slow. I told myself, 'Don't jump the gun on anything. Make sure you can put out a good product.'"
See Also: - Ian Froeb's RFT Review of Sassy JAC's (2012) - Jennifer Silverberg's RFT Slideshow of Sassy JAC's (2012) - The Five Best Cajun/Creole Restaurants in St. Louis (2012)
Ladlie and his wife, Jennifer, opened Sassy JAC's in May 2012. (JAC is an acronym of the first names of the couple and their four-year-old daughter, Clara; the Ladlies are currently expecting their second child.) For the 34-year-old Ladlie, the restaurant is the culmination of a career in which he has eagerly sought new experiences and challenges. Or, rather, for Ladlie, who over the course of our conversation was candidly self-critical about Sassy JAC's first year of operation, refining and improving his restaurant presents him with his greatest challenge yet.
Ladlie took a roundabout route to the kitchen. In fact, he enrolled at Truman State University to study chemistry. Though the chemistry major did hint at his true calling.
"Cooking and chemistry, they go hand-to-hand," he says, "but I don't have the precision it takes to do some of those things in chemistry. That's why you won't see me bake. I want to blow shit up!"
Ladlie grew up in O'Fallon. At the time, he says, this was still the country. "It was a two-lane road."
"My family life growing up was awesome," he continues. "I tell my parents all the time what a great job they did. Not because of how I turned out necessarily. My parents both worked so hard. We didn't have a whole lot, but until I got older -- I mean, my twenties -- I didn't even realize they didn't have as much as we needed."
Ladlie's adolescence certainly didn't suggest a future with food or restaurants. "In my high-school years, I ate such a stupid diet because of wrestling," he says. "I've had more tuna-fish salad at my parents' house than anything else, for sure."
After college, he found restaurant work in the front of the house: "It looked like the kitchen was the beating heart of the restaurant, so after I worked out front, I thought, let me go and try this.
"I kind of fell in love with it there. I liked the hustle. I liked the pace, the instant gratification of cooking."
The fried pickles at Sassy JAC's | Jennifer Silverberg
















Ladlie worked at several small restaurants in the area and studied in the culinary program at St. Louis Community College's Forest Park campus, but when he was ready to take the next step up in his career, he couldn't find work.
(He had, however, found his wife. The younger sister of an old friend, Jennifer was the first person he ever hired in the restaurant business.)
Ladlie decided to cast a wider net, asking himself, "Where have I always liked to eat?"
"That's when we picked up shop and went down to New Orleans," he says. "I love New Orleans food because you can walk anywhere and potentially have one of the best meals you've ever had in your life. And not have the most panache around it, but the panache is in the food."
In New Orleans, he worked at the chain brewpub Gordon Biersch. The job gave him the chance to hone his skills and also to learn how to deal with volume -- the restaurant could seat up to 500 diners at once.
After two years in New Orleans, Hurricane Katrina forced the Ladlies to relocate back to St. Louis. Andrew applied to work at the acclaimed Chesterfield restaurant Annie Gunn's.
"I've always wanted to be part of something that's going to take it to the next level, that's what brought me to Annie Gunn's," he says. "It was the only place in town I applied after Katrina. I said if I can't get this, let's go to another city. We were here for a month and a half. We were about to move to Atlanta when they called."
Ladlie thought his experience dealing with the high volume at Gordon Biersch would make working at the relatively smaller Annie Gunn's a cinch. He was wrong.
"I'd never worked so many prime meats before," he says. "And the volume -- absolutely relentless, I mean, six hours of rush."
Even as a line cook working the grill and other stations, Ladlie showed initiative. "When I started, the menu had a bone-in filet and a smoked rib eye. Eventually, our grill team got good enough and fast enough, they brought on a specialty menu of seven [new] steaks."
Ladlie spent five years at Annie Gunn's, eventually rising to the position of sous chef under Lou Rook.
"I actually was probably not going to get the sous chef position," he admits. "I think I was about to get passed over, so I grabbed [owner] Tom Sehnert, and I said, 'Hey, man, I've busted my ass here, I've done good things, I want my shot at sous chef.'"
Of Rook, Ladlie says, "The guy knows how to run a kitchen. He knows how to run his whole brigade. And if the people underneath get out of line, they know it. But I think it's super smart how he manages. He gets a lot of production out of a lot of people."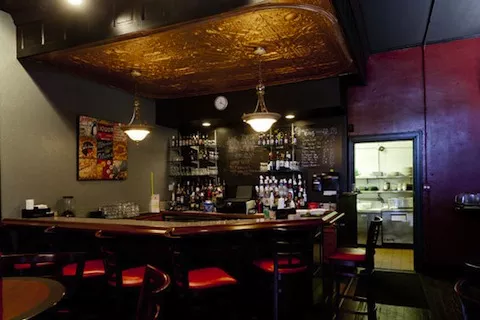 The bar inside Sassy JAC's | Jennifer Silverberg
















Ladlie departed Annie Gunn's to take what he calls a "big gamble," helping Mike "Talayna" Faille open the restaurant that would become Frontenac Grill. Not long after Faille passed away in October 2011, Ladlie's relationship with the restaurant ended. He declines to talk about the specifics except to note that it was a "good learning experience."
With Frontenac Grill behind them, the Ladlies worked to open Sassy JAC's. Nine months after it opened, Ladlie tells me the restaurant remains a work in progress in both concept and execution.
"We caught ourselves in an identity crisis last fall," he admits. "We see all these places [in Soulard]selling booze and doing that hustle, packing them in, day in and day out. We got to chasing that beer and that bar dollar. There's a time and a place for all that, including here. I'm not opposed to the large bar crowd, but we want to cater more to the restaurant."
Some of the changes are minor, but significant: better silverware; nicer window fixtures; covered menus instead of sheets of paper and a chalkboard on the wall. More crucially, Ladlie will expand the menu both in size and scope.
"We're going to go a lot deeper South as we go forward," he says. "I think we're ready for that next level of production, the next jump in bringing in ingredients. We're going to do a lot more stuff that's unique to us."
"I think learning how to manage my time as a small business owner has been the main thing that has held me back," Ladlie elaborates. "You work so many hours as a small business owner, you forget about what you opened the business for. Then you get caught up... 'What if I try it and lose a bunch of money?' So I haven't been as aggressive. I've got all that under control now. It's worked itself into quality system."
The new menu is still a work in progress, but among its dishes he mentions chitlins and a fried beef-tongue sandwich. Ladlie remains conscious of his kitchen's small size, though. While for the first time since Sassy JAC's opened he is not constantly training someone to assist him, he knows he can't try to do too much.
Referring to the beef tongue that is braising in the kitchen as we talk, he says, "If it starts selling like mad, I can't risk putting it on the menu and not being able to keep up with it."
I suspect the sandwich will sell like mad. And I have no doubt Ladlie will once again meet the challenge.
This is part one of Gut Check's Chef's Choice profile of Andrew Ladlie of Sassy JAC's. Part two, a Q & A with Ladlie, will appear Wednesday. Part three, a recipe from Ladlie, will be available Thursday.