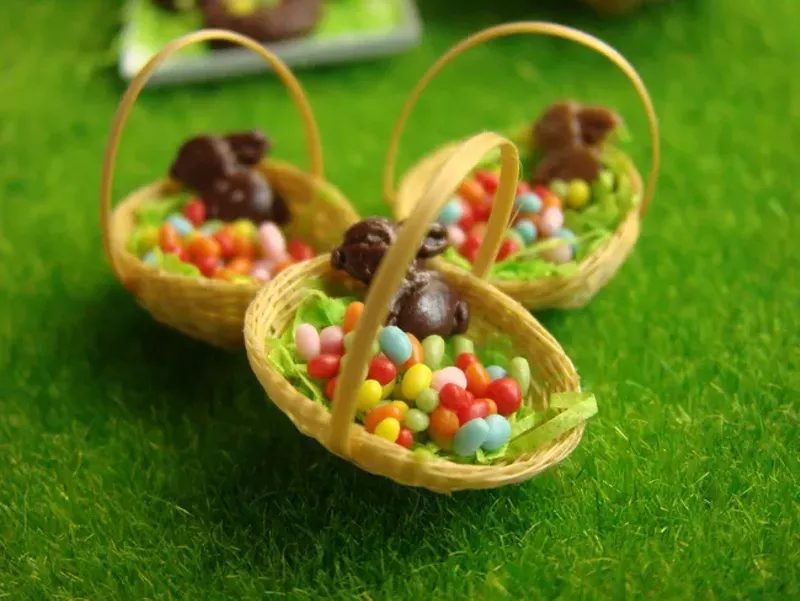 As Easter Sunday creeps closer, Gut Check dreams of baskets piled high with pastel-colored candies, chocolate shaped like baby animals and, oh sweet Jesus, Cadbury eggs. We remember well the ritual of sorting the bounty bestowed by the big, weird Easter Bunny: Would it be good stuff...or crap?
Want to avoid the inevitable disappointment of unsatisfying, subpar Easter candy? Check out our retrospective of the five best Easter candies, then check out our list of the five worst Easter candies of all time.
See also: -5 Worst Easter Candies of All Time
Reese's Peanut Butter Eggs Reese's peanut butter cups are a year-round favorite. That's just a fact. There is just something special about salty, sweet peanut butter and its meant-to-be marriage with Reese's creamy milk chocolate always within reach near the check-out lane. Gut Check, however, would argue that the seasonal Reese's peanut butter egg is better than the classic peanut butter cup. Wait, we'll explain.
The true magic of Reese's peanut butter eggs lie in the chocolate to peanut butter ratio. The egg shape lends to a better distribution of smooth peanut butter encased by rich milk chocolate. The peanut butter core is thicker, housed by a perfectly thin layer of delectable chocolate. There is also something more mystifying and alluring about the short-term, seasonal availability of Reese's eggs that almost challenges, nay begs, us to buy as many as possible before they disappear from shelves for another calendar year.
Robin's Eggs Oh, the joys of malt — in scotch, in dark beer, in milkshakes. Malt offers a distinctively rich, slightly sweet, flavorful complexity that enriches whatever it touches. Everyone knows that chocolate malts taste better than ordinary milkshakes.
The best-known malted candy on the American market is Whoppers, and some import stores carry chocolate Malteasers. While it's possible to buy a carton of Whoppers' malted milk balls year round, during the Easter season, stores start carrying the best iteration of malted candy on the planet — Robin's Eggs.
Robin's Eggs, which encompass a Whopper in a hard candy shell, come in pink, yellow, lilac, green and white, but nothing quite heralds the arrival of spring like the realistically colored, speckled blue eggs.
Hershey's Solid Milk Chocolate Eggs For those who would like to enjoy seasonal candy without the gimmick, look no further than Hershey's solid milk chocolate eggs. These little eggs will satisfy your sweet tooth without rotting your teeth. They're made of the same chocolatey goodness we expect from Hershey's, molded into dense, rich, bite-sized eggs.
These eggs are simple and uncomplicated. Thanks to other trusted Hershey's offerings, including kisses and mini chocolate bars, we know Hershey's won't bullshit us with low-quality, chalky-tasting chocolate.
Hershey's understands that what we want most from our Easter candy is creamy milk chocolate in a holiday shape that won't break our teeth, make us sick to our stomachs or ruin Easter with gross-out novelty. We feel festive while eating Hershey's eggs, and thanks to their pastel wrappers, we can carry some (or a whole bag) around with us without fear of them melting in our pockets and ruining perfectly nice Easter pajamas dress clothes.
Russell Stover's Mini Bunnies While the selection of rabbit-shaped chocolate is endless during Easter season, one of the standouts is Russell Stover Milk Chocolate Mini Bunnies. These smooth, creamy choco rabbits are wrapped in pretty pastel-colored foil, and unwrapping each bunny (there are around twenty per bag) is half the fun — you know, the pleasure and pain of anticipation is what Easter is all about, right? And true to our childhood memories, we always feel some glee at biting off the ears first, and next, the remainder of the rabbit head.
These bunnies might not be as big as some of their candy companions, but they still satisfy a sugar-fix, and though they make great treats long after Easter has passed, for us, they never seem to last beyond that blessed, sugar-coma of a morning.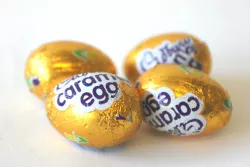 Cadbury Mini Caramel Eggs Most Easter candies seem designed for the palate of the average four-year-old: neon marshmallows shaped like unicorn scat, edible grass and gumball-pooping chickens. Fortunately, the sophisticated adult can resort to the mini Cadbury caramel egg. Since they're mini eggs, we can easily rationalize the calorie count, even while polishing off the whole carton. The caramel filling is salty yet sweet, and perfectly proportioned not to overwhelm the chocolate shell.
In fact, that caramel filling will remind you of Valentine's Day, and make you forget that you bought the Easter candy for yourself — unless you had to buy your own Valentine's candy, too. In that case, have another Cadbury caramel egg on Gut Check.