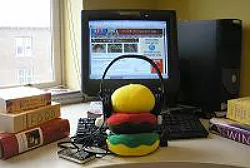 Gut Check dishes on our favorite St. Louis food blogs.
Sweet Art: Amrita made red velvet cake bars.
Iron Stef: Stef shared Thai chicken larb balls with creamy coconut sauce.
Family Style Food: Karen made Venetian chocolate walnut cake.
Eat Write: Judith shared herbed matzo balls.
Cupcake Project: Stef made Easter egg cookies.
The Sweets Life: Natalie made whole wheat oatmeal yogurt waffles.
A Veggie Venture: Alanna made cauliflower hummus.
Every Little Thing: Stacy potato soup with bacon and scallions.
Rhubarb and Honey: Kimberly shared drunken Irish bacon jam.
Shoot to Cook: Jonathan made "anything goes" mashed potatoes.