The Veggielante has had it up to here with people bitching that St. Louis restaurants are vegetarian unfriendly. Sure, we'd like to see more restaurants offering more meatless dishes, but there are excellent choices out there if you take the trouble to look for them. We're not here to proselytize about greening up your diet. Our only motive is to spread the word about places where you can order good grub that ain't got no meat. To enhance your reading experience, we've settled on a handful of criteria we'll use to suss out a restaurant's vegetarian friendliness.
Jennifer Silverberg
Tavolo V in the Delmar Loop.
Destination: Tavolo V (6118 Delmar Boulevard; 314-721-4333)
Neighborhood: Delmar Loop
Cuisine: Italian
See Also: -Louisiana-fied Cajun and Creole Vegetarian Cuisine at The Kitchen Sink -Zone In On Imaginative Fast-Casual Vegetarian Fare at Sauce on the Side -Boogaloo's Caribbean Cuisine Offers Vegetarians a Chance to Swing
Tara Mahadevan
Inside the dining room at Tavolo V.
Overview: Tavolo V, meaning table of five in Italian, is a play on words for owner Michael Del Pietro. When he goes out to eat with his family, he asks for a table of five to seat himself, his wife and their three children. Together, Del Pietro and chef Marc Foley have created a reasonably priced, overwhelmingly vegetarian-friendly menu at Tavolo V, including both hot and cold appetizers, pizzas, pastas and entrées.
Highlights: The restaurant's cauliflower appetizer ($7) is one of many vegetarian appetizers. Chef Foley roasts the cauliflower to perfection, with lemon, garlic and parmigiano cheese.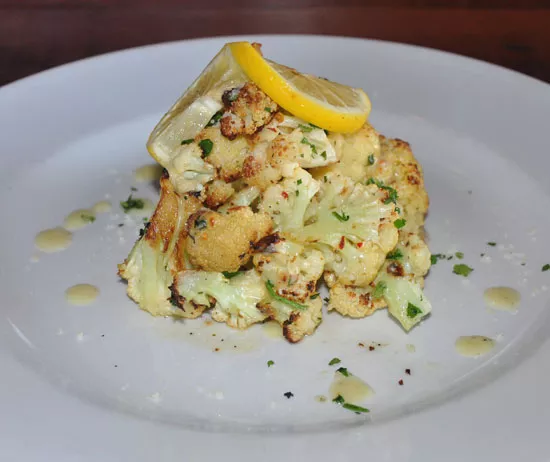 Tara Mahadevan
The cauliflower appetizer at Tavolo V.
Tavolo V's verdura ($14), which roughly translates to grilled vegetables in Italian, is a vegetarian favorite. Chef Foley grills whatever collection of vegetables he has on hand, adding olive oil and balsamic vinegar as his final touches. This particular rendition of verdura had zucchini, eggplant, squash, onion, asparagus, tomato and mushroom. Though simply made, the entrée is a hearty, robust meat-free main course.
Tara Mahadevan
Verdura at Tavolo V.