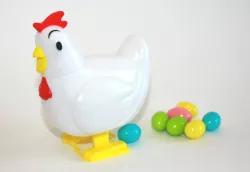 As Easter Sunday creeps closer, Gut Check dreams of baskets piled high with pastel-colored candies, chocolate shaped like baby animals and, oh sweet Jesus, Cadbury eggs. We remember well the ritual of sorting the bounty bestowed by the big, weird Easter Bunny: Would it be good stuff...or crap?
Want to avoid the inevitable disappointment of unsatisfying, subpar Easter candy? Check out our take on the five worst Easter treats, with a retrospective of the five best Easter candies to follow tomorrow.
Cluckers, the Gumball-Egg-Pooping Chicken Perhaps because we're not a six-year-old boy, Gut Check fails to see the charm in animal-shaped candy dispensers that poop brown jelly beans. Frankly, we don't get it.
When Cluckers the egg-laying chicken (note: inexplicably not labeled a hen?) takes a dump, at least she shits colorful Hubba Bubba bubblegum Easter eggs. To provoke Cluckers' biological urges, the user must twist off her head, insert four eggs in her chute, replace her head and wind her up.
Although the label is very specific that the "dispenser is for the provided gum balls only," nowhere on the packaging nor parent company Wrigley's website will you be able to find information on how to get more specially shaped eggs. More dauntingly, the label also warns: "Please wash dispenser thoroughly before use." Who knows where this thing's been!
Edible Easter Grass When edible Easter grass hit the American market, Gut Check was intrigued. We've seldom met a sugary goody we didn't like. Alas, edible Easter grass doesn't even contain sugar. It's sweetened with aspartame, perhaps so that the grass doesn't become sticky in humid conditions. The other main ingredients are potato and corn starches.
The resulting texture is like munching away at a foam carry-out container, and the bland, faintly sweet taste is equally disappointing. The vaguely green-apple flavor quickly faded, and as we chewed and chewed and chewed, suddenly the realization hit us: Edible Easter grass tastes like a wad of Communion hosts. While the paschal relevance of Communion hosts to Easter morning is appropriate, Gut Check was brought up never to chew the host.
All in all, Gut Check will be sticking with traditional shredded plastic Easter grass, which has several important functions. First, it lessens the burden on parents' wallets. Fill that basket with enough shredded plastic and little darlings might not notice that you shortchanged them in the candy department. Second, no kid will get high on plastic Easter grass. And finally, plastic Easter grass offers a delight found nowhere else -- that moment next Easter when you find a year-old jelly bean nestled in the grass while dragging it out of the basement next year.
Jordan Almonds Jordan almonds are Easter's version of those horrible saltwater taffies you get at Halloween -- and, no, we don't mean in taste, we mean in that they are a terrible holiday tradition. Jordan almonds are sprinkled atop Easter baskets, springtime table settings, bunny-shaped cakes and whatever else Martha Stewart and Pinterest moms can get their hands on.
The rock-solid density of these cursed chalk-flavored candies will crack a tooth on the first bite, and don't even try to argue that they're a healthier alternative to caramel-filled chocolate or saccharine-speckled marshmallow air: Jordan almonds are just sugar-coated nuts, people.
The reason for their perennial popularity might be more offensive than the taste; despite being a year-round "classic candy" available at Walgreens, Target and the like, the only reason these candies keep hopping back into the Easter holiday is that they're pastel-colored. If you take away the pale springy coloring, the only thing jordan almonds have in common with Easter is a striking similarity to the boulder that sealed Jesus' tomb.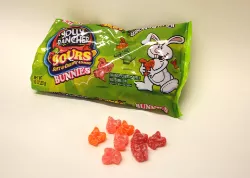 Jolly Rancher Sour Bunnies Departing from the more traditional chocolate rabbit, tick-shaped Jolly Rancher Sour Bunnies come in four classic Jolly Rancher flavors: orange, cherry, apple and watermelon, and promise to "get your taste buds hopping." While they definitely do taste like chewy, tart takes on classic Jolly Ranchers, we tried them and found them wanting.
If we're going to eat a bunny, it had better be chocolate -- and preferably filled with delicious yet unidentified "cream" or caramel. Jolly Rancher Sour Bunnies might offer a different taste experience, but the small, amorphous lumps hardly pass as holiday mascots, and are certainly nothing to look forward to on Easter Sunday. They leave our tongues feeling like sandpaper and do nothing to satisfy our sugar-craving. However much these sour space-wasters might be "jumping with sour goodness," we secretly hope that they hop into a stranger's candy basket, or maybe just off a cliff.
Peeps Given the amount of bandwidth devoted to dressing up Peeps in tiny costumes, one would think that a significant portion of the population loves this borderline-toxic mutation of the noble marshmallow. Gut Check, however, isn't buying the sugarcoated hype. For our money, Peeps hardly resemble baby chicks or bunnies; they more closely resemble what we imagine unicorn poop would look like. Even the name of the manufacturer, Just Born, gives us the creeps.
Somewhat inexplicably (and frequently against our will), Gut Check possesses a powerful waste-not-want-not ethos when it comes to food. When faced with problematic substances, we tend to employ the venerable "bury the peas in the mashed potatoes" strategy. This explains why we dug a graham cracker out of the cupboard, diced some good dark chocolate and sprinkled it on, topped it off with a Peep and popped it in the microwave.
The resulting s'more wasn't too bad, but the best part was watching the microwave radiation batter the Peep into submission. The process of puff, coil, writhe and die seemed a fitting fate.