St. Louis has scads of places to belly up and watch the Final Four. But what of that belly? Treat it to some good grub while you cheer on your favorite team during the Final Four at these six places where "bar food" is synonymous with "good food."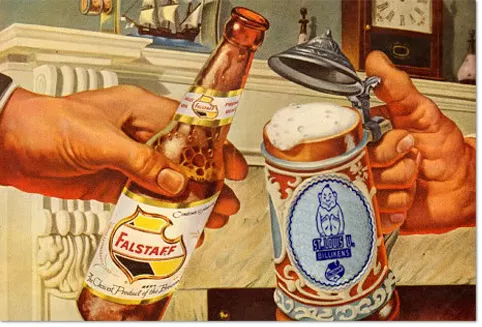 See Also: The 5 Best Bars for March Madness
Bryan Peters
Even vegetarian sports fans will find something to like at Barrister's.
Barrister's (15 North Meramec Avenue, Clayton; 314-726-5007) Clayton's favorite soccer, er, football bar does brisk business regardless of what sport is on. That's due in large part to its menu which features fan favorites such as toasted ravioli and chicken wings, but also classes up the standards, what with the soft pretzels with Guinness-cheddar dip and baked goat cheese. And you're doubly in luck if the game's on during happy hour, between 4 and 7 p.m. Monday through Friday: Barrister's has some of the best drink specials in town, including $2 domestics, $3 wells and $5 appetizers. (But note that its final day of business before moving around the block to 7923 Forsyth Boulevard is Sunday, March 31.)
Joe Buck's - Downtown (1000 Clark Avenue; 314-436-0394) It could be the way the Buck name resonates with St. Louisans. Or maybe it's because of its location close to Busch Stadium. Joe Buck's downtown -- all high ceilings, big windows and exposed brick -- is a warm, convivial place to take in a game and some grub. The burgers here are standouts, and its barbecue - pork, wings, turkey, beef brisket or even Provel and tomato sausage - is not to be ignored either. The wine and beer lists are well-rounded and affordable, and its spacious, casual-cool environs all but guarantee an open seat for fans of all stripes. Check out J. Buck's in Clayton too (101 South Hanley Road, Clayton; 314-725-4700).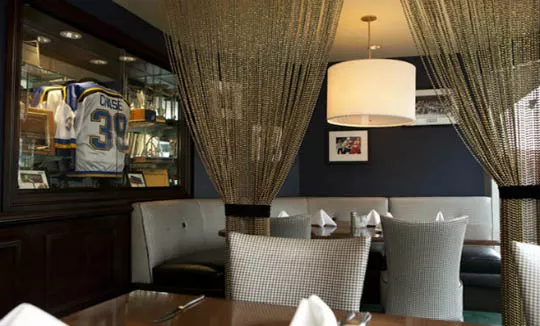 RFT Photo
You call this a sports bar? Mike Shannon's Steaks & Seafood.
Lester's (9906 Clayton Road, Ladue; 314-994-0055) Lester's is the rare sports bar where the first thing that springs to mind is its food. Specifically, the sandwiches rightly deemed "colossal" on its menu: Favorites such as pastrami, corned beef (both cured in-house), brisket and turkey come piled comically high, so much so that finishing even one half of one "colossal" sandwich is a feat. (Fear not, sandwiches also come in mortal sizes.) Everything here is homemade, and considering Lester's menu encompasses soups, salads, entrees, burgers, barbecue and dessert, that's a feat as well. Dozens upon dozens of large HD TVs ensure that there's really not a bad seat in the house. Though the Ladue address is its flagship, there are also locations in Chesterfield (14810 Clayton Road, Chesterfield; 636-230-0055) and in the Central West End (4651 Maryland Avenue; 314-932-6040).
Mike Shannon's Steaks & Seafood (620 Market Street; 314-421-1540) OK, sure: Tenderloin carpaccio and lobster cocktail aren't your typical sports-pub grub. And to be fair, Mike Shannon's isn't your typical sports pub -- when's the last time one of those made the pages of Wine Spectator or Wine Advocate? But it is home to countless pieces of sports memorabilia, and the city's movers and shakers are no strangers to this downtown hot spot. Mike Shannon himself is known for his love of cold, frosty ones, and you don't have to order a porterhouse to enjoy one at his restaurant: Mike Shannon's also has a slick lounge with multiple televisions, perfect for kicking back with a single-malt scotch or, naturally, a Budweiser.
Jennifer Silverberg
Wings (and more) are good eats at the Post.
The Post Sports Bar & Grill (7327 Manchester Road, Maplewood; 314-645-1109) While the Post is St. Louis' mecca for fantasy sports, it's also an excellent spot to get elbows-deep into bar-food staples done right. The Post's patrons are always quick to point to the wings as no-fail crowd pleasers (wings come baked or fried and dressed in your choice of five different sauces), but the Post has some fun innovations to the standards, like its baked Post-its, sinfully good garlic-cheese-bread bites. The food shares centerstage with scores of flat-screen televisions. And if the game doesn't happen to be going your way, start one of your own at the foosball table.
Sportsman's Park (9901 Clayton Road, Ladue; 314-991-3381) Sportsman's Park is the kind of place that makes you want to be a regular, to know the bartenders and waitresses by name, to nestle into your favorite stool, eat your favorite food, and stay all day. With nearly 40 years of business and loyal, happy customers, this easy-to-miss, nondescript tavern chock-a-bloc with sports and St. Louis memorabilia alike is one of the of the best places to lose yourself in the game. Many of the burgers, sandwiches and pizzas are $10 or less, but Sportsman's Park is perhaps most known for its chicken strips and wings with its zippy signature sauce.