The Gut Check One Hundred is our accounting of the 100 dishes in St. Louis that you must eat right now. These are the best dishes at the newest restaurants and the newest dishes at the best restaurants. These are the 100 dishes that define St. Louis dining in 2013. Our list culminates this fall when the Riverfront Times Best of St. Louis 2013 names the "Best Dish" of the year.
The burrito (with spicy pork) at Seoul Taco | Ian Froeb
Seoul Taco, the truck, (@SeoulTaco; 314-517-8916) is one of St. Louis' most popular -- maybe the most popular -- mobile vendors. (It won our inaugural readers' choice award for "Best Food Truck.")
Seoul Taco, the bricks-and-mortar operation, (571 Melville Avenue, University City; 314-863-1148) presents the entire Seoul Taco menu within its tiny Delmar Loop storefront.
It also offers one attraction that the truck doesn't: a burrito, and of Seoul Taco's entire selection of Mexican-Korean fusion grub -- what New York Times restaurant critic Pete Wells this week brilliantly described as "Asian stoner food" -- it is the best dish.
See Also: - First Look: Food Truck Seoul Taco Opens Storefront - Ian Froeb's RFT Review of Seoul Taco, the Truck (2012)
You choose the protein inside the burrito: bulgogi beef, chicken, spicy pork or tofu. I opted for the spicy pork, but I'd recommend this with any of the four. The star isn't the meat (or tofu), but the kimchi-fried rice.
Unlike the rice in a typical burrito, the kimchi-fried rice doesn't serve as ballast. Instead, its funky, spicy flavor is the centerpiece of the dish. Lettuce, carrot, green onion, sour cream, cheese and the restaurant's own "Seoul Sauce" add as much flavor and textural contrast as the protein does.
That is my considered review of the burrito. Here is how I described it on Twitter as I ate it yesterday:
Is there a dish that you think belongs among the Gut Check One Hundred 2013? Let us know!
The Gut Check One Hundred 2013 (So Far)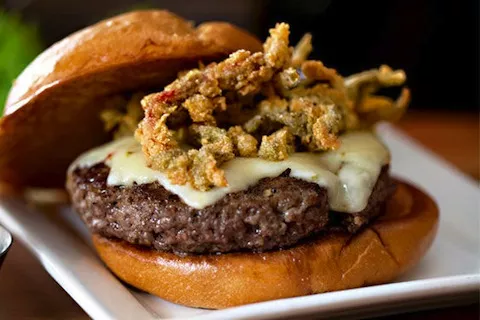 The green-chile cheeseburger at Five Star Burgers | Jennifer Silverberg
















- Five Star Burger's Green Chile Cheeseburger - Olio's Octopus Salad - Dressel's Porchetta "Louie" - Cleveland- Heath's Seared Beef Tongue - Cleveland-Heath's Cauliflower Soup - Pastaria's Italian Ramen - Pi Pizzeria's "Grove" Pizza
The spicy wonton soup at Famous Szechuan Pavilion | Jennifer Silverberg
















- Famous Szechuan Pavilion's Spicy Wonton Soup (Novice) or Yu Shan Pork (Advanced) - La Tejana Taqueria's Goat Soup - Hendricks BBQ's Ribs - Sauce on the Side's "Costanza" Calzone - Siete Luminarias' Guanajuato-Style Carnitas - Fork & Stix's Khao Soi