Residents of south city might have been sad to see Murdoch Perk go, but a new restaurant and coffee shop opened in Murdoch Perk's old spot this week, and neighbors seem thrilled.
Russell's on Macklind (5400 Murdoch Avenue; 314-553-9994) opened on Tuesday, March 19, to a steady flow of customers composed of passersby, neighborhood residents and fans of Russell's Café and Bakery (958 Brookwood Center Plaza, Fenton; 636-343-8900).
Owner Russell Ping is also the man behind Russell's Café and Bakery, along with his wife, Emily. Ping had been hoping to open a second café for a while, and when the location in Southampton opened up, it seemed like a good opportunity to expand.
See Also: - Murdoch Perk Closing July 31, 2012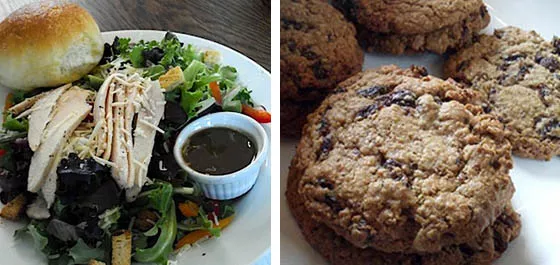 Kaitlin Steinberg
The "Kitchen Sink" salad and oatmeal raisin cookies.
"I've always felt like our concept would fit really well in this area," Ping says. "I actually stopped here to get coffee one morning and Murdoch Perk was closed, so I called the real estate agent. We've gotten an incredible amount of support from the neighborhood. Everyone's really excited for us to be here."
Indeed, the neighbors seem overjoyed by the new addition to the block. "I'm so excited they're open!" one older woman says to no one in particular as she examines the new digs.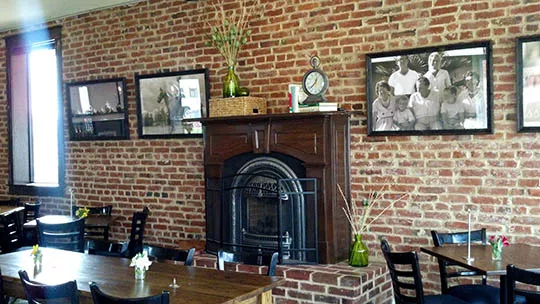 Russell's on Macklind sits at the corner of Murdoch and Macklind, just a few blocks from where Ping lives. The same shade of green that brightens the walls at Russell's in Fenton accents the interior of the new spot, while enlarged sepia tone photos of Ping's family give the shop a homey feel. When the weather gets warm enough, Ping intends to create an outdoor patio space where dogs will be welcome.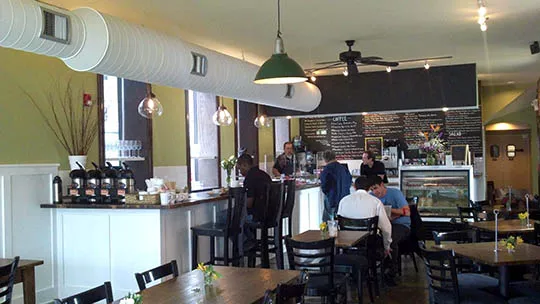 Ping is also excited to expand his use of local ingredients, now that he's closer to farmers' markets in the city. Russell's already gets its bread from local purveyor Breadsmith of St. Louis, and its coffee is a special blend from Kaldi's.
The menu at Russell's on Macklind is similar to the menu at the Fenton location, but with a few tweaks. The breakfast menu has been expanded to include hearty meals like the breakfast flatbread with bacon, white cheddar, béchamel sauce, tomatoes, eggs and spinach, as well as a breakfast grilled cheese. Most of the sandwiches and salads that are on the menu at the Fenton shop are also on the menu at the new location.
Kaitlin Steinberg
Breakfast Flatbreat at Russell's on Macklind.
Another way in which Russell's on Macklind will differentiate itself from its Fenton sibling is by offering brunches with made-to-order biscuits and egg strata every Sunday. Once Ping gets his liquor license, the shop will also introduce happy hour.
"There's definitely a bigger focus on wine in here than in Fenton," Ping says. "We do a happy hour with a snack menu in Fenton, and I want to expand on that here. Not a full bar, but specialty cocktails."
Kaitlin Steinberg
Cakes made by Russell Ping.
The true stars of the restaurant, though, are Ping's cakes and pastries. Ping studied fine dining at culinary school, but he's all self-taught when it comes to baking. Most of the recipes at Russell's are Ping's own creations or recipes that he learned from his family. The staff will tell you Russell's is famous for its gooey butter cake, but it also has a signature cake that's almost too pretty to eat. Almost.
Kaitlin Steinberg
The carrot cake is rich and decadent without being too sweet.
The pastry section also displays a variety of homemade cookies and mini cupcakes, while the refrigerated case holds cakes and cheesecakes. Ping says all the pastry items will generally be available every day, but the cake flavors will rotate seasonally to make use of fresh ingredients and to mix things up.
Kaitlin Steinberg
Festive sugar cookies.
With a background in fine dining and the baking skills to please any sweet tooth, Ping seems to have created the missing ingredient in this south city neighborhood.
"I like to experiment," Ping says. "We like to say that with Russell's on Macklind, we kind of took the fine dining style and took it into the café atmosphere."