Chef John Johnson (fourth from left) and staff with a 200-pound trial run of a hog log.
An introductory sentence on the first annual St. Louis Baconfest's website says it all: "Without bacon life would be sad, food would be boring and the birds would not chirp."
How our fine avian friends would actually react in the presence of so much pig remains questionable, but Baconfest president Matthew Willer is definitely spot on about the former statement -- any avid pork eater will find both happiness (or intrigue, at the very least) on a grand scale at this epic meat fest. How epic, exactly?
See also: - St. Louisans Attempt to Set the World Record for "Largest Bacon Explosion" - The Ex Cop Donut Shop: Keeping South County Safe for Bacon Doughnuts
To paint the piggy picture for you, a 50-foot-long lattice of hand-woven bacon (about one and a half school buses, by our estimation) gets topped with dry rub, a (not so) healthy helping of Italian sausage, a mound of cooked bacon strips and, finally, a torrential drizzling of Sweet Baby Ray's barbecue sauce.
All 500 pounds of this meaty monster, prepared by River City Casino and Lumiere Place executive chef John Johnson and staff, then gets rolled up sushi-style. Watch him ahem makin' bacon during a trial run in the video below.
On the morning of Saturday, March 23, all 768,000 calories or more of that hog log (yes, that's what it's actually called, currently undergoing trademark) will be hauled across the street by hand to Kiener Plaza (Seventh and Market streets), where it'll get cooked in a custom-built smoker designed by Vatterott College and then divvied up for public consumption.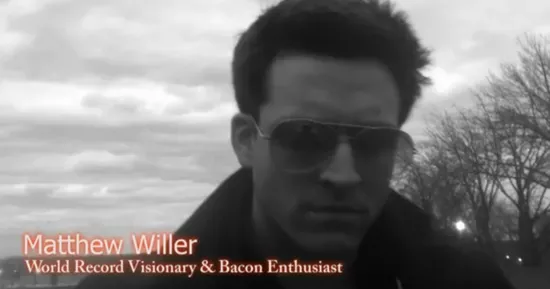 Courtesy of Matthew Willer
More than two years ago, Willer and Baconfest vice president Matthew Guillot set out to break a world record with a 120-pound version of their hog log. This year's experiment quadruples that domestic attempt, with an added celebration of all things bacon.
Courtesy of Matthew Willer
"Guinness [World Records] won't recognize the record because it's too specific and regional," says Willer. "We're going to make it bigger and bigger every year until they do. That's our goal anyway."
In addition to the main event, guests can purchase sample-size bacon-inspired bites from eleven local food vendors pitted against each other in a bacon battle competition. Expect bacon-covered donuts from the Ex Cop Donut Shop among the options. Other vendors include Steve's Hot Dogs on the Hill, Onesto Pizza and Trattoria and Serendipity Homemade Ice Cream.
Entertainment comes in the form of live music performances from Steve Ewing and Cherry Hill. Admission is free, and all proceeds from sales of the hog log go to benefit the USO of Missouri. To kick off the event, Willer intends to mercifully pardon a pig, the poor thing.