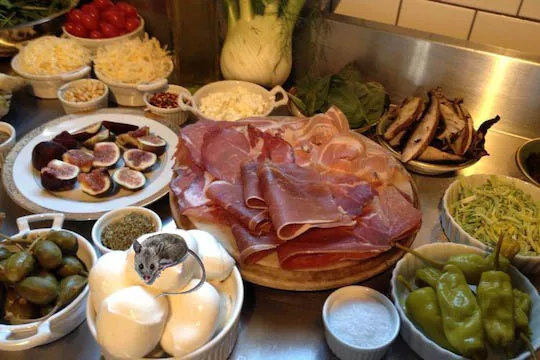 Though stuffed dormouse was once a Roman delicacy and some rural Koreans still enjoy a glass or two of baby mice wine as a health tonic, here in 'Merica, we're not so fond of eating rodents.
Which is probably why a patron at Katie's Pizzeria Café (6611 Clayton Road, Clayton; 314-727-8585) was none too pleased to find a dead mouse in her salad during a recent meal, according to a report from the Clayton-Richmond Heights Patch.
See Also: - Katie Lee of Katie's Pizzeria Café Plans New Venture, Turns to Kickstarter [Updated] - Slideshow: The Process Behind the Pizza at Katie's
Gut Check is always hungry for more restaurant news. Feed us your tips.
The following complaint comes from the the St. Louis County Health Department's records:
Caller stated she found a dead mouse in her salad. Spoke with manager on duty. He stated they took bag of lettuce back to Restaurant Depot. Restaurant Depot states to the owner it was their fault. Manager has spoken with staff about inspecting products as they come in and serve them. Katie's Pizzeria has pest control services from Blue Chip on a monthly basis.
Following the complaint, the health department inspected Katie's Pizzeria, and the restaurant received a grade A or 100 percent satisfaction.
Still, the question remains: How does a member of the kitchen staff not notice a dead mouse in a salad that he or she is preparing? The lettuce used in the salad seems to have come from Restaurant Depot, which means Katie's employees probably dump handfuls of lettuce into a bowl and mix it up without carefully examining it. That said, we're pretty sure lettuce is green and dead mice are...not.
No manager was available when we called Katie's Pizzeria for comment. More as we learn it.
This news comes after the successful Kickstarter campaign by Katie's Pizzeria owner Katie Lee to raise funds for a new restaurant, Katie's Pizza and Pasta. The campaign raised more than $40,000 to fund the new venture, which promises to be more innovative and cutting-edge than Katie's Pizzeria. However, if mice are cutting-edge Italian fare these days, count us out.