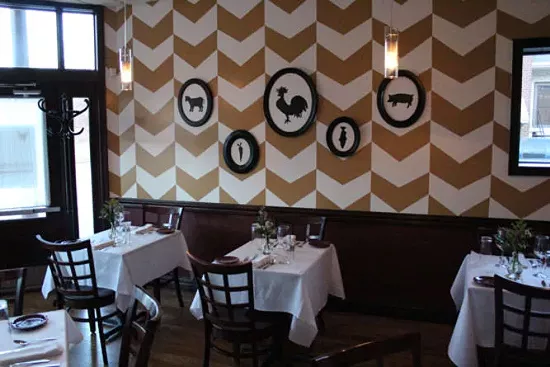 Evan C. Jones
The dining room of Five Bistro
Whether you're Jewish or Christian or a devil-worshipper who just appreciates good food and wine, Five Bistro (5100 Daggett Avenue; 314-773-5553) has you covered.
Chef Anthony Devoti is hosting a gourmet Passover seder on Tuesday, March 26, and a Piemonte wine dinner on Thrusday, March 28. (Bonus: The second dinner is Easter-y 'cause the main course is rabbit). Representatives from Vinoteca and A. Bommarito Wines will be there to talk about their products and answer questions.
See Also: - Anthony Devoti on Five Bistro's New Tasting, Late Night Menus - Five Bistro's Lock, Stock & 2 Smoking Barrels: Gut Check's Hump Day Cocktail Suggestion
The Passover seder, which Five Bistro is calling "Don't Pass Over This Dinner," will be paired with wines from Vinoteca, a local wine distributor. Five of the six courses will have a wine pairing, and the wines on the menu include two reds, a dry white, a sparkling wine and a sweet dessert wine. The menu will offer Jewish classics with a gourmet twist, like matzoh ball soup and "gefilte trout quenelle."
A Vinoteca representative will be at the dinner to discuss the wines, though from the list provided by Five Bistro, it appears that none of them are Kosher.
The meal begins at 7 p.m. and costs $50 per person. Reservations are required.
Two days later, Five Bistro will host another dinner, this one highlighting wines from the Piemonte region of Italy. The wine menu includes three red wines, a white wine and a sweet dessert wine, which will be paired with dishes like cornish hen ravioli, arugula salad and, of course, bunny...er...rabbit.
Every wine on this menu comes from local distributor A. Bommarito Wines, and a representative will be at the meal to present the tastings.
The dinner begins at 7 p.m. and costs $75 per person. As with the Passover feast, reservations are required, so hop to it!
Yeah, that was another Easter Bunny joke.