This is part one of Gut Check's Chef's Choice profile of Eric Heath of Cleveland-Heath. Part two, a Q & A with Heath, will appear Thursday. Part three, a recipe from Heath, will be available on Friday.
Jenny Cleveland and Eric Heath, owners of Cleveland-Heath | Jennifer Silverberg
"Sometimes, we'll get cooks in here who are like, 'You don't sous-vide? You don't do this? You don't do that?'"
Eric Heath shakes his head. No, in fact, he does not use an immersion circulator in the kitchen of Cleveland-Heath (106 North Main Street, Edwardsville, Illinois; 618-307-4830), the restaurant that he owns with his partner -- in both business and life -- Jenny Cleveland. He'd rather his cooks know what a perfect braise is, what it truly means to poach a piece of fish.
Now, please understand: The man is no culinary Luddite. "The more tools you have," he says, "the more you challenge yourself, the higher we push the bar, the better off we're going to be."
At Cleveland-Heath, however, "We work on basics."
Still, to call the food at Cleveland-Heath "basic" is -- perhaps to overstate the matter -- like calling the Mona Lisa a "portrait." Since opening in November 2011, the restaurant's eclectic menu of upscale comfort food with influences that range from Vietnam to the American South to Latin America has won fans on both sides of the river. (Heath estimates that about 40 percent of his clientele makes the drive from St. Louis.) Last year Riverfront Times honored it as the "Best New Restaurant."
See Also: - Ian Froeb's RFT Review of Cleveland-Heath - Jennifer Silverberg's RFT Slideshow of Cleveland-Heath - "Best New Restaurant" 2012: Cleveland-Heath - Cleveland-Heath's Seared Beef Tongue: One of 100 St. Louis Dishes You Must Eat Right Now
Heath and Cleveland, both 31, dreamed of opening a restaurant together almost from the moment they became a couple. Or, rather, not dreamed, but planned. The two have put in the hard work and long hours essential to success that is more than a temporary.
"We looked to open a place before we went to culinary school," Heath says. The duo, who at the time lived in Salt Lake City, Utah, even had their eyes on a specific spot. They didn't pull the trigger, though.
"We just knew we were too young. We had the work ethic, but it wasn't going to work."
A Salt Lake City native, Heath hadn't planned on a culinary career. He studied natural-resources management at the University of Utah. While he'd worked at restaurants as a bar back and busser, he found himself in the kitchen essentially by accident.
"I got an interview for a cooking job I wasn't even planning for," he explains. "I'd never been in the kitchen."
His potential employer, whom Heath today counts as one of his best friends, called him back and said, "Why don't you check it out?"
"I did," Heath says. "And from there it just started rolling. I graduated and actually left cooking to go into natural-resources management and hated it. Hated it. And so I went back to cooking."
Heath worked at Salt Lake City spot called the Desert Edge Brewery at the Pub. You can easily find its influence at Cleveland-Heath.
"It's a lot of housemade stuff," he says of the menu there. "They do their own pastas, their own dressings, their own soups and all that. Really, they did a lot of basics. There was no sous vide-ing. We just put out good, quality food."
As important to Heath's development as the cuisine was the atmosphere. His bosses encouraged both his creativity -- he found himself in charge of the daily dinner special -- and his professional development, allowing him to work at other local restaurants.
And, of course, it was at the Desert Edge Brewery that Heath met Cleveland. Not only did they share a love of food, cooking and restaurants, but their respective career plans were very compatible.
One day, Heath explains, "We were sitting in Jenny's apartment, and she asked me what I really wanted to do. I said I'd really like to go to culinary school. And she'd been wanting to go since she was a teenager. At that moment, it was like: Drop everything and go."
The two were accepted into the same class of the Culinary Institute of America's Napa Valley, California, campus. While Heath allows that the grueling workload -- 35 hours a week in class, plus the 70 hours he worked as a sous chef in a local restaurant -- made for some "shitty days," on the whole it was a great experience.
"The amount of stuff you get to see, the product they bring in -- they're not shy about buying anything. We did a caviar tasting of nineteen different caviars. And the equipment! CVaps and combi ovens and tilt skillets -- you'll never see all that stuff at once again in your life. And you'll get to use it and abuse it!"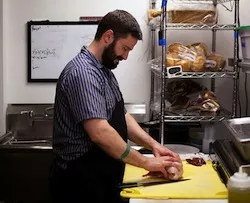 Eric Heath in the kitchen | Jennifer Silverberg
Heath and Cleveland's time in California led them to some of the Napa region's most acclaimed restaurants. Heath worked at JoLe, a small, Michelin-recommended spot, while Cleveland entered the rarefied world of perhaps the most acclaimed American chef, Thomas Keller, first in the kitchen of his more casual restaurant, Ad Hoc, and then in the front of the house of his flagship, the French Laundry.
(Did Heath eat at the French Laundry? He did. Did it live up to the hype?
"It's the best meal I've had in my life. There's not a hiccup there, ever. And we were looking. We scrutinized the crap out of that place, and we loved every moment.")
Cleveland continued to work at the French Laundry the year after they graduated from the CIA. Heath, meanwhile, worked at a sushi restaurant for a while and then took a sous chef position at a resort in Last Chance, Idaho -- "The fly-fishing mecca of the world," he notes.
"They don't have a stellar reputation for food," he adds, "but it was a really cool challenge. Every day the menu changed. The chef let me do everything. They let me buy whatever."
Heath returned to northern California and took a position at Farmstead, a true farm-to-table restaurant that raises its own pigs and cattle as well as grows its own produce. (Cooks pick the day's fruits and vegetables each morning.) He also credits his time at Farmstead with teaching him the nuts and bolts of food and labor costs -- the business of being a chef.
Throughout this time, Heath and Cleveland honed their business plan and researched where to open their first restaurant. They considered Napa and Salt Lake City. And -- because Cleveland herself hails from Bethalto, Illinois -- Edwardsville.
Cleveland-Heath in downtown Edwardsville, Illinois | Jennifer Silverberg
















Edwardsville's size appealed to the couple. Though as Napa Valley residents they'd enjoyed many visits to San Francisco, they weren't sure if they could fit into a large city's restaurant scene.
"We love food, and we love people," Heath says. "We just want to put out what we think is good. But there's so much cutthroat behavior in San Francisco, and people spend so much money to open a place, and then they get knocked down.
"We believe in our talents, but we know there are so many people out there that are so talented. We didn't know where we'd fit in that realm.
"So we thought a small community would be nice. She's from Bethalto. Salt Lake is kind of -- to me -- a small town. We just have that get-along vibe with small towns.
"There's so much potential here. People really, really, really want to eat here, they want to go out and eat. There's no traffic. It's a fun place to be."
Yet Heath and Cleveland weren't sure Edwardsville would work. "Fond was a place, Peel [Wood Fired Pizza] was a place -- we didn't know if there was room for us. And then Jenny got a call from her sister saying Fond had closed. We literally just dropped everything and put in our two weeks' notice at work and then drove out.
"It was three weeks to get here, and six weeks to open."
That breakneck pace hasn't slowed down. "We're worked to the bone now," Heath admits. Yet that hasn't stopped the couple from pondering further endeavors.
"We've thought about a lot things," Heath says. "We've wanted to do a fried-chicken joint. We've wanted to do a kind of like a Cleveland-Heath but more bar-directed and small plates only.
"There's a million things we've thought about doing, and it would be so nice to do it in Edwardsville." He also allows that the City of St. Louis has appeal, too. "It's such an awesome place, and there are so many buildings -- some are abandoned, and some are inexpensive -- and great neighborhoods everywhere."
In the moment, though, Heath is happiest with how Cleveland-Heath has grown over the past year and a half.
"We're so, so proud of the people who work for us," he says. "We have people who are going so far out of their way to do the right thing, and they listen and learn. Within our walls we've created a little food culture of pepple who can suggest things without being hypercritical. That's the thing that seems to be working: We've hired a great staff. That's it. That's the thing we love the most."
This is part one of Gut Check's Chef's Choice profile of Eric Heath of Cleveland-Heath. Part two, a Q & A with Heath, will appear Thursday. Part three, a recipe from Heath, will be available on Friday.