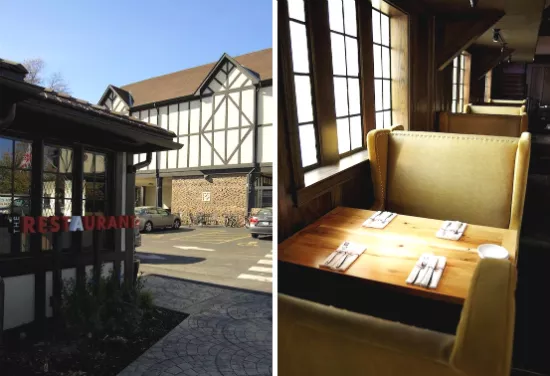 The Restaurant at the Cheshire (7036 Clayton Avenue; 314-932-7818) is one the highest profile new ventures of the past six months, the upscale centerpiece of the renovated Cheshire hotel. Following my usual critic's m.o., I should have visited it for the first time in early January and turned out my review a few weeks later.
Instead, I waited another couple of months to visit the Restaurant -- and even then I struggled to address it.
If you like the inside baseball of restaurant reviewing, this is the week for you.
See Also: - First Look: The Restaurant at the Cheshire - Report: Chef Fernandez-Cruz Leaves the Restaurant at the Cheshire
The Restaurant opened last November with Wil Fernandez-Cruz as the chef and his wife, Lisa, as the pastry chef. In January, around the time that I was considering paying a visit, he left his position. His wife followed a few weeks later. Rex Hale, the corporate executive chef for the Cheshire's developer, stepped into the kitchen in Fernandez-Cruz's place.
So: Do I delay my review to give the new team a chance to work out any kinks? Or do I consider that the average diner might not know or even care much about the changes? After all, they're spending enough money at the Restaurant to expect an excellent meal, regardless who's leading the kitchen.
I decided to wait a few weeks -- time for them to make the transition, but not so much time that I was treating it as an entirely new operation. But then life intruded, dinners had to be rescheduled, etc., etc., and here I was stepping inside the Restaurant for the first time two months later than I'd hoped.
If nothing else, I'd given the kitchen more than enough time to get it together. Except now I confronted another situation.
After six and a half years in this job, I no longer assume I'm anonymous. Indeed, without making a big deal about it, the paper has dispatched me to conduct our weekly profiles of St. Louis chefs, exactly the sort of assignment an ostensibly anonymous reviewer should avoid. Besides, I've always believed that while a restaurant can control the treatment that any one individual receives, that treatment can't correct for the fundamental flaw or flaws in the concept behind the restaurant.
The Restaurant at the Cheshire put that to the test. Mere minutes after I'd sat at the bar, half an hour early for my first dinner there, a full-court press of preferential treatment the likes of which I've never experienced began.
What did the Restaurant do? And how did it unexpectedly lead me to understand what the Restaurant wanted to do for all of its diners? Tune in tomorrow for my review.