In 2010 Marilyn Schotte and her brother Dale, co-owners of Park Avenue Coffee in Lafayette Square, spun off a company to handle demand for one of its most popular offerings: its gooey butter cakes. Now the Ann & Allen Baking Company (6343 Manchester Avenue; 314-256-9400) is spreading St. Louis' gooey butter cake gospel far and wide. Ann & Allen offers its cakes in 70 flavors and can be found locally at, among other places, Straub's.
Work-in-progress: White chocolate raspberry gooey butter cakes.
RFT contributing photographer Crystal Rolfe got a peek behind the scenes, where the gooey butter magic happens. Of course, she thought to bring along her camera....
See also: - RFT "Chef's Choice" profile of Ann & Allen co-founder Marilyn Schotte - Gooey Butter Cake Goes Nationwide - Food Photo Essay: 2013 Stout and Oyster Festival at the Schlafly Tap Room - Food Photo Essay: The Block Restaurant Butcher and Bar
A chocolate crust topped with chocolate chips awaits its goo.
A carrot gooey butter cake in its unbaked state.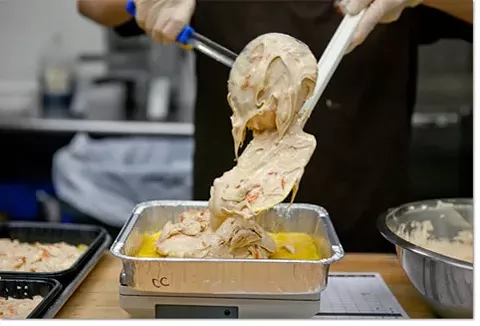 Each pan is weighed before baking.
Perhaps not surprisingly, double-chocolate gooey butter cakes are a popular item.
Matt is a gooey butter expert.
Gooey butter cake mixes, for those who prefer to bake their own.
Another resident gooey butter expert, Melanie.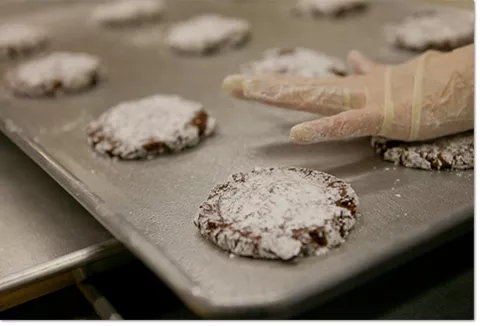 All cakes and cookies on the premises are prepared by hand.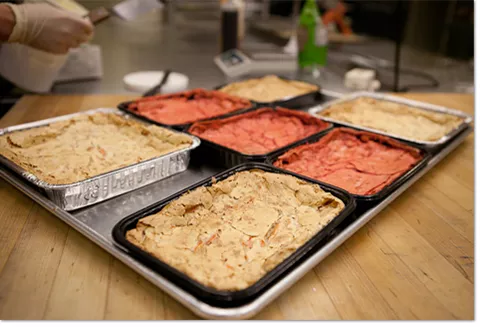 Carrot and red velvet gooey butter cakes, warm from the oven.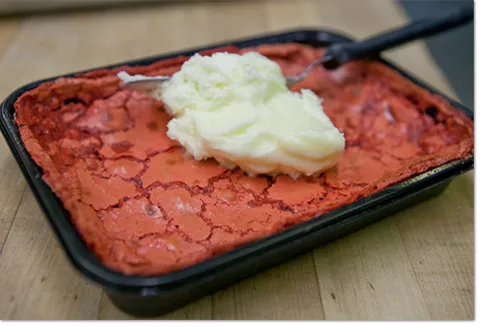 A warm red velvet gooey butter cake gets its cream-cheese topping.
Turtle gooey butter cakes, just about ready for public consumption.
Gooey butter cookies receiving the requisite dusting of powdered sugar.
Co-founder Marilyn Schotte, the baking genius behind Ann & Allen Baking Company.
Editor's note: Sometimes food renders Gut Check speechless. That's why God invented the DSLR. In our continuing effort to cause your mouth to water onto your keyboard, we bring you our weekly Food Photo Essay.