Liz Miller
The view from inside Nora's in Dogtown.
Gut Check enjoys the drinking and general debauchery that descends on Dogtown on St. Patrick's Day in St. Louis as much as the next functionally alcoholic food blog, but until this year, our experience was simply as another soused, green-clad reveler trying not to hurl in the streets. When we learned a friend would be bartending and serving food at the Dogtown sandwich shop Nora's (1136 Tamm Avenue; 314-645-2706), though, we were intrigued to see the spectacle from a different viewpoint -- and lucky for us, the polite team at Nora's indulged our folly.
See also: -The 10 Best Irish Pubs in St. Louis -Downtown vs. Dogtown Neighborhood Restaurant Guide and St. Patrick's Day Poll -Hibernians, Dogtown to Paradegoers: No Coolers for You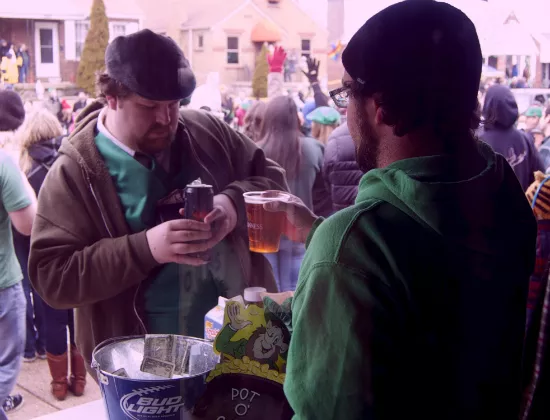 Liz Miller
Bartending at Nora's.
Alcoholic beverages aren't normally served at Nora's, but for St. Patrick's Day the restaurant gained permission to serve beer and Irish coffee in addition to food options like Guinness-battered bratwurst, Irish stew, party-potato soup, hot dogs and corned-beef hash.
Unlike its neighbor Felix's (6335 Clayton Avenue; 314-645-6565), Nora's wasn't open for paradegoers to stumble into. Instead, the staff set up a makeshift bar and cash register outside the entryway. Its location on Tamm Avenue near Clayton Avenue gives it prime positioning on the Dogtown St. Patrick's Day parade route, usually ensuring plenty of business -- both of the profitable and funny kinds.
Owner Rob Quiason tells Gut Check that in the three years he's served food and drink at Nora's on St. Patrick's Day (and before that the many years he operated other restaurants in Dogtown) he's seen as many as 250,000 people crowd neighborhood streets.
He estimates that 2013 brought out fewer than 100,000 people to celebrate -- not small potatoes, but nothing to match the scope of past years. Local meteorologists predicted snow and ice would blanket the city Sunday morning, which Quiason says might have kept people at home.
But all of that was sort of lost on Gut Check, as all we saw were loads of loaded people packed in the streets, excitement for the parade and consistent business at bars and restaurants along its route.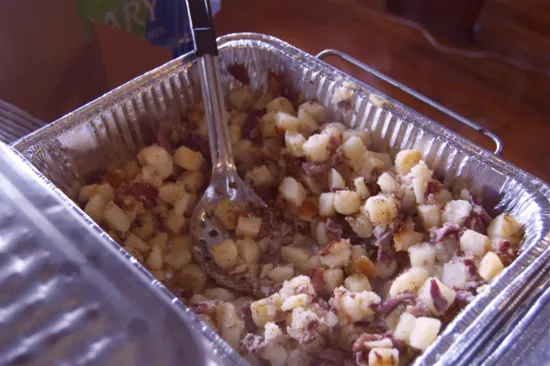 Liz Miller
Corned beef hash at Nora's.
Nora's opened for business around 9 a.m. on Sunday -- though some of its employees were at work as early as 7 a.m. -- and intended to stay open till 6 p.m., but heavy rain following the parade cleared the streets prematurely, and the shop called it quits at 4 p.m.
Gut Check arrived at Nora's around noon, just 30 minutes before the parade began. Though the shop's team told us the morning had been slow, by the time we arrived Tamm Avenue was flooded with people.
We stuck around for the entirety of the parade until Nora's packed it in for the day. We witnessed how much poise, patience and politeness it takes to serve St. Louisians in Dogtown on St. Patrick's Day -- and also how fun that experience can be. We also learned from Nora's bartenders that the date to verify legal-drinking age is now March 17, 1992, lest we forget how old we truly are.
The following pages offer bartender views of St. Patrick's Day in Dogtown. Thanks to Nora's for allowing us to observe the festivities from its front door, and for the party-potato soup, which we'll be thinking about long after we sober up.
Liz Miller
Schlafly, Budweiser and Bud Light made-up the beer selection yesterday at Nora's.
Liz Miller
Bartending at Nora's.
Liz Miller
Bailey's Irish coffee was a popular drink at Nora's on cold, rainy St. Pat's day.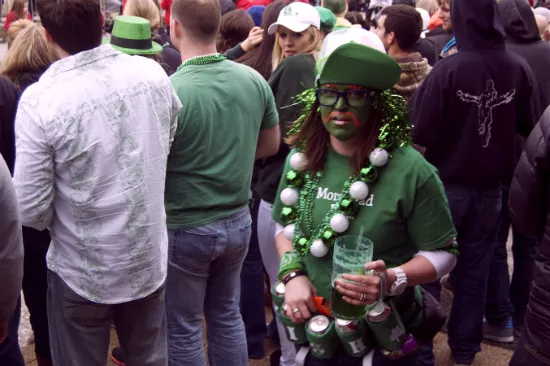 Liz Miller
Plenty of parade-goers got into the spirit of St. Pat's Day in Dogtown.
Liz Miller
Nora's location on Tamm Avenue near Clayton Avenue puts it right along the St. Patrick's Day parade route.
Liz Miller
Faces loaded in Dogtown.
Liz Miller
Serving booze and food to soused people in Dogtown.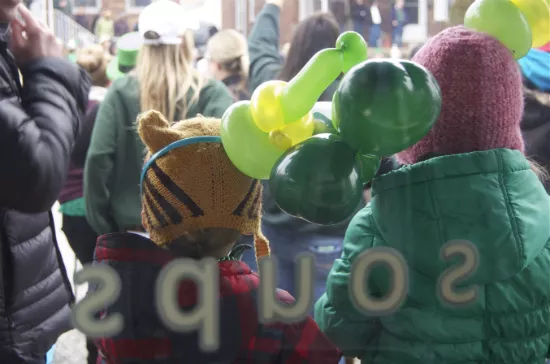 Liz Miller
Benches outside of Nora's made great booster seats for better peeking the parade.