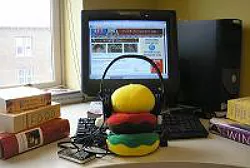 Gut Check dishes on our favorite St. Louis food blogs.
A Veggie Venture: Alanna made cabbage, potato and kale soup for St. Patrick's Day.
Cupcake Project: Stef shared hazelnut coffee cupcakes.
The Sweets Life: Natalie made cranberry chocolate buttermilk bread.
Eat Write: Judith shared schnitzel nuggets with apricot dipping sauce for Passover.
Family Style Food: Karen made Italian cherry doughnuts.
Iron Stef: Stef visited Wonton King and Pho Long in search of St. Louis' best balls.
Sweet Art: Amrita made banana tarte tatin.
Sounding My Barbaric Gulp: Kelly shared homemade maple granola.
Bruno's Dream: Bruno made pistachio gelato and pistachio brittle.