St. Louis' neighborhoods are gems in their own right: full of history, great people and, as far as Gut Check is concerned, fantastic food. Each week we'll take you into a specific neighborhood and point you in the direction of the best places to grab some bites.
Cruise west along Olive Boulevard from North & South Road to Lindbergh Boulevard and you might be lulled to sleep by the strip-mall tedium, but if you take the trouble to look around, you'll see the vastest array of ethnic eateries in all of St. Louis County, all in a single four-mile stretch. The route cuts a swath through University City's Asian neighborhood, with Vietnamese, Korean, Japanese and Chinese (including dim sum -- yum!) restaurants galore, not to mention East Asian grocers large and small. But you'll also find everything from pizza to barbecue to Jamaican, Mexican and Italian establishments, not to mention an honest-to-goodness American diner. In other words: Move over, South Grand!
See also: - South Grand: An Updated Guide to Restaurants on South Grand Boulevard in St. Louis - Benton Park: An Updated Guide to Restaurants in the Benton Park Neighborhood of St. Louis - The Hill: An Updated Guide to Restaurants in St. Louis' Iconic Italian Neighborhood
Jennifer Silverberg
The dining room at Wei Hong Seafood.
Wei Hong Seafood (7740 Olive Boulevard; 314-726-0363) On the list of things to do before you die: dim sum, Peking duck. At Wei Hong you can do both in splendid style. Housed smack-dab in the middle of U. City's Chinatown in the former Fine Arts movie house, Wei Hong features an opulent dining room that looks like an Oriental nightclub set in a 1940s musical. Dim sum is served in traditional fashion: on little saucers and in bamboo steam baskets wheeled around the room on rolling trays. The duck -- whether served Peking-style or simply roasted -- is like something out of a gastronomic fever dream. It's a rapturous experience.
See also: - "Duckgasm": RFT review of Wei Hong (2005)
Kim Son Vietnamese Bistro (8080 Olive Boulevard; 314-432-8388) There's a lot to grab your attention at Kim Son Vietnamese Bistro -- brightly painted walls, flat-screen TV sets, a menu with 170 choices -- so focus on the tanks along the dining room's back wall. The crabs, lobsters and fish swimming there are the house speciality. Try cua rang me, a whole Dungeness crab in a sweet-tart tamarind sauce studded with fiery chiles; or one of four different lobster preparations. You'll also find the standard array of such popular Vietnamese dishes as pho, bun (various meats served over vermicelli) and spring rolls. More adventurous diners may want to try what the menu terms "Classic but Unique Dishes" -- among them quail, Cornish hen and frog legs.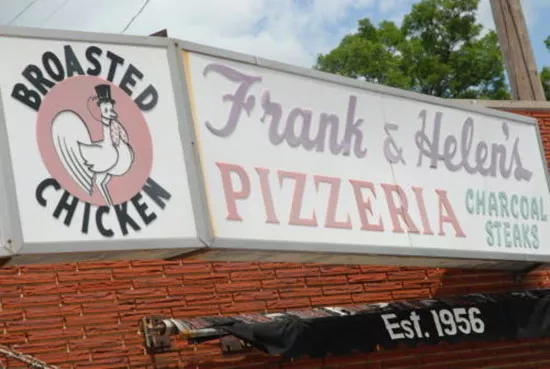 Frank & Helen's Pizzeria (8111 Olive Boulevard; 314-997-0666) You know a pizza place is reliable when it's a favorite hangout for cops. So Frank & Helen's, which originally opened in 1956, must be one steadfast eatery -- its current owner, Scott DePolito, is a former U. City police officer who now feeds the joint's famous pizza and broasted chicken to his former colleagues. The pizzas, halfway between St. Louis and New York-style, are thin-crusted (not cracker-crusted), made with mozzarella (not Provel) and cut into squares. The menu also features blue-collar staples like fried zucchini sticks, burgers and steak dinners. Many of Frank & Helen's loyal customers were introduced to the place by their grandparents; now they bring their grandkids.
Wonton King (8116 Olive Boulevard; 314-995-6982) Wonton King serves "Hong Kong-style" Chinese food in Olivette. Stop in for breakfast, brunch, lunch or dinner; dine-in or carry-out.
See also: -Dude, It's the Top Six Delivery Restaurants for 4/20, Check It Out!
Lu Lu Seafood (8224 Olive Boulevard; 314-997-3108) Lu Lu fits comfortably among the Asian markets, restaurants and gift shops that comprise U. City's Chinatown. The owners slapped a pagoda on top of the building -- once the location of Chaney's BBQ -- overhauled the interior and added a banquet room. The Cantonese food is fine, and there are more than 30 seafood selections, including stewed carp's head soup. But it's the dim sum that packs in the patrons. Choose from traditional siu mai (firm steamed pork stuffed into thin wraps), shrimp har gow (steamed translucent dumplings), char siu bau (steamed rice-flour buns filled with diced roast pork in a sweet hoisin-based sauce), fried taro puffs (small balls covered in webbed mashed taro root and stuffed with finely ground pork or beef) and rice noodle (a white, slippery wide noodle folded over a filling of pork, shrimp or beef). And don't forget the chicken feet.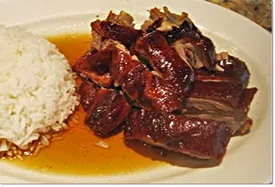 Royal Chinese Barbecue (8406 Olive Boulevard; 314-991-1888) You'll find plenty to choose from at Royal Chinese Barbecue, from familiar kung pao chicken and orange beef to humble congee (rice porridge) to exotic shark's fin soup. But be sure to take a cue from the name and try a barbecue dish. Barbecue pork evokes both a tender roast and indulgently fatty belly. Then again, once you see the roasted ducks hanging inside the door, their copper-colored skins so crisp that you can hear the crackling from the parking lot, you'll have a tough time choosing anything else. Stop by for weekday lunch and try an ample portion of each for about $9.
Shu Feng (8435 Olive Boulevard; 314-983-0099) At Shu Feng you can belly up to excellent renditions of your favorite Chinese dishes, including a wonderfully fiery hot braised pork and the rare hot-and-sour soup that is, in fact, both hot and sour. But this restaurant also offers a selection of intriguing Taiwanese soups and curries, including roast-eel rice. As if that weren't enough of an attempt at bringing about world peace, Shu Feng's menu features Korean dishes as well. Can't we all get along here? At Shu Feng we certainly can -- and, at lunch we can get along for much less and with two tasty crab rangoon (or one egg roll) to boot.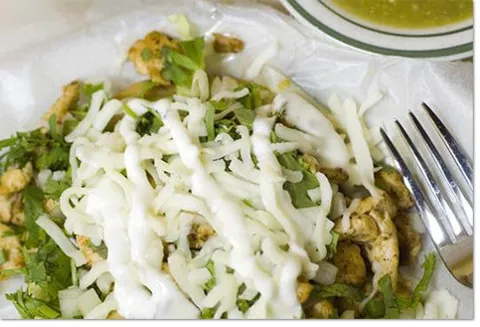 Jennifer Silverberg
Sopes at La Monarca
Taqueria La Monarca (8531 Olive Boulevard; 314-814-5864) Relocated and greatly expanded from a storefront on the other side of Olive, Taqueria la Monarca offers not only taqueria staples -- tacos, tortas, quesadillas -- but also fajitas, enchiladas and tamales. Tacos are heaped with so much meat the two soft corn tortillas are barely enough to support them. Tortas are excellent, with the ideal ratio of meat to toppings to condiments. Looking for a change of pace from the standard taqueria taco? Sopes might be the ticket, a small, thin disc of fried masa topped with a spread of refried beans, cilantro, onion, cheese and your choice of meat, dotted with crema.
See also: -The Ten Best Places to Grab Tacos in St. Louis -The Five Best Taquerias in St. Louis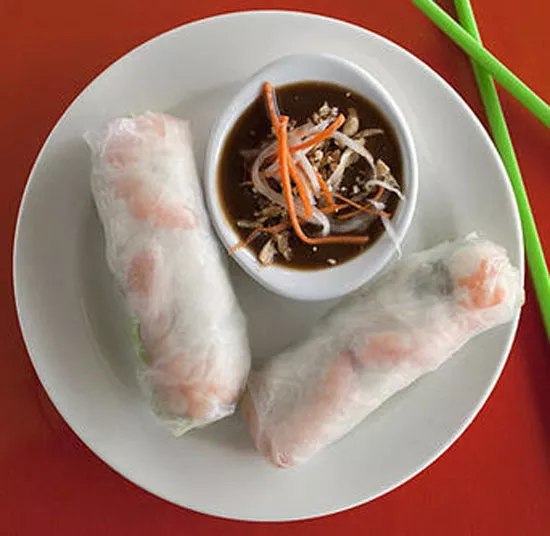 Dao Tien Vietnamese Bistro (8600 Olive Boulevard; 314-995-6960) Small, brightly colored Dao Tien is a family affair, with owner Diane Dinh and her ex-husband Dinh Dang handling the kitchen duties, while several of their children staff the front of house. The menu features very good renditions of Vietnamese favorites including pho, banh mi and platters with pork chops, egg cakes and broken rice. Suon ram man -- spareribs steamed and then simmered in a clay pot with a complex sweet, salty and spicy beef stock-based sauce -- are a standout.
See also: -Nuoc Charm: Dao Tien is a peach of a Vietnamese bistro, and a slice of home-style heaven
Pho Long (8629 Olive Boulevard; 314-997-1218) Pho Long isn't your typical 100-plus-selection Vietnamese restaurant. It specializes in pho, the traditional Vietnamese noodle soup. But you don't need much more than a bowl of good pho for a fast, satisfying meal. Pho Long's great: thin rice noodles, onions and scallions in beef broth, customized with your choice of meats -- eye round steak or flank steak are the straightforward choices; oxtail or beef meatballs offer a heartier, earthier flavor; tripe and tendon give the full, authentic experience -- fresh herbs, jalapeños and lime. Best of all, pho is good for breakfast, lunch or dinner, in hot weather or cold. Not in a pho mood? There are a few entrées, as well as appetizers and desserts.
See also: -The Five Best Vietnamese Restaurants in St. Louis
De Palm Tree (8631 Olive Boulevard; 314-432-5171) Easton and Tammey Romer's addition to Olive Boulevard's ethnic restaurant row is jammin', from the Jamaican specialties to the endless loop of Bob Marley concert videos on the dining-room TV. A native of Jamaica who came to St. Louis in the late 1980s, Easton makes his jerk rub fresh, and it shows: pungent, citrusy and spicy. Jamaica's South Asian influence is present in the mildly spiced golden sauces that blanket shrimp, chicken or goat curries. There's fish, of course -- from simple grilled salmon to vinegary escovetch whole red snapper (and a spicier version that's steamed in a tomato-based sauce, then baked). You won't be able to get enough of the banana rum fritters -- but the Red Stripe is abundant.
See also: -Dinner and a Movie: Jamaica Jerked Chicken at De Palm Tree and "Marley"
Nobu's (8643 Olive Boulevard; 314-997-2303) Chef Noboru Kidera works a kind of alchemy at his University City restaurant. The deft movements of his hands as he works at the bar, chatting with diners, demonstrate just how complex the making of sushi is. But what you notice about a piece of Kidera's nigiri sushi is its utter simplicity: the small mound of rice, a brush of wasabi, and then the fish, cut to the perfect thickness and impeccably fresh. The standard sushi selection is excellent -- salmon, topped with a sliver of bracing raw onion, and mackerel especially so -- but treat yourself to luscious toro or something unusual, like "The Traveler." Nobu's offers several crowd-pleasing rolls, as well as classic Japanese tempura, yakitori and noodle dishes.
Sugarfire Smoke House (9200 Olive Boulevard, Suite 114; 314-997-2301) This barbecue joint from prolific local restaurateur Mike Johnson (founder of Roxane and Boogaloo, among many others), and Charlie and Carolyn Downs of dessert palace Cyrano's, operates as a cafeteria. You order a meat or sandwich first. Then you move your tray down the line to the selection of sides, then to the desserts, then to the cash register. Of course, you can make your choice simply by perusing the menu, but even when you can't be dissuaded from ordering the brisket by that Carolina pulled-pork sandwich, you still might be tempted by one of the daily specials. (You love burnt ends? How about a burnt-end "cheesesteak"?)
See also: -'Cue the Sights: Sugarfire Smoke House delights the eyes and the palate
I Love Mr. Sushi (9443 Olive Boulevard; 314-432-8898) "You came all the way from the Delmar Loop to visit us?" the server asks. In fact, I Love Mr. Sushi isn't too far from the Loop, but its narrow storefront in a nondescript Olivette strip mall lends this sushi joint the air of a well-kept secret. Inside you'll find beautiful presentations of familiar nigiri sushi and sashimi selections, as well as rolls both traditional (sweet futomaki) and Americanized (the "Texan," for example: beef, jalapeño and spicy mayo). Begin your repast with a cup of very good miso soup, and don't be shy when your server asks whether you'd like a second round. She's not teasing.
Olivette Diner (9638 Olive Boulevard; 314-995-9945) You can get your greasy spoon on at the Olivette, a strip-mall eatery serving just breakfast and lunch seven days a week. You can sit in a vinyl booth or at the Formica counter and enjoy a bottomless cup of hot, fresh coffee; eavesdrop on the regulars making chitchat with the waitresses; and order yourself a burger, eggs and bacon, or a slinger. But you can also look forward to plenty of unexpected menu choices, too -- like a bacon, feta and tomato sandwich or a breakfast burrito wrapped inside a spinach tortilla. Other strange (but super) signature items include the "Amazing Banana Waffle" and the "Hot Hash & Holly": potatoes with grilled onions, green peppers and ham, topped with two eggs, melted cheddar and hollandaise. Cheap, good and just a little offbeat, the Olivette embodies everything great about diners.