Welcome to Girl Walks Into a Bar, a weekly Gut Check feature that spotlights local bars and bartenders. This week, Kaitlin Steinberg profiles Bob Dolan of The Dubliner. Below is a Q&A with Dolan, followed by his recipe for a Bee Tea.
Bob Dolan is a man of simple tastes and few words.
He loves vodka, but he appreciates anything Irish. He's polite to customers even when they're rude to him. He'll listen to your conversations at the bar, but he won't butt in. He just likes to listen.
Dolan has been bartending since 1985, and he's been at the Dubliner (1025 Washington Avenue; 314-421-4300) since 2007, a year after it opened. He worked at Krueger's Bar in University City for a while, in addition to holding court at the Forest Park golf course and the Dubliner.
These days, he's mainly at the Dubliner, a large Irish pub-style bar downtown. The Dubliner is more open and airy than the typical Irish pub, but Dolan brings an air of familiarity to it that makes you feel like you're at the local corner bar being served by your regular bartender, even if you've never been there before.
As the Dubliner prepares for the crowds that are sure to come on St. Paddy's Day, Dolan goes about his business around the bar slowly and methodically, fixing drinks and greeting new customers like old friends.
Describe your bartending style in three words. Lack of style. I don't really have a style. I'm just sort of myself.
A girl walks into a bar and orders a _____. She has just earned your undying admiration. A shot and a beer. How 'bout a shot of Jamey and a Guinness.
Other than your own place, where do you go to get a good drink? And what do you get? Oh Lord, I don't really drink anymore. If I'm going to go out and drink, I want to go somewhere I can get a nice pour. Like Bruno's on Hampton. I just get a vodka and soda with a lemon.
What is one thing that most people don't realize about crafting cocktails or bartending? When making a drink, you can always add more of something. If you're afraid you're putting too much of something in, just err on the low side cause you can always add to it. You can't take it out once you make a drink. That's something I tell our younger bartenders.
Who would you most like to have a drink with? And why? That's a hard one, cause I like drinking with almost everybody. If I have to pick one person, I'd say W.C. Fields. I think I'd be intrigued by his answers to most questions. I'd drink a whiskey on the rocks with him.
What is the most bizarre or worst drink someone has ordered from you? A virgin whiskey sour. So it's just sour mix. And a Kahlua sour. I thought it would curdle.
What is the coolest or weirdest thing you've witnessed while working at The Dubliner? Well, some of the gals will show their stuff off on occasion, but that's not that uncommon in bars. It breaks up the day, you know? I'd rather have that than not have it!
What's the next big bartending trend? What I call "kiddie porn." All the flavored vodka. Everything's just sweeter and sweeter and sweeter. I keep wondering when they're going to run out of flavors.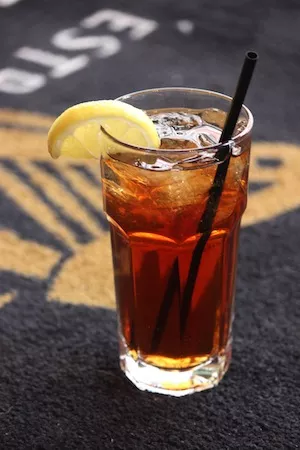 What's your favorite ingredient to use in cocktails? Vodka. I like Stoli. It goes with everything or nothing at all.
What's your favorite drink? Right now I like that Bee Tea (recipe below). If I could only have one drink...I know it sounds boring, but I like vodka, soda and lemon. If I feel like mixing it up a little I might add some cranberry or grapefruit juice.
Bee Tea
2 oz Stoli Sticki (honey flavored vodka) Unsweetened Iced Tea
Pour Stoli Sticki over ice in a highball glass. Fill the rest of the way with iced tea. Stir with a straw and garnish with a lemon wedge.