Gut Check tells you what's new and tasty at our favorite restaurants.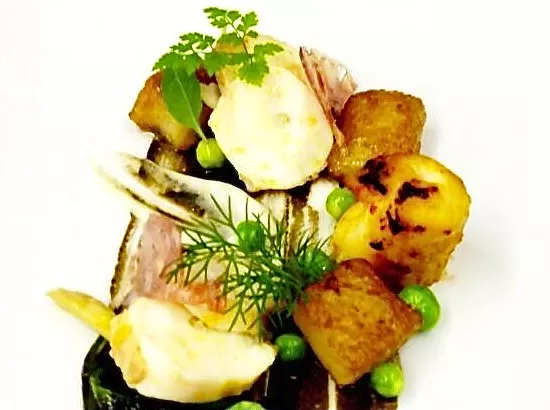 A grilled octopus dish at Sidney Street Cafe
Yesterday Sidney Street Café (2000 Sidney Street; 314-771-5777) owner and chef Kevin Nashan tweeted a a striking photo of a whole octopus on one of his restaurant's prep tables.
A little later he tweeted an even more striking picture of a finished octopus dish.
See Also: - Benton Park: An Updated Guide to Restaurants in the Benton Park Neighborhood of St. Louis - James Beard Foundation Announces Award Semifinalists: Gerard Craft, Kevin Nashan in Running for "Best Chef: Midwest" - "Best Local Chef" (2010): Kevin Nashan
The octopus receives several treatments, Nashan tells Gut Check. To combat its natural toughness, Nashan places the octopus with sofrito oil and a nage in a pressure cooker at 13 or 14 PSI for about twenty minutes. The result, he says, is "spot-on perfect."
Nashan also braises the octopus with some Calabrese seasoning and then, finally, chars and grills it.
For the appetizer, Nashan plates the octopus with the restaurant's own black garlic (fermented for a month and a half) and polenta gnocchi.
"We shave some sunchoke and fennel over it," he adds. "Our Tuscano salume we slice thin. And we mingle it all, ragù-style."
Nashan says the current octopus appetizer is a "from the hip" creation. The kitchen is working on a more "contrived' octopus dish for next week's menu.
St. Louis restaurants: Do you have a new dish to share with Gut Check readers? Drop us a line.