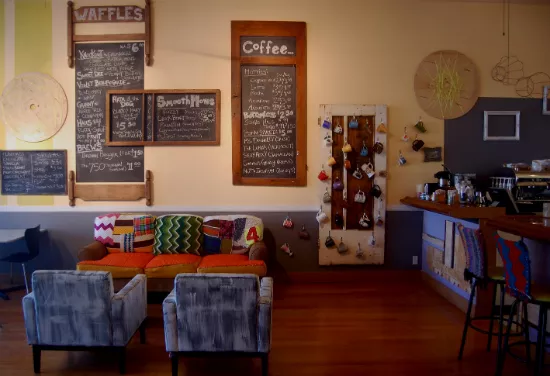 Liz Miller
Melt at its current home on Ivory Avenue in south city.
Melt (7700 Ivory Avenue; 314-638-6358), which opened in June 2012 in the Patch neighborhood near south Carondelet, is relocating to 2712 Cherokee Street.
See also: -First Look: Melt on Ivory
The cafe announced plans to move via Facebook and Twitter late last month. When we reached Melt co-owner and general manager Britt Bauer by phone yesterday, she told us the decision to close shop in Carondelet was due to a variety of factors.
"We've been doing OK in this neighborhood, but we would like to do much, much better, obviously. It'll be very bittersweet because I'll have to explain to people, the neighbors in Carondelet, that we're sorry that we're moving, but there is opportunity at this other location that we can't ignore," Bauer says.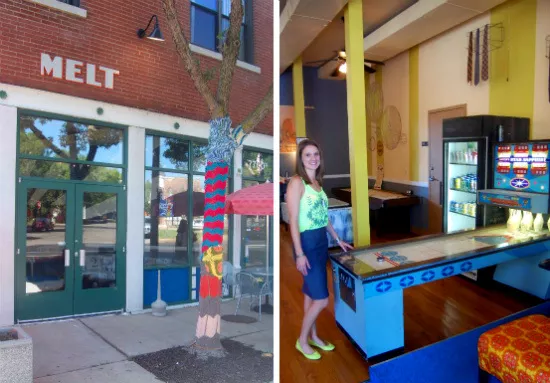 Liz Miller
The exterior of Melt (left) on Ivory Avenue. Melt general manager and co-owner Britt Bauer (right) in the cafe.
Melt's current location features a small open kitchen and coffee bar. Bauer says its new space on Cherokee Street is physically similar in size, but offers a much more fluid design with separate kitchen and bar areas, a stage and more seating. The nightlife happening on Cherokee Street also attracted Melt's owners to the area -- Bauer says the hope is to extend the restaurant's hours to 3 a.m. to offer late-night drinks and eats.
"We're next to 2720 Cherokee, two doors away. When their music venue lets out at 1:30 a.m., we will take all of their customers and feed them waffles," she says.
In addition to gaining a more optimal and efficient layout and new clientele, Bauer says the culture and community on Cherokee Street melds better with Melt's identity.
"That neighborhood is much more attuned to our ideology of DIY, indie, creative folks," she says. "That's pretty much what inspired the move."
While Bauer admits Carondelet maybe isn't the best fit for Melt, she speaks highly of the neighborhood and the cafe's current stable of regulars.
Unfortunately Melt's relocation is causing a bit of backlash with a few disgruntled customers.
Liz Miller
The interior of Melt at its current home on Ivory Avenue.
"Now that we're moving a lot of people [in the Carondelet neighborhood] have expressed their disdain with the move," Bauer says. "It's almost to the point where I don't think they will come to see us on Cherokee. It is what it is for this small group of people. Hopefully we will gain more."
When Gut Check spoke with Bauer this past August, just one month after Melt's opening, the cafe was still owned by residential and commercial property management company Steins Broadway, which at the time also rented to nearby Perennial Artisan Ales (8125 Michigan Avenue; 314-631-7300) and Halfway Haus (7900 Michigan Avenue; 314-256-0101). Bauer says Steins Broadway is no longer in business, and, following its closure, she became a co-owner of Melt with its former owner.
Within the next few weeks Bauer says Melt will launch a Kickstarter campaign to raise funds for the move and its new Cherokee Street location.
Melt's last day of business at 7700 Ivory Avenue will be Friday, March 29. The cafe plans to say goodbye to its flagship location and first neighborhood with a farewell party with food and drink specials and live music.
Melt plans to open on Cherokee Street on May 1, right in time for Cinco de Mayo festivities and Indihop, which is slated for June 1.
Keep up with the cafe by following its newly renamed Twitter account @meltoncherokee.