Jon Gitchoff
Beads, yes. Coolers, no.
Dogtown residents are an almost universally genial bunch. They open their neighborhood and occasionally their bathrooms to faux Irish revelers, and generally accept that overflowing trash cans and parking inconveniences come with the territory for one rowdy day in March.
And while paradegoers will be welcomed for the 27th time to the neighborhood for the Ancient Order of Hibernians St. Patrick's Day Parade on Sunday, their beer- and liquor-stocked coolers will not.
See also: -St. Patrick's Day Poll: Downtown vs. Dogtown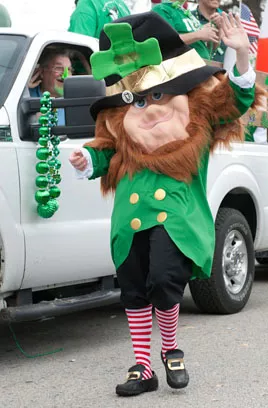 Jon Gitchoff
From last year's parade.
Local members of the Hibernians first conceived their St. Pat's parade as an alternative to just sitting in bars, all green beer and "Kiss Me, I'm Irish" buttons. Rather, they sought to honor St. Patrick's feast day and modeled their parade after the Irish ones of yesteryear. (Fun fact: The first Ancient Order of Hibernians St. Pat's Day parade was held in Clayton in 1984; the second one was in Hazelwood.)
But the Dogtown parade's growing popularity has also brought increasing occurrences of glass-strewn streets, fights, underage drinking, binge drinking and general jackassery. It all came to a (frothy) head last year when, shortly after the parade ended, heavy rain soaked the neighborhood and sent paradegoers scurrying for dry land.
"They were demanding their right to bring their coolers inside the bars, and, in some instances, some of the neighbors talked about people wanting to bring their coolers up on their porch and getting into arguments with them," says Jim Mohan, the AOH's publicity chairman since 1984.
The Hibernians tried the "no cooler" rule back in 2008 -- making an exception for coolers containing food and drinks for kids -- but there were few security checkpoints. (The AOH pays for its own security.) And when security personnel did search coolers, the lines backed up, causing still more anger and confusion. This year, some Dogtown business owners are kicking in some cash to help offest the cost of additional security.
The "no cooler" rule isn't a money grab, insists Mohan: "We get no money from the sales of liquor in Dogtown on St. Patrick's Day." The Hibernians do have a beer truck (sixteen-ounce beers for $4), and money earned from that goes back into the parade for things such as porta-potties, bike racks, insurance and security.
Though there has been some grumbling about the push to make the parade more temperate, it's a step the Hibernians are willing to take, even if it means fewer people attending: "We'd rather have a couple of hundred people there that respect each other and the neighborhood than have thousands," says Mohan, who was the parade's grand marshall in 2008.
"Family-friendly doesn't mean you've got to sit around and sing 'Kumbaya' and watch a Disney movie," he continues. "It just means you've got to use a little common sense and think, 'You know what? There's other people here too, and they're just as important as me.'"
Dogtown's St. Patrick's Day parade starts at 12:30 p.m. Sunday.
Pat's Bar & Grill (6400 Oakland Avenue; 314-647-6553 or www.patsbarandgrill.com) opens at 6 a.m.