The voicemail sent a chill straight down Gut Check's spine and back up again:
"Hi, this is Alison ________. I'm calling from Bizarre Foods with Andrew Zimmern. There was a piece that was published about Andrew Zimmern coming to the Soulard Market. The network has just asked me to give you guys a call. They're a little bit uncomfortable having all of this information published."
The briefest of pauses.
"For security purposes."
See also: - Bizarre Foods' Andrew Zimmern to Visit Soulard Farmers Market in March - Soulard Farmers Market Announces Bizarre Foods Filming Date
Sweet mother of God, what had we done?
In late January we'd gotten word that the balding, gregarious glutton and his Bizarre Foods team would be visiting St. Louis at a date TBA in March to, you know, partake of some bizarre foods. Specifically, we'd gotten said word via the Soulard Farmers Market (730 Carroll Street; 314-622-4180), which promised on its Facebook page to provide details ASAP "so that you can come down and see one of America's most beloved TV personalities at work."
ASAP turned out to be March 7, when the Soulard Marketeers again took to their Facebook page (and their webpage) to announce the date: Andrew Zimmern of Bizarre Foods America will be shooting at the market on Saturday, March 16, from early morning to early afternoon.
Oops, we just reported it again!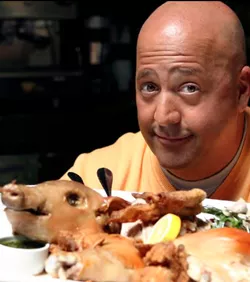 We called Alison ________, like, a bunch of times. Because we want to personally apologize for our unwitting security breach, and, we hope, to learn what Mr. Zimmern is worried might happen now that the citizens of St. Louis are aware he's coming to town. Alison ________ must be a very busy woman, though, because she hasn't called us back.
Savvy Gut Check readers will have noted that we're not publishing Alison's last name. That's a trick we learned in News School, but we won't elaborate here. For security reasons.
If you doubt we're talking serious business here, know this: The day after Alison ________ left her message at Gut Check International Headquarters, we checked Soulard Market's website and Facebook page and the information about Andrew Zimmern's visit had vanished!
If only we could speak with Alison ________, this is what Gut Check would tell her: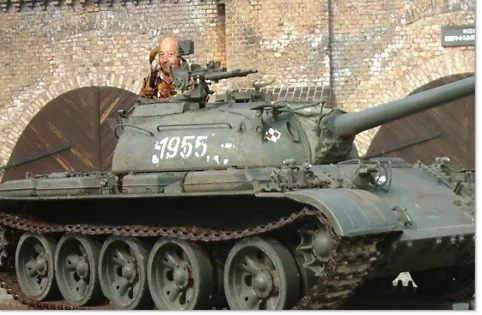 Andrew Zimmern visits St. Louis, Missouri, USA (artist's conception).
We're so sorry! What could we have been thinking?! We've cooperated with law enforcement in the past. We've personally interviewed police. We've interviewed FBI agents. We've kept our restaurant reviewer's true identity a secret for years. How could we have made such a gross oversight?!
It's true, Andrew Zimmern is a brave and intrepid dude. He has traveled the world over. He has eaten camel sashimi. He has eaten fried spiders. He has eaten snake bile.
He has eaten stinky tofu.
But St. Louis is the second-most-dangerous city in America according to Forbes (a real magazine), so we can see why even a visitor of Zimmern's pedigree might fear for his safety. Heck, there have been 24 homicides in the city this year, and it's still only March. We can only hope Zimmern is bringing his full security detail, and maybe an armored Hummer or two, or there's no way he's getting out of Soulard Market unscathed.
And in closing, we'd offer one piece of advice.
Take it from a local, Andy: If you want to leave St. Louis in one piece, stay away from the Provel.