Wednesday. Hump Day. Congrats, you've made it halfway through the work week! Unfortunately, you still have two days to go.
Dunno about you, but in order to survive the midweek blues, we're going to need a drink. Which brings us to our Wednesday Gut Check feature:
"Gut Check's Hump-Day Cocktail Suggestion"
Each week we take you to one of our favorite St. Louis bars (and, oh, the list is long) for a drink (or two) we -- in consultation with the bartender -- highly recommend.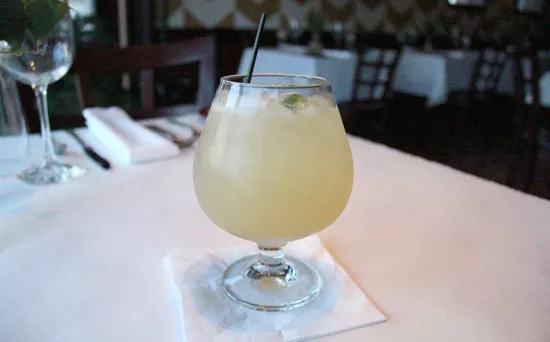 Evan C. Jones
Five Bistro's Lock, Stock & 2 Smoking Barrels
This week's cocktail takes us to Five Bistro (5100 Daggett Avenue; 314-773-5553) on the Hill. After bar manager Mary Mangan walked Gut Check through the restaurant's cocktail menu, we still couldn't decide whether we wanted a tequila- or a mezcal-based beverage. The kind of week we're having, we went with "Both."
See also: -Eclipse Restaurant's Set to Kill: Gut Check's Hump-Day Cocktail Suggestion -Farmhaus' All I See Is Gold: Gut Check's Hump-Day Cocktail Suggestion
Evan C. Jones
Five Bistro's Mary Mangan preparing her award winning cocktail.
Mangan originally crafted the Lock, Stock & 2 Smoking Barrels for a server who was seeking a citrusy and smoky beverage after a shift. The bar had just received a mezcal (a Mexican spirit closely related to tequila made from the maguey plant), so that covered the smoky aspect. Tequila and lime juice followed. At the time, fresh sage and lemon balm were available in the kitchen and rounded out the drink.
As for the name, Mangan is a fan of the Guy Ritchie film and had just watched it the same week. Thus, a cocktail was born.
"It was kind of a fluke, and it just ended up being something I really liked," she says.
Mangan isn't the only one who liked the cocktail: the Lock, Stock, & 2 Smoking Barrels placed second in the recent Ford Hotel Supply cocktail competition.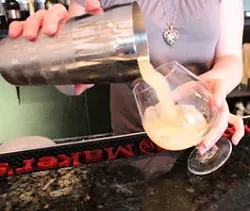 Evan C. Jones
Shooting, er...we mean pouring out the 2 Smoking Barrels.
Another interesting ingredient in the cocktail is velvet falernum, a spiced syrup typically found in Caribbean drinks such as the Zombie.
"The way I use it typically is instead of simple syrup," Mangan says. "It has some (herbal) spices to it but it's just as sweet. It went along with the rest of the ingredients. I used that and a little bit of agave instead of a simple syrup because it goes with the other flavors and doesn't hide it with sugar."
The drink's smoky nature is front and center in the cocktail. Lime juice slices through the smoke, and the subtle spice from the velvet falernum carries the back end. Nothing is overpowering in the drink. We could've had at least one more without blinking.