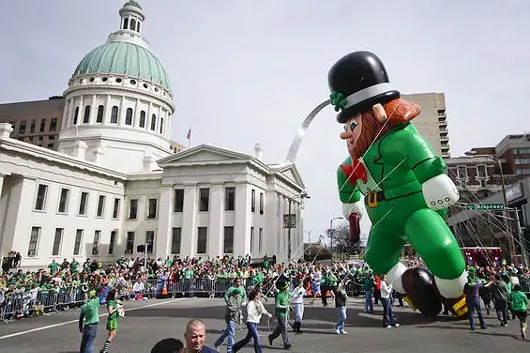 Forget Chicago and its green river. Heck, move over, Ireland! St. Louis has some of the biggest and baddest St. Patrick's Day celebrations around!
With two parades -- one downtown on Saturday and one in Dogtown on Sunday -- St. Louis is the place to knock back a pint of Guinness in your finest green bowler cap and your authentic Irish beads with the plastic shot glass at the end.
Check out our pre- and post-parade recommendations in both locations, then take our Downtown vs. Dogtown St. Patrick's Day poll!
Downtown The downtown parade begins Saturday at noon and goes up Market Street from Broadway to 18th Street. There are plenty of good bars in the area, but some of the best are on Washington Avenue, which is a bit of a hike from Market. It's OK though; the more you walk, the more Guinness you can rationalize drinking, correct?
Here's a map of our top five St. Paddy's Day suggestions downtown:
Tigín Irish Pub and Restaurant (333 Washington Avenue; 314-241-8666) Tigín is calling Saturday "St. Practice Day," because there the real party happens on Sunday. Both days the pub will have an outdoor party tent with pints and pancakes. Entry costs $5, but you'll get a $10 gift card to redeem at Tigín on a later date.
See also: - Ten Best Irish Dishes in St. Louis - "Feel a Draught?" (RFT review of Tigín Irish Pub and Restaurant)
Baileys' Range (920 Olive Street; 314-241-8121) As far as we know, Baileys' Range isn't doing anything special for St. Patrick's day, but the restaurant is just a hop, skip and jump from the parade route, and it serves a mean milkshake. What's that you say? There's no booze in a milkshake? You've obviously never had a Baileys Irish Coffee Shake. Mmmm.
See also: - The Ten Best New St. Louis Restaurants 2012 - an ode to the mojito at Baileys' Range
The Dubliner (1025 Washington Avenue; 314-421-4300) The Dubliner opens at 8 a.m. on Saturday, and there'll be live Irish music in the evening. The party will resume on Sunday, and the pub promises a good time after the Dogtown parade winds down.
See also: - RFT pick for "Best Irish Pub" (2007)
Flannery's Pub (1324 Washington Avenue; 314-241-8885) Flannery's is hosting the biggest St. Paddy's bash downtown -- between 14th Street and Tucker Boulevard. The festivities will run from 10 a.m. to 10 p.m. both Saturday and Sunday, and admission is free.
See also: - St. Louis' Ten Best Sports Bars
The Side Bar (1317 Washington Avenue; 314-621-7376) No, it's not an Irish bar, but that's part of its beauty. We're not certain, but we're betting it won't be as crowded here as it will be at Flannery's across the street. And if whiskey and Guinness aren't your thing, The Side Bar offers a bunch of infused vodkas for your imbibing pleasure.
See also: - Happy Hour Handbook: The Side Bar
And now, on to Dogtown...
Dogtown The Dogtown parade starts Sunday at 12:30 p.m. and proceeds along Tamm Avenue from Oakland to Manchester. Dogtown doesn't have as many bars as downtown, but it does have the advantage of being an actual Irish neighborhood by heritage, so pubs abound.
Here are our top five St. Patrick's Day hangouts in Dogtown: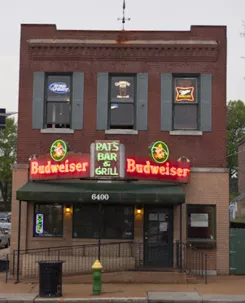 Pat's Bar and Grill (6400 Oakland Avenue; 314-647-6553) Pat's opens at 6 a.m. on St. Patrick's day and offers $5 breakfast plates. The outdoor party tent opens at 9, and seeing as how the parade starts there, it's a great place to see the floats, do some cheering, then get back to the real reason you came to Dogtown: drinking.
See also: - Drink of the Week: Pat's Bar and Grill
Nora's (1136 Tamm Avenue; 314-645-2706) Nora's won't be offering food from its regular menu on St. Patrick's Day. But who needs food, right? Nora's will be closed, but the café'll have a booth set up out front stocked with food and drinks for sale.
See also: - The Five Best Sandwich Shops in St. Louis - Making Mom Proud: A Visit to Nora's
Latitude 26° (6407 Clayton Avenue; 314-932-5600) OK, so it's a Tex-Mex restaurant, which isn't anything like an Irish pub, save for one similaritiy -- the Mexicans and the Irish both love a good drink. If you're tired of whiskey and Guinness, you might be crazy, but Latitude 26° can help. The bar offers a variety of tequilas and Mexican beers to quench your thirst.
Laura Ann Miller
Seamus McDaniel's patio.
Seamus McDaniel's (1208 Tamm Avenue; 314-645-6337) Normally closed on Sundays, Seamus McDaniel's is opening extra-early for the St. Patrick's Day celebration this year. The bar opens at 8 a.m., complete with a breakfast buffet. At lunch there''ll be Irish favorites like corned beef sandwiches. And, of course, beer. The outdoor patio closes at 6 p.m., the indoor bar at 8.
See also: - Drink of the Week: Seamus McDaniel's
Mike Talayna's Juke Box Restaurant (1115 Hampton Avenue; 314-647-7600) This nondescript little edifice on Hampton doesn't look the part, but inside there are disco balls galore, not to mention mirrored walls and a glitter-inlaid bar top. The drinks aren't the cheapest in town, but the pours are generous enough to tempt you into participating in Talayna's stock in trade: karaoke. For tonight we recommend something by U2, Enya or Flogging Molly (all Irish). On Sunday they open at 4 p.m. and close at midnight, so party hard, friends.
See also: - The Seven Best Places for Karaoke in St. Louis - The Ten Best 3 a.m. Bars in St. Louis
And now, if you'd be so kind, please click through and take our Downtown vs. Dogtown St. Patrick's Day Poll...