This is part two of Gut Check's Chef's Choice profile of Natasha Kwan of Frida's Deli. Read part one, a profile of Kwan, here. Part three, a recipe from Kwan, will be available Thursday.
Courtesy: Frida's Deli
Natasha Kwan, owner of Frida's Deli in University City
Natasha Kwan, the owner of the vegetarian, vegan and raw-food restaurant Frida's Deli (622 North and South Road, University City; 314-727-6500), has been thinking seriously about food for a long time. She declared herself a vegetarian at the tender age of nine -- either because her idol, Michael Jackson, had forsworn meat, or because she'd been shaken by a visit to a friend's family veal farm. Or maybe it was a little bit of both.
Since then Kwan has tried being a vegan and even a raw foodist, but is now comfortable calling herself a pescetarian. Her restaurant, which opened last summer, isn't simply about catering to vegetarians and vegans, but offering diners her view of a healthy, delicious diet.
"I've been to so many places around the country that are either vegetarian or vegan, and it's just a lot of processed food," she says. "I like to follow a low-glycemic diet. More whole foods, no oil, no fats. No one did [a restaurant] the way I wanted it. I saw that there was an opportunity in St. Louis to have it."
See Also: - Chef's Choice Profile of Natasha Kwan, Part 1 - "Best Burger (Non-Beef Division)" 2012: Frida's Deli - Busted! Scamwich Artist Unmasked by Local Restaurant Owners
Not that Kwan is always so serious about food. When I asked about childhood favorites, she told me, "I got my junk food too. I wasn't allowed soda. But, my god, Doritos? After school? It was like an addiction. I would eat a whole bag and -- " she wiggled her fingers -- "have my fingers orange."
Her laughter and enthusiasm while taking about Doritos was typical of our conversation over a table in Frida's dining room one recent weekday afternoon.
How old were you when you started cooking? I remember always being in the kitchen with my grandmother or grandfather and then later with my mom. When I moved into boarding school, we had a kitchen. We would get tofu sent to us, and we'd make tofu yogurt.
What were your first cooking jobs? I was probably seventeen. When I was in college at Mizzou, I was working as prep cook and a baker. I worked at Bruegger's Bagels way before they had prepackaged cream cheeses. We made our cream cheeses. We made our own soups back then. We made our own hummus. And then later on in life, I became a bartender. I suck at serving, but I learned a lot through flavor profiling.
What's a typical meal at home for you? You know, I don't cook at home. I'm out every night. It's Monday, so I might get the tuna at BARcelona, because there's a cook that works on Monday who makes it very spicy for me. If I were to go home, I'd probably make a really good salad as a starter with an oilless, mustard vinaigrette and then I would probably have fish and maybe a small cheese plate with nuts.
What food can't you live without? Onion. You can change the texture, you can change the flavor of it. I start everything with onion. We roast it. It's sweet. It's pungent. You can do so much of it.
What's your favorite onion dish? I probably haven't made it yet. I'll probably make it tomorrow.
What don't you like? Carrots. A lot of chefs gravitate to carrots because they're a cheap filler. Totally high on the glycemic count. And on a personal note, I'm allergic. But I see it in so many dishes. You can add carrots to a tomato sauce so it's less acidic and sweeter -- well you probably made your sauce, in my eyes, way too sweet, and you're adding something that lowers the value of it in terms of health.
What's on top of your pizza? Spinach.
[One of Kwan's employees shouts, "Sauerkraut!"]
No one makes this: sauerkraut and jalapeño. It is freaking amazing. Oh my god. If I was personally making it, anything with hot sauce. I basically eat food to eat hot sauce.
Favorite hot sauce? Depends on what I'm eating. I like Tabasco, the traditional kind. Sambal is really, really good. That's never recognized because it has to be refrigerated, so no one has it out [on the table]. We actually switched our spicy mayo from a sriracha mayo to a sambal mayo because sriracha's full of sugar, and I actually don't like the taste of sriracha. I have six or seven different hot sauces. I even have the 25-year-old tabasco, but I only use it on special things.
How hot is too hot? I haven't hit my limit. I was close to my limit the first time I went to Pearl Cafe. I did an 8 or 10 [spice level] with the "Drunken Noodles.". I am hoping to get on that list [of diners who have finished a spice level of 25]. That's a challenge. I look at that and get excited. I like a good sweat.
See Also:
- Pearl Cafe's Fiery Eating Challenge: Gut Check Investigates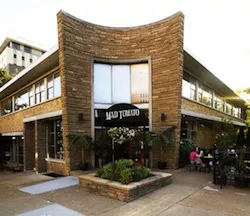 Jennifer Silverberg
Mad Tomato in Clayton, one of Natasha Kwan's favorite restaurants
Any guilty pleasures? Cheese and wine.
What's in your wine glass? I'm a chardonnay drinker. I'm moving to pinot grigio since I'm going to so many Italian restaurants now.
What are your three favorite St. Louis restaurants, not counting your own? Mad Tomato (8000 Carondelet Avenue, Clayton; 932-5733): I'm always at Mad Tomato. I'm obsessed with their freaking pizza. We get it so well done, it's black.
Frank Papa's Ristorante (2241 South Brentwood Boulevard, Brentwood; 314-961-3344): That's always an old-school go-to. The quality of their food is really good.
Remy's Kitchen & Wine Bar (222 South Bemiston Avenue, Clayton; 314- 726-5757): They work with really good purveyors. I go there all the time.
Which St. Louis chef most impresses you? Brad Watts and Tim Zenner of the old Liluma always impressed me. That was really the only place I would be able to go into and order specifically from the chef. They knew what my sensitives are. I can't have carrots, I don't like butter. I don't really like the use of oils unless it's a finishing of oil. It's hard for traditional chefs to go outside the box and not reach for oil or butter and actually come up with flavors with whole foods.
Your favorite restaurants outside of St. Louis? Pure Food & Wine in New York City. I lived in Chicago for ten years, so Green Zebra. I was into tapas for a long time. I was traveling a lot through Florida and the east coast. And for a year I was doing personal reviews of tapas. I was going to write this big thing and send it into Vegetarian Times: "You can eat tapas around the country! And it can be healthy!" The original tapas restaurant in Barcelona had a replica in Miami, and I went to that, and that's probably the best restaurant I've ever been to -- and they closed.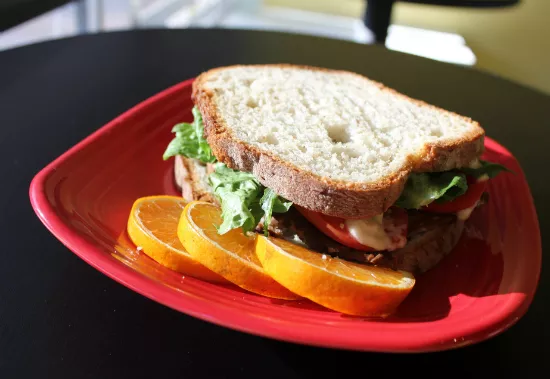 Liz Miller
A vegetarian BLT from Frida's Deli, which features the restaurant's tempeh bacon.
The most essential ingredient at your restaurant? Onion. [Laughs] I'm a big fan of the onion. The whole staff loves our tempeh bacon. We get it from this little farm outside Columbia. It's made in small batches by hand. We marinate and bake it here, and it's just -- [makes celestial noise].
An ingredient you'll never let in your kitchen (not counting meat)? Sugar.
Favorite cookbook? It's called 1000 Vegetarian Recipes from Around the World. I've never followed a recipe, but I like the pictures. It's a thousand pictures, all vegetarian items, and it has all the nutritional values.
What music's playing in your kitchen? (Besides the Beastie Boys, which is playing right now?) Usually, it's Latin. Our Pandora station is so off the wall. We have people who are way younger. We were playing 80's music, and one of my guys who's twenty-one was like, "What is this crap? This old shit you guys are playing?" [sighs] And we're like, "Oh my god, this is good music."
Favorite kitchen tool? My knife. That's lame. My mandolin! My knife on a plane! That and my mixing bowls. It's so important to have a good mixing bowl -- and the size. Always use one that's two sizes bigger than what you're doing so stuff doesn't fly out.
Best tip for home cooks? Look at vinegars and mustards in helping develop new flavors.
Most difficult professional lesson you've learned? I want to touch on social media. Yelp, Urbanspooon. You've got a lot of crazies out there who will write negative things about you. I guess, it's a good and bad lesson. Don't read the reviews. Don't let them get to you. You can't take it personally.
This is part two of Gut Check's Chef's Choice profile of Natasha Kwan of Frida's Deli. Read part one, a profile of Kwan, here. Part three, a recipe from Kwan, will be available Thursday.