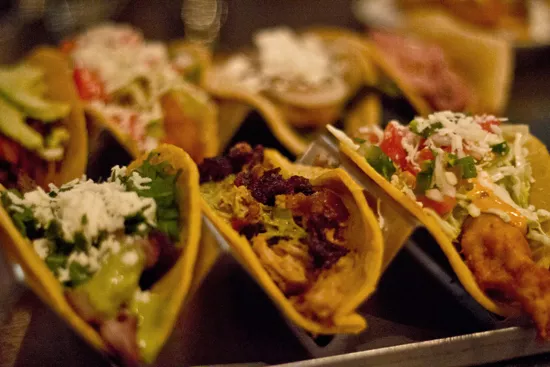 Mabel Suen
A selection of Mission Taco Joint tacos including fillings such as roasted duck and Baja fish.
Delmar gained a new late-night option with Mission Taco Joint (6235 Delmar Boulevard; 314-932-5430) thanks to Jason and Adam Tilford, the sibling super-force behind Milagro Modern Mexican, Tortillaria and Barrister's. According to the brothers, whose inspirations stem from frequent excursions to northern Mexico while growing up on the West Coast, Mission aims to meld together aspects of each of their prior concepts, packaged to cater to hungry showgoers and the overall nightlife of the Delmar Loop.
See Also: - Mission Taco Joint Now Open in the Delmar Loop - Milagro Modern Mexican Team to Open Restaurant and Bodega in Delmar Loop
"It really is a mixture of all three," says Adam Tilford. "It combines Barrister's bar concept in which people can hang out and have fun, with the quality of food from Milagro and the casual atmosphere of Tortillaria."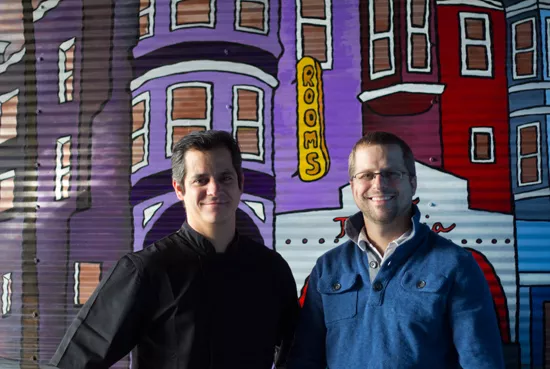 Mabel Suen
Brothers and business partners Jason and Adam Tilford.
The social aspect of Mission's mission proved successful immediately upon Gut Check's first visit. On a weekday night during its first full week in business, we couldn't so much as approach the bar without launching into at least three separate friendly conversations with leisurely diners. After all, we all already shared a common interest -- tacos! Also spotted among the surprisingly packed house: about half of the RFT editorial staff already making Mission one if its regular post-work watering holes.
The interior features hues of bright orange and blue, embellished with California-themed decor, including a mural of the Mission District in San Francisco (after which the restaurant is named). Servers sporting bowling-style shirts scoop up plates of hot food to deliver tableside, viewable from a small window behind that bar that provides a look into the kitchen's inner workings -- for an even better view, step out onto Delmar's sidewalk to see an employee cranking out fresh tortillas right next to the glass.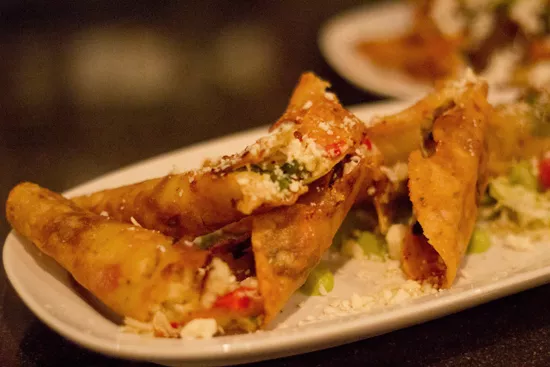 Mabel Suen
Crab taquitos with blue crab meat, poblano, roasted corn and spicy avocado sauce.
Mission's menu takes the best of chef Jason Tilford's fresh, chef-inspired style, developed through Milagro and Tortillaria's offerings, and adds its own spin with traditional taqueria-style flair. Highlights include wild mushroom huarache ($9) with refried beans, roasted mushrooms, huitlacoche, goat cheese, arugula and Mexican crema in a crisp corn masa boat as well as tacos in flavors such as roasted cactus ($2.50), chile grilled local tofu ($2.50) and duck with shredded pork belly ($3).
"We have a wood-fired grill that we put everything on," says Jason Tilford. "It lends a nice, smoky traditional Mexican flavor."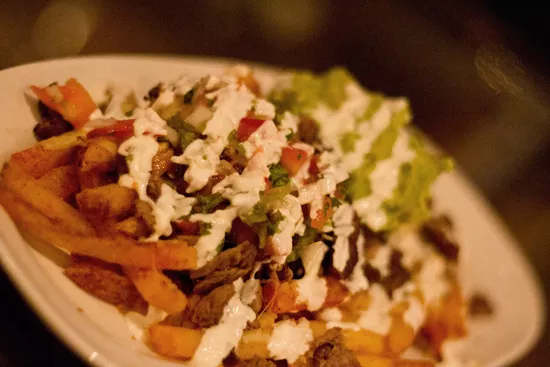 Mabel Suen
Carne asada chile-crusted potato fries with melted Chihuahua cheese, grilled flank steak, guacamole, Mexican creme and pico de gallo.
Joel Clark, formerly of Sanctuaria, heads up Mission's bar with a cocktail menu that focuses on tequilas, mezcal, piscos and bourbons. The "bourbon reforms" ($9) features bourbon, Missouri moonshine, sweet vermouth, benedictine and habanero shrub bitters (or, as one patron described, "one part bourbon, one part awesome").
Twelve types of craft beer are also available, including plenty of local brews along with San Francisco's Anchor Steam.
Mabel Suen
We arrived just in time to see Mission's new takeout menus. Here's bar manager Joel Clark modeling one for you!
Mission Taco Joint's hours are Tuesday through Saturday from 4 p.m. to 1 a.m. and Sunday from 4 p.m. to midnight, with a walk-up window now available and patio seating come springtime. A 350-square-foot bodega, or small grocery store, is in the works as well as a brunch menu that will contain ten different items including chilaquiles with stewed tortilla chips topped with spicy sauce and eggs.
Click through to see more photos!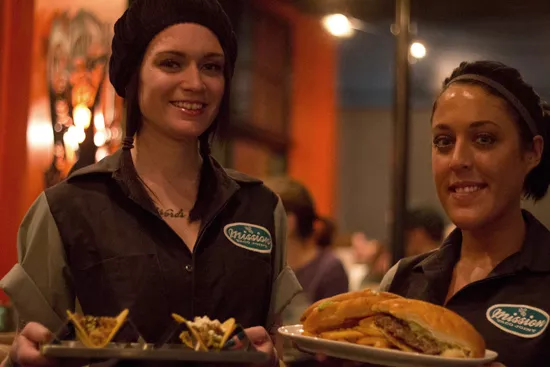 Mabel Suen
Roasted duck and nopales tacos.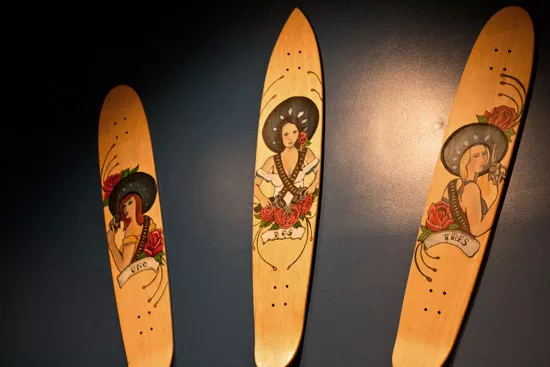 Mabel Suen
Hamburgeusa torta with a grilled beef brisket patty, chipotle bacon, avocado, Chihuahua cheese, pickled jalapeno and garlic mayo.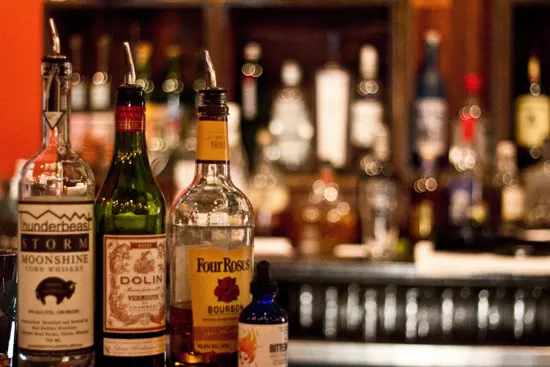 Mabel Suen
The makings of "The Bourbon Reforms."
Mabel Suen
Bar manager Joel Clark and the finished product.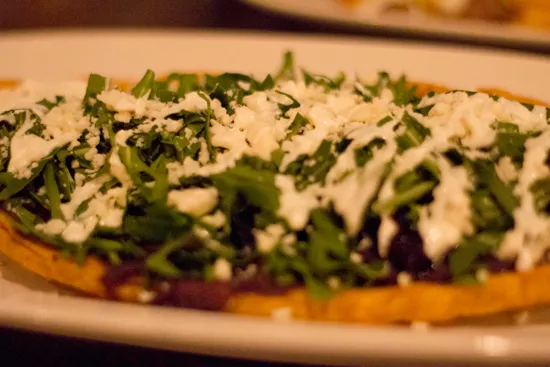 Mabel Suen
Wild mushroom huarache with refried black beans, roasted mushrooms, huitlacoche, goat cheese, arugula and Mexican crema in a crisped corn masa boat.