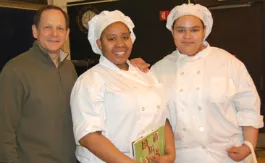 Mayor Francis Slay with 2012 Cooking up Change St. Louis winners at last year's competition.
On Tuesday, March 12, Beaumont Career and Technical Education High School (801 North Eleventh Street; 314-231-3720) in downtown St. Louis plays host to Cooking up Change, a national health-focused student cooking competition managed by Chicago-based nonprofit Healthy Schools Campaign. High-school culinary students from Beaumont will compete with student chefs from Clyde C. Miller Career Academy (1000 North Grand Boulevard; 314-371-0394) beginning at 9 a.m. tomorrow in a local round. From there the winning team advances to a national competition pitting teams of high school culinary students from nine cities against one another in Washington, D.C., on Monday, June 10, at the U.S. Department of Education.
Gut Check caught up with Lindsay Eanet, communications and public relations manager for Healthy Schools Campaign and Sara Porter, director of external affairs for Healthy Schools Campaign, who manages Cooking up Change, to learn more about the program, what exactly goes into the healthy-lunch cooking competition and where St. Louis' winning team will go from here.
Porter says high schools selected to participate in the program usually offer culinary vocational programs, and more than 40 percent of their students are eligible for free and reduced-price lunches through the National School Lunch Program. Most students who compete in Cooking up Change are working towards three years of culinary training in high school and graduate with food safety certification and other skills, preparing them either for studying culinary arts at the college level or ready to work in a kitchen right out of high school. There are four teams of students from Clive C. Miller participating and two teams from Beaumont, totaling six teams made up of eighteen students competing on March 12.
"We're focusing the competition on the students who are most affected by the policies around the school-lunch program," Porter says. "Students are challenged to design a healthy school lunch only using ingredients through their school cafeteria. They have to design a meal that has a main dish and two side dishes that together exceeds the USDA's current standard for nutrition for their federal school lunch program."
Students work for weeks to develop recipes for a main dish and two side dishes based on contest rules, then submit their recipes for evaluation. Porter says they then receive feedback on their submissions, make revisions and usually resubmit five or six times before menus meet nutrition and other contest requirements -- including that it's a meal the team's student peers will enjoy eating. Eanet says the judging panels are generally comprised of local chefs, food-service directors, food-service workers and school district representatives.
2012 St. Louis winners Courtney Wheeler and Rose Bennett present their school meal to judges.
"The job of the judging panel is to tell us what their favorite is based on taste, originality, appearance of the food and the presentation of the food," Eanet says. "From there they select a winner and that's the team that moves on to the national finals."
In addition to traveling to D.C. to compete against students from across the country, students on the winning team are invited to a congressional briefing where their food is served in the cafeteria that serves the House of Representatives. Students are encouraged to share their experiences with the program and why healthy food is important to them and their peers. On a local level, the winning team also has their meal served to their entire school district, and, Eanet says, each member of the team takes home full T-Fal cookware sets.
"We've seen students even after they've gone on to win and compete in D.C. continuing to be a part of this conversation and making an impact," Eanet says. "A great example is our 2011 winners from a school in Jacksonville, Florida. They've met with First Lady Michelle Obama, and tomorrow they're actually judging at the Great American School Lunch Challenge, which is a similar competition. Even two years later -- they competed as sophomores, now they're seniors in high schools -- they're still very involved in this conversation and making an impact."
Last year high school seniors from Clyde C. Miller Career Academy High School, Courtney Wheeler and Rose Bennett, won the St. Louis competition for their menu of lemon-pepper chicken and brown rice with Caesar salad and berry parfait.
Keep up with Gut Check to find out which St. Louis students advance to the nationals this year -- and what made their winning menu -- with a followup post later this week.