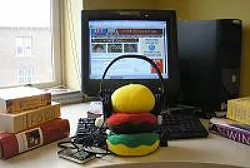 Gut Check dishes on our favorite St. Louis food blogs.
Every Little Thing: Stacy met Deb Perelman of Smitten Kitchen at a book signing and was inspired to make brown butter crispy treats from The Smitten Kitchen Cookbook.
Sweet Art: Amrita shared black sesame panna cotta with ginger-honey tuiles.
Iron Stef: Stef made bratwurst pretzel balls with mustard rarebit.
Family Style Food: Karen shares Tuscan sweet potato fries.
Eat Write: Judith made coconut-banana muffins.
Rhubarb and Honey: Kimberly shared a recipe round-up of sweet and savory phyllo-based dishes.
Shoot to Cook: Jonathan made quinoa oatmeal cranberry cookies.
The Sweets Life: Natalie shared grilled sourdough flatbread.
Cupcake Project: Stef made Thai cupcakes.
A Periodic Table: Shannon shared a fresh mushroom and goat cheese tart.
A Veggie Venture: Alanna made winter tomato salad.
One Hot Stove: Nupur shared egg curry.