St. Louis' neighborhoods are gems in their own right: full of history, great people and, as far as Gut Check is concerned, fantastic food. Each week we'll take you into a specific neighborhood and point you in the direction of the best places to grab some bites.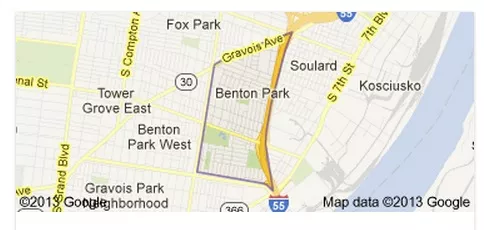 This week we wander the old-school streets of Benton Park, lined with charming homes just across I-55 from the international HQ of beer juggernaut Anheuser-Busch InBev. Nestled in the neighborhood are some great brunch spots, as well as a white-tablecloth gem helmed by a James Beard Award-nominated chef, a beloved sandwich destination and a Brazilian joint.
See also: - South Grand: An Updated Guide to Restaurants - The Hill: An Updated Guide to Restaurants
First up, Sidney Street Cafe...
Sidney Street Cafe (2000 Sidney Street; 314-771-5777) Ten years after Kevin Nashan took over the helm of Sidney Street Cafe, this St. Louis institution in the city's Benton Park neighborhood remains one of the area's premier dining destinations. A few of the classic Sidney Street dishes remain (steak wasabi, filet Béarnaise), but diners will have a hard time resisting the contemporary American approach, market- and chef-driven, that Nashan and his crack team of cooks follow. Look for stunning dishes like sorghum-smoked sweetbreads or foie gras with grapefruit gelee, lamb porchetta or rabbit rissole. Reservations are recommended -- and are a must on the weekend.
See also: - James Beard Foundation Announces Award Semifinalists: Gerard Craft, Kevin Nashan in Running for "Best Chef: Midwest"
Hodak's Restaurant & Bar (2100 Gravois Avenue; 314-776-7292) A St. Louis institution so popular you have to line up on a ramp, amusement park-style, while you wait for a table. Fried chicken is the main attraction here -- more than a few claim it's the city's best. For $7.35 you get a half-chicken fried to a crisp, golden brown, the surface uniformly crunchy, the meat tender. Hodak's also features fried fish, chicken-fried steak and even fried frog legs. Those seeking a non-fried meal will find steaks and barbecue as well as sandwiches, burgers and daily lunch specials.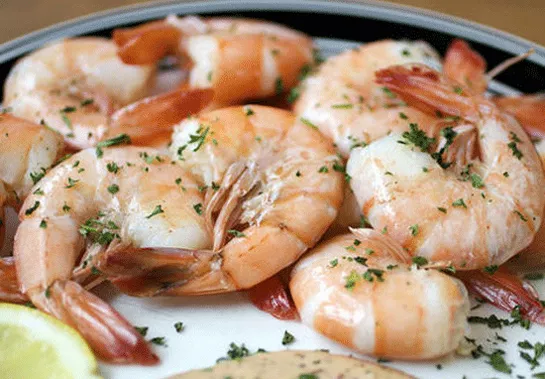 Riverbend Restaurant (701 Utah Street; 314-664-8443) Riverbend Restaurant owner Sam Kogos is a New Orleans native who owned an eatery in that city, the Rendon Inn, for fifteen years. Chef Steve Daney, Kogos' cousin, was once executive chef for the mayor of New Orleans. So yes, Riverbend is as authentic a Creole restaurant (with the occasional Cajun dish) as you will find in St. Louis. The crawfish Creolie is outstanding; red beans and rice, available only on Monday, is worth planning your week around. The cochon de lait po' boy, thick with roasted pork, will ascend your list of favorite sandwiches. Save room for bread pudding.
See also: - The Five Best Cajun/Creole Restuarants in St. Louis
The Mud House (2101 Cherokee Street; 314-776-6599) In 2009 the wife-husband team of Casey and Jeremy Miller bought this popular Benton Park spot (then known as the Mississippi Mud House) and soon raised the bar for coffeehouse eats. The fare is casual but not simplistic: A standout sandwich features a confit of pork shoulder, the meat sinfully luscious and intensely porky. Breakfast, including an egg, cheese and bacon or sausage sandwich and a terrific breakfast burrito, is available all day. The menu features produce from the Mud House's own garden.
See also: - The Mud House: A Coffee Shop That Serves Killer Food
Blues City Deli (2438 McNair Avenue; 314-773-8225) Vince Valenza has harmoniously blended his two greatest loves -- the restaurant biz and the blues -- in this cute, corner-storefront deli, where the walls are riddled with concert posters, album covers and photos (look for the shot of Valenza from his club-gigging days with music buddy Pennsylvania Slim). Aside from a "soup of the day" and a couple of salads, we're talking all sandwiches, all the time. But there's no reason to sing the blues about the Italian salsiccia po'-boy or what just might be the biggest and best muffaletta this side of the Big Easy. On Thursday evenings and Saturday afternoons, some of the city's best musicians take to the tiny stage at Blues City and transform the Benton Park haunt into a jumpin' blues venue. It's a great place to grab a quick bite, kick back with a cold beer and soak up some quality local music.
Benton Park Café (1900 Arsenal Street; 314-771-7200) As a quaint, bustling cafe by day, Benton Park Café whips up a wide range of quality concoctions. The signature booze smoothies, or "Boozies," complement the drink menu packed with beer, fountain soda and the house specialty: coffee cocktails. The hardwood floors and neutral colors evoke the cool décor of a coffee house, but the food selection stretches far beyond the standard café. Breakfast pizza pies and Benton Park's take on the Slinger provide early morning munching while their Bistro Steak Sliders provide a meaty solution for an empty stomach. The BPC keeps its kitchen running 24 hours a day on weekends, rendering the corner of Lemp and Arsenal the hippest spot for a hungry barfly.
Yemanja Brasil (2900 Missouri Avenue; 314-771-7457) Yemanja Brasil preserves the authenticity of Brazilian cuisine as much as possible given the limited availability of the extraordinary fishes, fruits, spices and other raw materials native to South America. Be prepared to duke it out with a few red-hot chile peppers. Feijoada, for example, a stew of pork and black beans that serves as Brazil's national dish, is aggressive enough to sandbag anyone whose palate hasn't been in training. Many of Yemanja's dishes are deep-fried as well as spicy. But Brazil's cuisine is one of the most appealing in the world, and Yemanja does a fine job of introducing us to it.
Lemp Mansion Restaurant & Inn (3322 DeMenil Place; 314-664-8024) Upon entering the Lemp Mansion, one enters the history of St. Louis brewing. The mansion, which housed the ill-fated Lemp family, maintains 19th-century décor and photographs of the family for guests to peruse. Lunch options include salads, sandwiches and pasta, including Szechuan pasta with broccoli, garlic, cayenne, Provel and Parmesan. Dinner guests can start their meals with appetizers such as a German sausage platter or crab cakes, then, for the main course, feast on seafood, chicken, veal, pork and steak entrées, including a "carpetbagger's" steak -- a butterflied tenderloin medallion stuffed with shrimp, herbs, tomatoes and garlic. On Sunday the restaurant offers a family-style chicken dinner.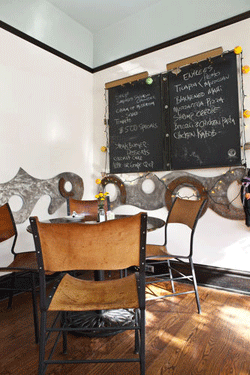 Frazer's Restaurant & Lounge (1811 Pestalozzi Street; 314-773-8646) Frazer's has been known by several names since it opened: Frazer's Traveling Brown Bag, Frazer's Brown Bag and now simply Frazer's Restaurant & Lounge. The common thread is chef and owner Frazer Cameron, whose cooking strikes a balance between contemporary style, market freshness and good ol' American comfort. The regular menu features steaks, salmon and other popular dishes, but regulars know to check the chalkboards outside the kitchen for the specials: multiple catches of the day, a king crab boil, pork schnitzel -- who knows, really? The list of specials sometimes seems just as long as the list of entrées, if not longer. All the more reason to return -- again and again.
See also: - The Veggielante Visits Frazer's Restaurant and Lounge
Kevin's Place (2111 Cherokee Street; 314-353-1400) Kevin's Place on Cherokee Street's Antique Row used to house a cigar bar, and the décor reflects this history with dark wood interior and leather seats. The restaurant serves St. Louis-style pizza, but guests can choose mozzarella or Provel cheese. Kevin's also offers coffee and pies. Dine-in and local delivery are available.
Ernesto's Wine Bar (2730 McNair Avenue; 314-664-4511) A clean, well-lighted homage to Ernest Hemingway: The great author is represented by numerous photographs throughout this cozy, beautifully appointed wine bar in Benton Park. The tiny kitchen still serves a small dinner menu, with dishes like strip steak, seared ahi tuna and linguini with chicken. Small plates (cheese and charcuterie, tuna tartar, housemade potato chips) and flatbreads are also available. The wine list features several dozen selections organized by body (i.e., "light-bodied whites," "full-bodied reds"), with most bottles in the $30 to $60 range. You can order more than two dozen wines by the glass, and there is also a reserve list of pricey grape juice.
Luvy Duvy's Café (2321 Arsenal Street; 314-776-5889) Luvy Duvy's Café, across from Benton Park on Arsenal Street at Jefferson Avenue, serves up breakfast and sandwiches in a cozy, friendly atmosphere. Breakfast, available from 7 to 11 a.m. and all day Saturday, features items such as a BLT on Texas toast, French toast and a breakfast burrito stuffed with eggs, cheese, hash browns and sausage. Sandwiches, all served with a side of chips, include tuna, egg salad, chicken salad and a Cuban sandwich of roasted pork, ham, Swiss cheese and pickles on a sweet bun with spicy mustard on the side. Other sides are available for an extra charge, including soup, chili and potato salad. For dessert, try Elsie's spice bundt cake covered in a light, sugary glaze. A kids' menu and catering are also available, including boxed lunches that feature a main item, chips and a cookie.