They come in peace. And they have beer.
Let's give a warm welcome to Flying Saucer Draught Emporium (900 Spruce Street; 314-932-1456), which landed in St. Louis this week. The St. Louis location is the seventeenth in the franchise, which restaurateur Shannon Wynne founded in Fort Worth, Texas, in 1995.
See Also: - The Six Best Craft Beer Makers in St. Louis - Flying Saucer Opening Marred by Evil Royals Fan Plot; Kicks Off Most Important Drinking Contest of All Time
Flying Saucer is renowned for its insane (that's the actual technical term) beer selection -- 80 taps and 150 bottles -- but the St. Louis iteration is different because of our city's variety of craft beers. Gut Check spoke to Flying Saucer's assistant beer director Sam Wynne, who is also pretty excited about the St. Louis location. St. Louis Flying Saucer has twenty local beers on tap -- more than most other Saucer locations.
"It's the first time where we've rolled in and found such a blossoming local beer scene," Wynne says.
But the folks behind the counter aren't only concerned with the beer selection. They want to make sure all the bartenders and staffers know enough about each beer to make recommendations and talk about them.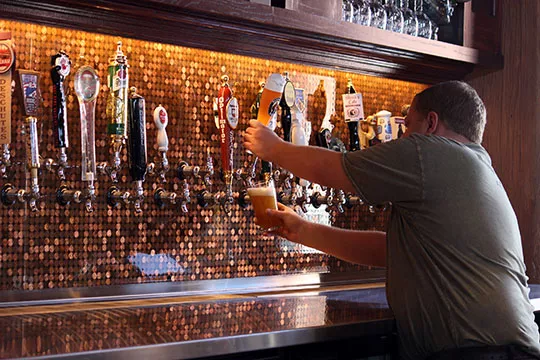 "Anyone can drill 80 holes in a wall and lay down a draught system," Wynne says. "I think one of the things that set us apart fifteen years ago was the training. Now there are other places that are putting more effort into training their staff and educating them, and we like to feel like we were the beginning of that movement."
Another movement Flying Saucer initiated? The beer "Ring of Honor." OK, so it's less a movement than it is a Flying Saucer trademark, but people across the country are aware of the challenge. Join the "UFO Club" and become a "Beerknurd" to keep track of the beers you've tried at Flying Saucer. Once you get to 200, you get your name on a plate saucer that will be hung on the wall to announce your awesomeness.
There's already a local competition between a Kansas City native and a St. Louis native to see who can become the first to join the Ring of Honor.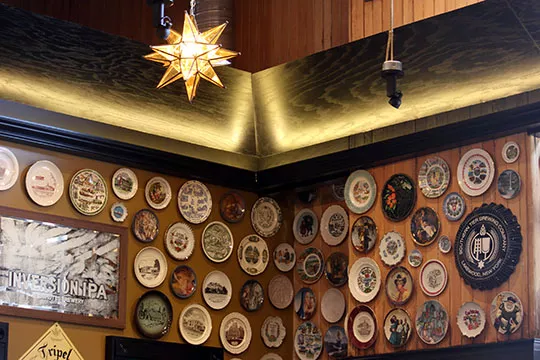 For those with less of a competitive streak, Flying Saucer offers enough beer to satisfy any taste. Can't decide? Get a flight of beer that highlights certain beer-producing regions or the "Around the World" flight, which includes samples from Germany, Belgium, Ireland, the U.S. and St. Louis.
The 80 taps are installed in a wall decorated with pennies, which add warmth to the industrial space. There's wood everywhere in the bar area, from the bar itself to the paneling around the ceiling, but the exposed light fixtures and ductwork keep the joint from feeling too much like any old pub.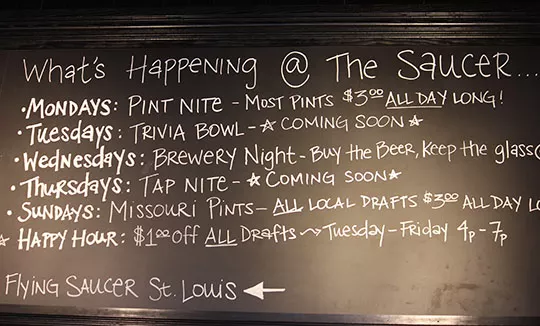 Though each Flying Saucer opens in a pre-existing (generally older) structure, a common feature of every franchise are the decorative plates that cover nearly every inch of wall space. According to Wynne, the owner used to collect plates for his own enjoyment, but as the franchise grew, he was able to recruit some intrepid antiquers to aid in his hunt.
"We try to make sure they're all as unique as possible," Wynne says. "We very rarely see a duplication. We also try to surround the dartboards with religious-themed plates. You know, to incentivize people not to miss."
(It's true. Situated around the dart boards are a number of Madonna and childs and some images of saints.)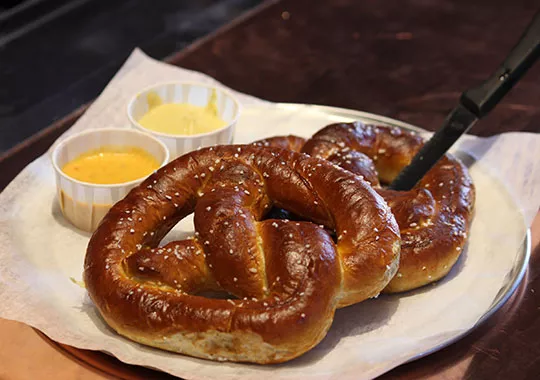 The owners and managers try to make each location a unique experience, but one thing does stay the same from Flying Saucer to Flying Saucer: the food. The menu is consistent across all locations with little variation, so don't expect to enjoy a plate of toasted ravioli or anything with Provel at the St. Louis location. Flying Saucer does offer a mean soft pretzel, though, and if you drink enough beer, it won't really matter what you're eating. The waiters recommend the "Saucer Dipster" (essentially a roast beef pub dip) and the Saucer Burger.
Again, though, you're there for the beer. And the beer, dear earthlings, is out of this world.