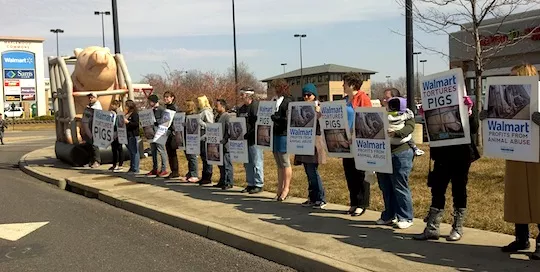 Well, the giant, inflatable pig covered in sores and dirt was cuter than we imagined.
Local animal-rights activists joined members of the national animal rights organization Mercy for Animals today in front of the Maplewood Commons Walmart just off South Hanley Road in protest of Walmart's practice of confining pregnant pigs in small crates on its factory farms.
Gut Check heard there'd be a ten-foot-tall inflatable pig covered in bloody sores and people holding up signs in protest, so we were there. Again, the pig was way cuter and more pathetic than we'd anticipated, which was great for the cause. But it also made us feel bad about that pulled pork we ate yesterday.
See also: - The Missouri People of Walmart (Photos)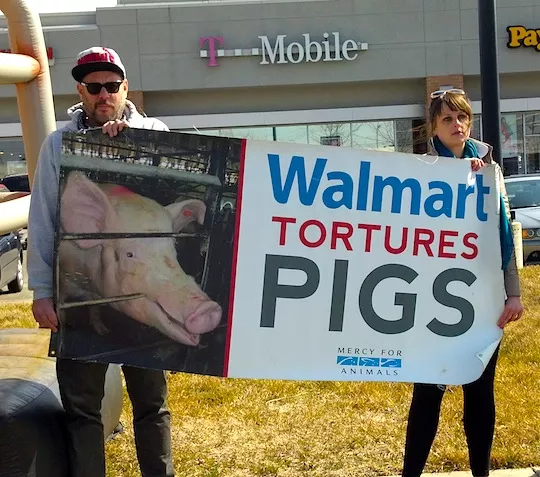 We spoke with Phil Letten, national campaign manager for L.A.-based Mercy for Animals about today's protest.
"We've documented at numerous Walmart pork suppliers the extreme confinement of pregnant pigs in crates so small they can't even turn around, they can barely lie down, and they're virtually immobilized inside these crates," Letten says. "This is blatant animal abuse that Walmart shouldn't be tolerating."
To get their point across, Letten and about a dozen other individuals stood on the sidewalk of Hanley Road in front of the Walmart industrial complex, holding signs with disturbing photos of pigs in crates. They didn't yell or wave their arms. They just stood there and let the photos (and the giant inflatable pig) do the talking.
"Basically every major food provider in the country has committed to phasing out these crates except for Walmart, and we think it's unacceptable," Letten says. "We're calling on Walmart to do away with one of the cruelest factory-farm practices in existence by ending the sale of traded pork."
Today's demonstration outside of the Maplewood Walmart is the 97th stop on this campaign. The group intends to go to a total of 107 Walmarts but is willing to stop the protest if the retailer commits to more humane practices on its factory farms.
"The response has been incredible everywhere we go," Letten asserts, as cars drive by and honk their horns, presumably in solidarity. "Most people are opposed to animal abuse, and when they learn about the horrific abuse that these animals endure before they wind up on the shelves at Walmart, they're horrified and they want it to change. So I'm optimistic."
Letten highlights the work of Smithfield Farms, one of the nation's largest pork producers, as an example of how to do pig farming correctly. Smithfield has moved toward alternative housing, such as group pens and outdoor grazing, which provides pigs the opportunity to move around as they would in a natural habitat.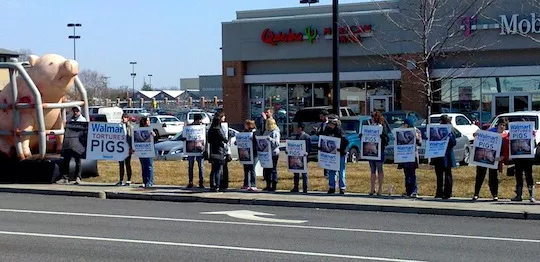 "We feel that in a perfect world, we wouldn't be exploiting animals for food at all," Letten says. "But in the meantime we feel that all animals deserve at least minimal welfare protections."