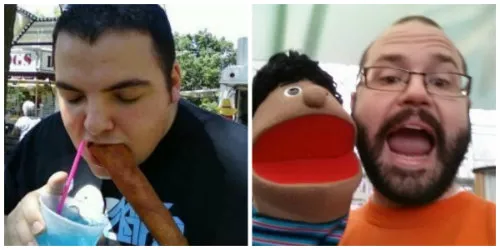 Left, Joe Hoffmann, to the right, our hero, Richard Haegele.
Gut Check has uncovered a dastardly scheme to ruin the new Flying Saucer Draught Emporium (900 Spruce Street; 314-932-1456) downtown and spit in the face of every Cardinals fan.
Confronted with the results of our investigation, we asked the man at the center of this travesty -- one Joe Hoffmann, recently of Kansas City -- if he realized he is about to become the most hated man in St. Louis.
"I don't care!" he cackled diabolically.
See also: -More KC v. STL Smacktalk: St. Louis Rules, Kansas City Drools: A Response to the Kansas City Star -Flying Saucer Draught Emporium Opens Downtown Today at 5 P.M.
Last night, Flying Saucer threw open the doors on its latest craft-beer mecca in downtown St. Louis, practically at the gates of Busch Stadium. This is the sixteenth location for the Texas-based chain, which will serve 80 beers on tap and another 150 in bottles. Some of the selection rotates based on seasonality and availability.
The so-far empty Ring of Honor at the brand new Flying Saucer location.
The chain also offers membership to a little something called the "U.F.O Club." Once a customer has tried 200 different beers, he or she is immortalized with a plate bearing their name and a quote of choice, and hung on the wall in the "Ring of Honor." The plates are numbered and hung in order of the date achieved.
Hoffmann says he's been a loyal patron (with five U.F.O. Club plates to prove it) of the Flying Saucer location in Kansas City and moved to St. Louis only two months ago because of work. When he heard that a Flying Saucer was coming to St. Louis in March, a beautiful and truly evil seed was planted in his brain. He started a donation page on the website Go Fund Me and here's how he explains it there:
Like any self-respecting Royals fan, I have no love for the Cardinals. So I came up with the idea of going after the #1 plate in the Saint Louis Flying Saucer, except instead of my name, it would be adorned with the name of Don Denkinger, the first base umpire who "blew a call" that allowed the Royals to win game 6 of the '85 World Series. The Royals went on to win game 7 and the World Series away from the Cardinals. While most Cardinal fans will deny any existence of a rivalry with the Royals, I feel this act will be viewed with great contempt, especially in a bar that looks directly at their stadium and will likely be filled with Cardinal fans on game days.
Hoffmann also already knows what the quote will be: "SAFE!"
And he would have gotten away with it too, if it weren't for those meddling Cards fans. Twenty-four hours before the Flying Saucer opening, Troika Brodsky, the communications director at Schlafly, got wind of the plot.
Evil-doer Joe Hoffmann points to the spot where the No. 1 plate will be hung.
"My immediate response from the depths inside was, 'Hell no, not on my watch,'" he says. (To be clear, Schlafly itself is not taking sides in the beer battle.)
He turned to the guys who run the local beer forum STL Hops, which posted an entry seeking a champion.
I have a backer that is willing to pay for 3 beers per day for the next 67 days to make sure that a Cardinals fan gets that first plate. But, this is what is required:

You have to be 99.99999999999% certain you're going to be available for the next 67 days. This means you can't leave town, you can't take a vacation. You have to be here for the next 67 days in a row.
You have to be safe. While three beers won't wreck most of us, we don't want you doing anything stupid.
You have to be strong. This is going to require 100% commitment. My suggestion is that the closer you live to the Saucer, the better.
In less than ten minutes, Richard Haegele stepped up and entered the pages of history with two simple words: "I volunteer." After some debate -- others thought it should be a woman who puts Hoffmann in his place -- a consensus was reached and Haegele accepted the mantle of Cardinals champion.
Here's how it has to happen: 67 days, three beers per day (that's the limit to count toward the U.F.O. Club per day). They can't miss a single day without risking the other pulling ahead. If they are neck-in-neck all the way to the 67th day...well, that hasn't been determined yet. It may come down to a drink off.
Needless to say, this is very exciting. Both Haegele and Hoffmann were at the opening of Flying Saucer last night to drink their inaugural three beers. Gut Check caught up with them to talk a little trash on one another:
Flying Saucer Royals versus Cardinals from Voice Media Group on Vimeo.
At this point it's not clear if either competitor has an advantage. Both men work close to Flying Saucer, and neither is planning to be out of town at all in the next two months. While Hoffmann has already gotten $522 in donations, Brodsky's promised to find enough money to pay for all of Haegele's beers, plus a couple of cases of Schlafly and a Cardinals jersey to boot. There's a donation page in the works.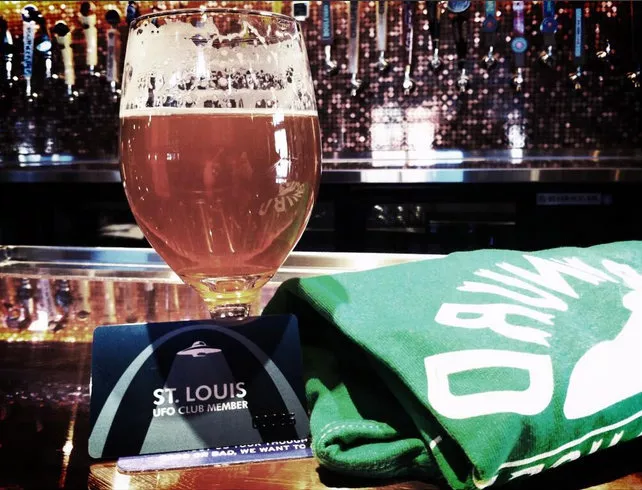 @TheShowMePlate a.k.a. Joe Hoffmann
Saucerwatch: First Beer
Brodsky says Schlafly is not an official sponsor in any sense of this event (Tentatively named Saucerwatch? Anyone got anything better?), but he is personally committed to making this as big a deal as possible -- seeing if the Cardinals want in on the action or any of the other local breweries.
"There's too much damn fun to be had with this," says Brodsky.
We'll be keeping close tabs on Saucerwatch and Hoffmann is charting his progress on an unholy Twitter account named @TheShowMePlate. Stay tuned!
(Big hat tip to @davbak a.k.a. Dave Baker.)
Follow Jessica Lussenhop on Twitter at @Lussenpop. E-mail the author at Jessica.Lussenhop@RiverfrontTimes.com.