Behind the stone and fachwerk façade of the new Market at the Cheshire (7036 Clayton Avenue; 314-932-7840) is, well, exactly what should be in a rustic little pitched-roof building. The Market is part gourmet grocer, part European-style bakery and café, and the interior is warm and provincial. There's a roaring fireplace, mismatched chairs and tables and stained glass windows, all of which invite guests to stay long past breakfast. And why not, when the lunch options are so tasty?
Kaitlin Steinberg
Part of the Market's menu.
The Market is one of three dining options in the complex (the others are The Restaurant at the Cheshire and Basso), and it's by far the homiest. Think the little pub in Disney's Beauty and the Beast, but classier, and without a beefy prick singing children's songs.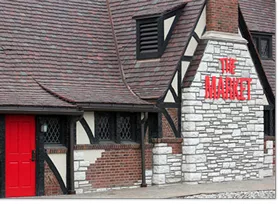 The Market opened Monday in a building constructed more than 80 years ago by Bill Medart, a prominent local businessman. The complex, including the accompanying Cheshire Inn and restaurant building, has changed hands a few times in the intervening years; its current renovation was undertaken by St. Louis-based Lodging Hospitality Management in 2010.
"Because of our location and the neighborhood and families around here, we thought it would be a great place," says Market manager Lucy Bommarito. "It's close to Forest Park, so people can come in and get takeout to bring on a picnic."
The kitchen serves breakfast and lunch; the market area features take-away items, cheeses and a daunting number of locally sourced goodies.
"We try to be as seasonal as possible," Bommarito says. "Part of our mission is definitely to be as local as possible as well. That's pretty important to me."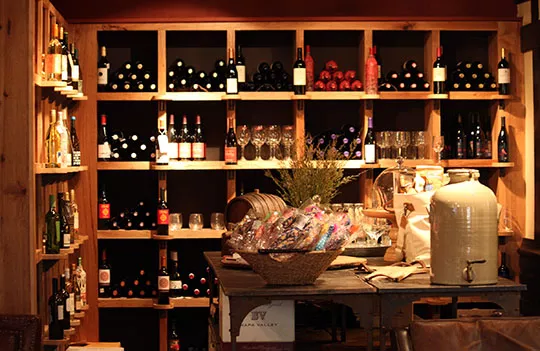 Kaitlin Steinberg
Wine alcove at the Market.
Wines are chosen by Master Sommelier-in-training Patricia Wamhoff, and Bommarito assures us that the Market's selection isn't available in any other stores in town. Most bottles are priced under $30.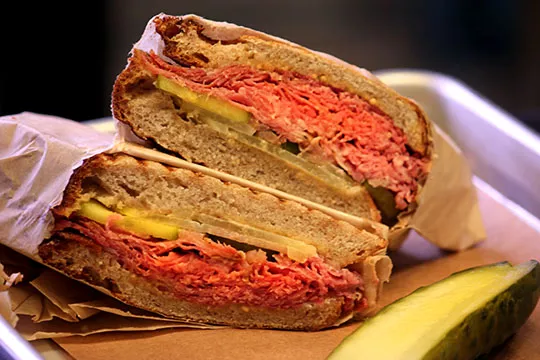 Kaitlin Steinberg
The pastrami sandwich features rye bread, pastrami, kickapoo cheese, mustard, onions and pickles.
Lunch prices are likewise reasonable, with sandwiches ranging from $6.75 to about $10, and each sandwich is big enough to feed two people (provided you're not super-hungry). Bommarito says the turkey and chicken are smoked in-house, and everything is made to order. The lunch menu, created by executive chef Rex Hale, includes hearty sandwiches, salads and different soups every day. The Market chefs also make their own gelato, cakes and cookies.
Once the weather gets warmer, Bommarito says, the Market will add outside seating and, possibly, a small farmers' market. She hopes the outside seating will allow the café to be dog friendly (outdoors). With a fireplace, free wi-fi and a locavore-ish menu, the Market at the Cheshire hopes to inject a bit of European style to the eastern reaches of Clayton and the other end of Dogtown.