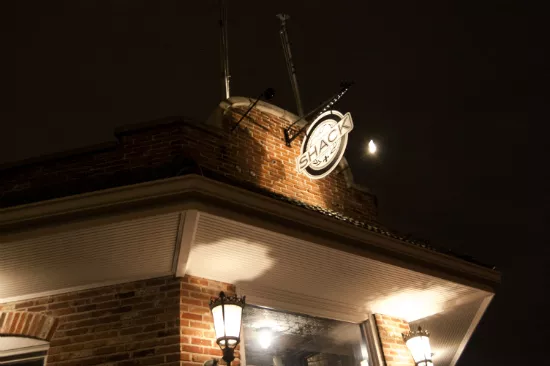 Caillin Murray
The exterior of the Shack Pubgrub on Laclede Avenue.
The Shack Pubgrub (3818 Laclede Avenue; 314-533-7000)
The Hours: Monday through Friday from 4 to 6 p.m.
The Deal: Half-off premium wells, domestic and import beers, wines and appetizers.
The Scene: Just a stone's throw from Saint Louis University's campus, the Shack comes across as a primarily college-kid hangout. The exposed brick walls and heavy wooden beams give the pub a rustic ambiance, but the shiny metal and glass block bar feels like something straight out of a '50s soda shop. This diner-meets-pub offers a food menu that is total Americana. Chicken wings, burgers, pizzas and the "Shack-wich" load the menu with more calories than we could count. But the food is neither heavy nor fatty, but a surprisingly delicious departure from classic greasy-spoon diner food.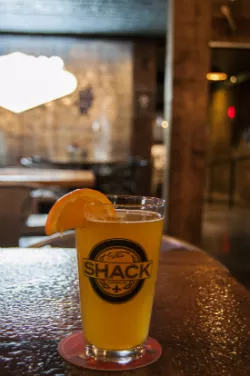 Caillin Murray
A pint of Shock Top at the Shack.
The Shack has a mellow feel, making it an ideal place to hang out on a week night, or to fuel up before a late night of partying on the weekend. For non-SLU kids with no interest in partying the night away, Gut Check spied a few families chowing down on burgers and fries. For those with a competitive edge, the back room holds both a dartboard and a shuffleboard table.
Why You'll Go Back: In addition to a happy hour, the Shack also has a later industry-night special on Mondays from 6 p.m. to close, offering $1 burgers, $1 off draft pints, $3 Three Olives bombs and $4 Three Olives cocktails. One George Washington for a hamburger? Gut Check likes to think America's first president would approve. The Shack has a surprising beer collection, with an impressive draft list and a decent selection of bottles. An unexpected treat was the amount of good bourbons served, poured straight as a "sipper."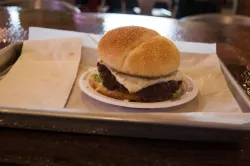 Caillin Murray
A classic hamburger at The Shack.
The Verdict: The Shack serves good American food, with good American beers (with a few foreign exceptions -- looking at you, Guinness and Stella) to create a low-key alternative to some of the busier restaurants and bars in midtown. You'll come for the $1 burgers, stay for the drafts and finally, have trouble finding the door because of one too many bourbon sippers.