This is part two of Gut Check's Chef's Choice profile of Rick Lewis of Quincy Street Bistro. Read part one, a profile of Lewis, here. Part three, a recipe from Lewis, will be available on Thursday.
Ian Froeb
Rick Lewis, the chef of Quincy Street Bistro in south city
I met with Rick Lewis, head chef of Quincy Street Bistro (6931 Gravois Avenue; 314-353-1588), early on a Monday afternoon at the end of February. We'd chosen Monday because it was Lewis' one day off, but when I arrived, I noticed that he was wearing a do-rag, and I suspected that, off-day be damned, he'd just been working in the kitchen.
Our conversation only strengthened my suspicion. Lewis is that dedicated to his craft.
See Also: - Chef's Choice: Rick Lewis of Quincy Street Bistro, Part 1 - Ian Froeb's RFT Review of Quincy Street Bistro (2013)
We spoke first about his favorite meals from childhood, classic American comfort foods like his mother's fried chicken. When he mentioned that his paternal grandmother hailed from rural Missouri and "ate things like possum," I knew what I had to ask next. He laughed and muttered something about coming off as a hillbilly but answered the question -- if indirectly.
Have you ever eaten possum? I've eaten my fair share of squirrel and rabbit and things of that nature.
What's a typical meal at home for you? Right now it's not that fun because my wife and I have been dieting. Typically, I like using the grill a lot, so we'll usually do a vegetable and a starch and some type of grilled meat.
What's on top of your pizza? Mushrooms, cured pork products and tomatoes when they are in season.
What don't you like? Vegan and vegetarian food. It's the complete opposite of my style. I don't think I've met a vegetable or grain I don't like. I love kale. It's delicious. But it's even better when you cook it down with all sorts of bad stuff.
Any guilty pleasures? I'm a sucker for those buffalo-sauce-flavored pretzel nibbies. You set a bag of those in front of me, it's all over.
What your three favorite St. Louis restaurants, not counting your own? I've always been a huge fan of Kevin Nashan and Sidney Street Cafe. Not only is he a killer chef and restaurateur, but he's got a killer group of guys who work for him, and they do some knockout food. We always like bouncing around Vietanemese restaurants -- Mai Lee, Pho Grand. And then Gerard and those guys at Niche are fantastic. We do a lot of sandwiches, too. We go down to Blues City Deli a lot.
Which St. Louis chef most impresses you? Kevin Nashan. The way he does it, having the grow-room in Sidney Street's basement, the charcuterie, the garden out back. It's awesome. That's all the stuff I'd love to do.
And Josh Galliano. I owe him a lot: my education, everything. When I met him, I was not the cook I am now or the chef I am now.
Your favorite food city? New Orleans is awesome, and Chicago is fantastic.
Favorite restaurant elsewhere? I staged Cochon in New Orleans, doing production stuff. To be around that charcuterie and curing was pretty awesome, and the food was delicious.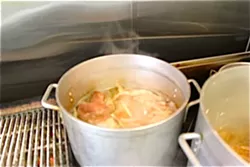 Ian Froeb
A stock pot full of simmering pork bones at Quincy Street Bistro
The most essential ingredient at your restaurant? We use a lot of pork. It goes in pretty much everything. We have house-cured bacon; we make all the sausages.
Your favorite cut of pork? Shoulder's fantastic. We use a lot of belly, of course. Heads are great.
An ingredient you'll never let in your kitchen? Artificial liquid butter. Makes me vomit. You know they are going to find that stuff causes cancer.
Favorite cookbook? My grandmother's cookbook is my favorite. A hand-me-down before she passed. But the most inspirational was a loaner from Josh Galliano: Michel Bras' Essential Cuisine. He gave it to me to expose me to things I hadn't seen before.
Favorite kitchen tool? A good, heavy tasting spoon can go a long way. Use it for spatula, a pair of tongs. Other than that, my Vita-Prep mixer is my favorite thing on the face of the planet. Definitely a time saver.
What music's playing in your kitchen? It could be anything from friggin' Katy Perry to John Lee Hooker to punk rock. Sometimes we even listen to a little bit of jazz music. We keep it eclectic.
Favorite after-work hangout? My bed. [laughter] I start my day off at 9 a.m. and usually stay through dinner service. On the weekends, that's 2 a.m. If it's not home, we'll usually have a drink up here. Or dive bars. Just small, low-key places.
What's in your glass? Old fashioneds. Or Busch.
Best tip for home cooks? Not overcooking stuff. I haven't met a person yet in this restaurant who's eaten my celery root or Brussels sprouts and didn't love them. They thought they hated Brussels sprouts. The reason is whoever was preparing them boiled the heck out of them until they were gray and tasted like -- you know what the smell of bad Brussels sprouts is.
Ian Froeb
Rick Lewis peeling apples for Quincy Street Bistro's applesauce.
St. Louis needs more... Passionate people. There are so many mediocre restaurants that could be so much better. It needs more people like the Kevins, the Gerards and the Joshes.
Your proudest professional moment? Maybe right now? Seriously. I feel like we've come a long way from where we were. I've learned a lot.
Most difficult professional lesson you've learned? Watching my tongue and my temper. I'm very passionate, and I take what I do very seriously. Even if it's the smallest little thing. It never makes anything better when you lose your cool.
When did you know the chef's life was for you? When I realized I wasn't that great at anything else. [laughs] I just kind of fell into it and took to it naturally. Are there days when I look at my mom and dad and say, 'Why didn't you slap me and tell me to be a doctor?' Of course. But I couldn't see myself doing anything else.
I like hard work. I like the atmosphere. I like the people in the industry -- all the other cooks, chefs, guys down the street at the breweries. Everybody's awesome.
Gut Check's Chef Choice's profile of Rick Lewis of Quincy Street Bistro continues on Thursday with a recipe from Lewis. Read part one, a profile of Lewis, here.