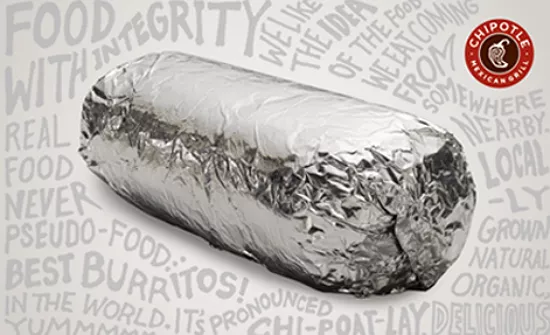 Could a quesarito lurk within that aluminum foil?
It was during an otherwise normal lunch break in January that Gut Check first heard tell of Chipotle's "secret menu." While waiting in the restaurant's service assembly line, we overheard a customer ahead of us order an "adult" quesadilla. Our ears immediately perked up. When our turn to order arrived, we asked about the grown-up 'dilla.
"Quesadillas are on our kids' menu, but we can add ingredients to them if customers ask us to," the employee replied, adding:
"We sort of have a secret menu at Chipotle."
Those fateful words led us to call Chipotle's corporate communications director, Chris Arnold, who hastily assured us no "secret menu" exists.
"It's not at all a Chipotle secret menu," he said. "It's not ours, and it doesn't really exist. The way our restaurants should work is they make anything they can with what they have."
Well, OK then, we thought -- and considered the matter resolved.
Then last week Fast Company published an article about Chipotle's alleged secret menu, focusing on one particular urban-legend menu item: the quesarito, a quesadilla-burrito hybrid that is to the burrito what the turducken is to the Thanksgiving turkey. The writer, Mark Wilson, contacted our buddy Chris Arnold, who gave Riverfront Times a hat tip for inquiring about the secret menu weeks earlier...and then spilled the frickin' pinto beans to Wilson.
Following the Fast Company story, outlets including BuzzFeed, MSN Now, Eater and the Daily Mail wrote about the quesarito curiosity.
Gut Check vowed to get to the bottom of this Chipotle secret menu business once and for all, and to eat a quesarito. Even if it kills us.
See also: -Chipotle "Hidden Menu" Is an Urban Legend -Flying Saucer Chipotle Mexican Grill Lands in Midtown -Fight Club Chipotle Mexican Grill's Burrito Bowl vs. Taco Bell's Cantina Bowl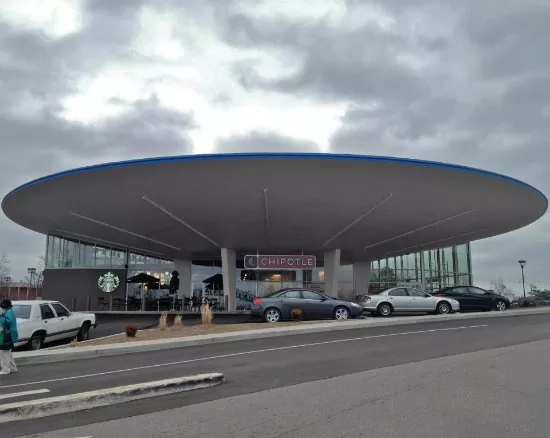 Gut Check's first visit to the newly opened flying-saucer Chipotle was in pursuit of the quesarito.
We first stopped in the newly opened Chipotle Mexican Grill (212 South Grand Boulevard; 314-342-9919) inside the iconic Mid-Century Modern "flying saucer" on South Grand Boulevard near Saint Louis University in pursuit of a quesarito. This wasn't an entirely fair move on our part, as this location had literally opened its doors the day before our visit, and business was booming.
We got in line, our excitement and anticipation piqued. We approached the order queue and asked a Chipotle employee if she could make us a quesadilla, then use said quesadilla as the wrapper for a burrito.
Her face lit up: "You mean a quesarito?! Yes, we can absolutely make that! We can make anything you want!"
Alas, the plan soon fell apart. To our great disappointment, an staffer further down the line politely informed her co-worker they weren't supposed to make quesaritos when it's busy. We asked if we could wait around to see if the line abated. Perhaps feeling sorry for us, the employees assented.
Well, that fell apart, too. A manager approached our table -- ostensibly to wipe it down and greet us, but clearly he'd probably made us for the desperate quesarito seeker we are. He asked with a show of concern whether we were waiting flor a food order.
"No, we're waiting till business slows to order a quesarito," we replied with dumb enthusiasm.
Not knowing who he was dealing with, he told us there was no such thing as a quesarito. It took a little prodding, but eventually he acknowledged that he was familiar with the beast.
"I'm afraid we can't make those here," he added apologetically.
You know, as apologetic as one can sound while ripping your beating heart out of your chest.
If there's one thing Gut Check prides ourself on, it's knowing when we've been beaten, and we knew it was fruitless to stick around the flying saucer any longer. Before we left, though, we quizzed the manager on the lore of the quesarito.
He told us it got its start in "Pacific markets," that it's messy and time-consuming to make and that because it's not a menu item employees are trained to prepare, there's no real process to go by or way to control quality, flavor, etc.
Basically it's much more trouble than it's worth. (Which could be said of Gut Check in this scenario, as well.)
Defeated by the new flying saucer Chipotle but undaunted in our pursuit of the quesarito, we drove to a second Chipotle location where we had more luck -- well, sort of. Thwarted on our past quesarito mission at the Chipotle (6316 Delmar Boulevard, University City; 314-678-3200) in University City and the Chipotle (1 North Central Avenue, Clayton; 314-725-5650) in Clayton, we decided to visit the Chipotle (1255 South Kirkwood Road; Kirkwood; 314-835-9982) in Kirkwood to try our luck there.
Upon entering the restaurant, we were heartened to see few patrons and no one standing in line to order. This is it, we thought. If we're ever getting this thing, it's now. Our previous experience at the flying saucer Chipotle had slightly diminished our confidence, but despite our apprehension we proceeded to place our ridiculous food order: "Can you make us a cheese quesadilla, then use that quesadilla to wrap a burrito?"
"Sure," the employee responded. "People order weirder things than that all the time. What do you want on the burrito?"
And right in front of our eyes, a Chipotle staff member put together a quesarito combining brown rice, black beans, fajita veggies, barbacoa, cheese, hot salsa and lettuce -- he warned us that adding sour cream, guacamole or too much salsa might make the quesarito soggy. Sure, light on the soggy ingredients, buddy. Sounds great.
Liz Miller
This quesarito combines the best elements of a quesadilla and a burrito in one very messy meal.
In total the quesarito took about fifteen minutes to prepare from quesadilla cooking to burrito assembly to one last go-round on the tortilla press. While we waited for our quesarito, we thought of the manager at the flying-saucer Chipotle, and how he'd said the quesarito's complex preparation requirements hold up regular production. He was correct. Now we were really feeling ashamed of ourself.
But then the quesarito was ready and our shame dissolved into exultant joy.
It wasn't much to look at. In fact, it was bulging from its tortilla-shell seams -- not unlike our own pants would soon experience. Melted cheese oozed from its sides; black beans cascaded from every torn and gaping crevice. The quesarito was a food glob hemorrhaging quesadilla-burrito innards all over a waxed paper-lined red basket. Truth be told, it was far from pretty.
But the first bite rendered appearances irrelevant. Imagine a Chipotle burrito with an interior layer of hot melted cheese, and then imagine an extra outer layer of hot melted cheese, too.
It was everything we'd dreamed it would be -- if not better.
Those first few messy forkfuls of quesarito were unadulterated bliss. But as we continued our excavation, the substance became more unwieldy and difficult to eat. The melted cheese dampened the tortillas, while the rice, beans, vegetables and meat spilling out on all sides slipped and slid around the greasy waxed paper like billiard balls scattering across a pool table.
And while we greatly enjoyed the incarnation of the quesarito we ate, we learned a few things and were left with a few questions. Chief among them: Why did we do this?
And: What do Chipotle staffers really think of customers like Gut Check and Fast Company, who request such disgusting meals?
We called our buddy Chris Arnold, Chipotle's corporate communications director, to find out.
Liz Miller
Without utensils, this quesarito would have basically been inedible.
We ask Arnold pointblank what he thinks of the fabled quesarito, and whether he holds the Internet responsible for creating the monster.
"The mythic quesarito doesn't exist anywhere," he says. "It's not on our menu, it's not in our training materials, it does not exist anywhere in our system. If it were up to me, the quesarito as a specific item -- I would love to see it go away."
Then he adds, "What I would love to continue is a culture where our employees are really taught to accommodate the requests of our customers."
Arnold says the primary problem with the quesarito for Chipotle is that because it's not a real (or even secret) menu item and because employees aren't trained to make it uniformly like other options, there's no way to guarantee quality, taste or customer satisfaction.
"Because we don't have this, what happens when you see things like the Fast Company article is this sort of little, short-term surge in people ordering this and our restaurant saying, 'I don't know what you're talking about,'" Arnold says. "There is no Chipotle secret menu or common vocabulary the way there is with, say, an In-N-Out Burger, where ordering something 'animal style' means something. So people will go in and say, 'I want a quesarito' or some other thing that is an Internet myth or legend, and they may well be met with blank stares.
"Our focus is on making the best-tasting food we can, but based on the ingredients we have, we'll accommodate most anything our customers request."
And that's reasonable. Because according to Arnold, there are more than 65,000 ways customers can combine Chipotle ingredients to make unique dishes. In fact, he says, the burrito bowl was added to Chipotle's menu because of customer demand.
"In the beginning we only had tacos and burritos on the menu, and people asked for bowls. We'd line the baskets with foil and make a burrito bowl, and it was happening enough that we decided to get a bowl and make them more efficiently without lining and losing baskets," he explains, sounding strangely biblical.
"People would put lettuce on the bottom and make salads, so we made a vinaigrette so you could actually make it more like a salad. Going back to the earliest days of Chipotle, we've always tried to accommodate those kinds of requests."
Essentially Chipotle's customer service and customizable menu is a lot like what Burger King has promoted since the early 1970s with its "Have It Your Way" ethos -- though when it comes to the quesarito, perhaps it's more like: "You can have it your way, but don't go crazy."