Last week's edition of Fight Club Sandwich pitted two fast-food chains' "premium" fish sandwiches against one another, as Wendy's Premium Cod Fillet Sandwich took on Burger King's Premium Alaskan Fish Sandwich.
Having declared Wendy's the victor, Gut Check figured we'd performed our fishly obligations and quickly toweled off the murky waters that surround fast-food fish sammies.
And then we got wet again.
Not long after we published the results of our taste test, the following e-mail popped up in our queue, from a Hardee's PR rep:
While we enjoyed reading your recent Gut Check showcasing a few fast-food restaurants' fish sandwiches, we couldn't help but notice you left out the most delicious option available. If you haven't yet heard, Hardee's recently released its prefect-for-Lent Charbroiled Atlantic Cod Fish Sandwich -- the first sandwich of its kind. We'd like to officially challenge the fish sandwich title holder with an option you won't find at any other fast food restaurant.
Dude. We'd heard. We just figured that like everything else Hardee's does, the ad for the product is more, um, substantial than the food item itself.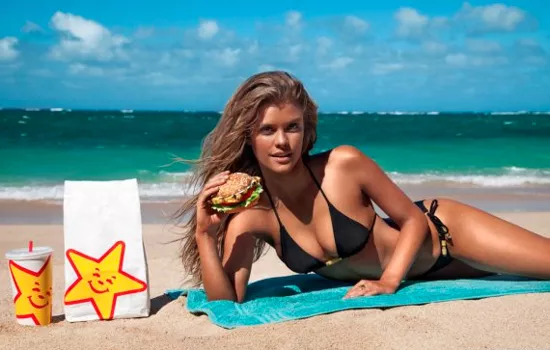 Hardee's/Carl's Jr.
Ahem. Nina Agdal, Hardee's latest catch.
Following a brief debate at Gut Check International HQ, we decided to accept Hardee's request for a throwdown. First things first, though: Before going up against Wendy's cod piece, Nina Agdal's pride and joy would have to surpass the Burger King Premium Fish Sandwich that Wendy's beat.
See also: - Hardee's Fish Slutburger to Arrive Just in Time for Lent - Fish Sandwich Taste Test: Burger King vs. Wendy's
The Challenger Hardee's Charbroiled Atlantic Cod Fish Sandwich has caused quite the commotion since its introduction.
Now that you've viewed the goods, here's what the sandwich has to offer:
The Charbroiled Atlantic Cod Fish Sandwich features a charbroiled fillet of Atlantic cod, creamy tartar sauce and sliced tomato and lettuce on a honey wheat bun. At only 420 calories, the charbroiled sandwich offers a healthier and flavorful new meal option.
In last week's competition, we found some things to like about Burger King's Lenten offering, the Premium Alaskan Fish Sandwich: "The bread isn't bad, a soft foil to the crisp outside of the fried fish. The pickles add a welcome crunch." What tripped us up was the main event, the "Premium Alaskan Fish":
"And the fish? Tastes like...fish. Yes, Gut Check is pretty certain this sandwich is made with fish. White fish."
And just as Wendy's did last week, Hardee's churned Burger King to chum in the final analysis largely by virtue of informing us what kind of fish is in its sandwich (cod) and where it's from (Atlantic Ocean). It didn't hurt that said cod is broiled rather than fried -- a rarity on the fast-food seascape.
Having dispensed with the formalities, it's on to hot cod-on-cod confrontation! Two cod sandwiches enter the briny arena, but only one swims away victorious.
Evan C. Jones
Hardee's Lenten offering, the Charbroiled Atlantic Cod Fish Sandwich.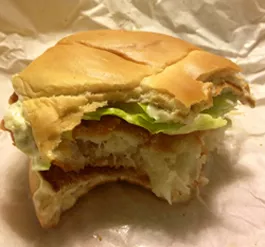 Evan C. Jones
Wendy's cod: Two-time fish-sandwich champ?
The Verdict Denuded of its box, our Hardee's fish sandwich seems to have deflated to a fraction of the Moby Dick proportions of what we saw in the ad. The fillet is -- how best to put this? -- flatter than lovely Nina Agdal led Gut Check to expect. Still, the lettuce, tomato and tartar sauce are a tasty foil, and the honey-wheat bun is pleasantly sweet. Overall, a solid choice, if a little skimpy on the seafood.
Interestingly, while Hardee's sources its cod from the waters of the chilly Atlantic, the reigning champ looks to the west, using "only 100% cod straight from the North Pacific" for Wendy's Premium Cod Fillet. So we have a bit of a bicoastal battle here, and a competition that has one of the earth's great oceans going up against another.
It's a tough call. Wendy's sandwich stole our heart and gall bladder last week by virtue of the way its tasty, panko-breaded crunch contrasted with the flaky cod nestled within. And once again, the contrast in textures wins us over!
We appreciate Hardee's alternative to the fried fish sandwich, but in some scenarios, the fryer is your friend. And a fast-food restaurant provides precisely such a scenario.
In closing, Gut Check would like to congratulate to both Wendy's and Hardee's for keeping it 100 percent cod!
See also: - Fast Food Lent Options Are Bountiful