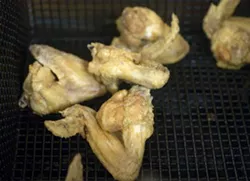 We asked you to nominate St. Louis' most underrated fried chicken, and you delivered some really interesting selections. A special shout-out to our Metro East readers (or, at least, readers who spend time on the east side, and not just at the strip clubs) -- Illinois restaurants received several mentions.
Two restaurants nominated more than once that we didn't include are Porter's Fried Chicken (3628 South Big Bend Boulevard, Maplewood; 314-781-2097) and Young's Restaurant & Ice Creamery (206 Meramec Station Road, Valley Park; 636-225-6677). Both have won Riverfront Times' "Best Fried Chicken" honor in the past -- Young's twice.
After the jump, meet the seven semifinalists for St. Louis' most underrated fried chicken.
See Also: - What Is St. Louis' Most Underrated Fried Chicken? - "Best Fried Chicken" 2008: Porter's Fried Chicken - "Best Fried Chicken" 2010: Young's Restaurant & Ice Creamery
St. Louis' Most Underrated Fried Chicken: The Semifinalists
Fischer's Restaurant (2100 West Main Street, Belleville, Illinois; 618-233-1131)
profireman: To get a better piece of chicken, you'd have to be a rooster.
King Edwards Fried Chicken (multiple locations)
missg920: King Edwards Chicken and Fish on Watson Road. Besides their chicken coming out perfectly juicy every time, their batter is a unique one that I haven't found anywhere else. Not to mention, their cajun flavor comes out in anything from a po' boy to their hush puppies- this stuff is GOOD.
London & Sons Wing House (1311 North Grand Boulevard; 314-371-4925)
rb666: London's Wing House. If you haven't been there, go. I started going to the Grand and M.L.King location in the 80's. They are now not far from the loop. Granted, my favorite fried chicken is gizzards, but their wings can't be beat either. If you want to try food that is unique to St. Louis, and chicken is your thing, this is it.
The Piccadilly at Manhattan (7201 Piccadilly Avenue, Maplewood; 314-646-0016)
backporchpoet77: No doubt it's Picadilly at Manhattan. There should be a line out their door. It's everything you want in fried chicken: light, crispy, buttery crust, and juicy, tender meat. And the sides rock too.
Tip Top Food & Spirits (2501 South Ninth Street; 314-771-3200)
hoffmann2: I thought for a long time that Fergies in South County had the best fried chicken until I tried Tip Top. There is no doubt that Tip Top is the best tasting, hottest fried chicken in the city, and the service is also the best.
Polls close at noon this Friday, March 8.
The Gut Check Underrated/Overrated Hall of Fame
- Most Underrated Burger: Dressel's (419 North Euclid Avenue; 314-361-1060) - Most Overrated Burger: Five Guys Burgers and Fries (multiple locations) - Most Underrated Italian Restaurant: Filomena's Italian Kitchen (9900 Manchester Road, Glendale; 314-961-9909) - Most Overrated Italian Restaurant: Rigazzi's (4945 Daggett Avenue; 314-772-4900) - Most Underrated Pizza: Felix's (6335 Clayton Avenue; 314-645-6565) - Most Overrated Pizza: Imo's Pizza (multiple locations)